| | |
| --- | --- |
| The Yoga Trail in Prospect Park - Vinyasa Yoga Classes | |
Event Details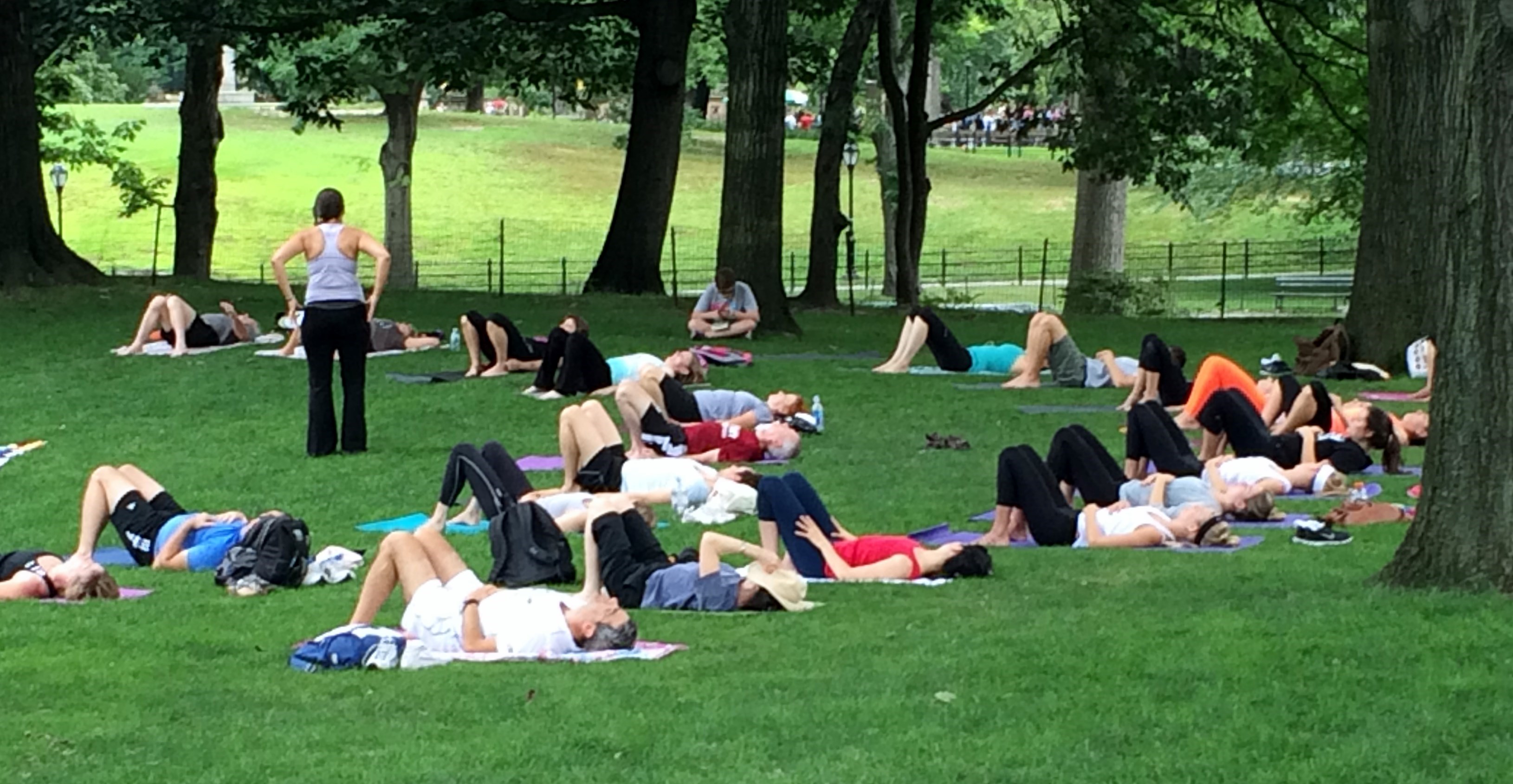 Come and join us on the grass of Prospect Park!
Vinyasa Yoga combines breath and movement to cleanse and recharge the body and provides a healing and energizing experience. Unlock the tension in your body and relieve stress while building core strength with a mindful focus. Each class ends with final relaxation and meditation. In particular:
- Yoga 101 is a great class for beginners or those who want a more restorative practice while enjoying the outdoors. It will build the foundation of your yoga practice with an emphasis on breathing and healthy pose alignment. This class is slower, more relaxing and meditative, but it is still a Vinyasa flow so it will involve a good amount of movement and some sweat.
- Yoga 102 is an active class that introduces some challenging poses at a faster pace. Gentle variations will be offered to still embrace all fitness levels, so everyone will have the opportunity to build strength while developing grace and flexibility. This class connects breath with movement to unlock the body's tension and relieve stress, while building core strength and a mindful focus.
SCHEDULE:
Every Saturday,  3:30 pm - 4:45pm: Yoga101
Every Sunday, 3:30 pm - 4:45pm: Yoga102
NOTE: Once you book your class please send an email to silvia.theyogatrail@gmail.com to specify which class and date you are planning to attend, and if you need a mat.
WHEN AND WHERE: We'll meet in front of The Picnic House, on the lawn side,15 minutes before class, and then we'll walk to the class location together. Closest park entrances are on Prospect Park West: at 3th st and between 7th and 8th st. Closest subway F,G at 7th Ave.
WHAT TO BRING: Bring your own mat if you have one. Otherwise mats are available for a rental fee of $4. Please specify if you need a mat. Bring water and something warm for final relaxation.
MORE: Please arrive early so that class may start on time without disruption. Yoga is best practiced with an empty stomach and bare feet.
CANCELLATION POLICY: A class may be cancelled in case of rain: you'll receive a notification by email not later than an hour before class. In case of class cancellation or if you can't attend the class your credit will be valid until the end of the season and you can join another class or activity with The Yoga Trail.
CONTACT INFO:
silvia.theyogatrail@gmail.com
Cell: 917.445.2915
Where

The Picnic House
95 Prospect Park West
Brooklyn, NY 11215


Organizer
The Yoga Trail
The Yoga Trail is a group focused on Yoga outdooor and traveling. It was created in 2011 to help yogis finding ways to travel and practice Yoga regularly, reconnecting to Nature. Its founder Silvia Neri often travels offering Yoga classes, workshops and retreats around the world tracing her Yoga trail, from Central Park to Amsterdam. 
More info? http://www.theyogatrail.com/about.html
"Silvia, thank you for the fun yoga in central park. You helped to make our NY experience fabulous!!!  Thank you" Robin B, NYC

"I was searching online for outdoor yoga for my trip to NYC and found the Yoga trail, I'm so happy that I signed up! Silvia is a great and inspiring person and runs the class very well. You can hire a mat for a few dollars as I was travelling and did not bring one. Also convenient that there were bathrooms nearby. It was a beautiful day, and than starting your day with yoga under a tree in the middle of Central Park with stunning city views: how much better can your holiday be! Vibrant and dynamic New York is great to combine wit a little Zen and 'You' moment! Next time when I'm in the city I'm definitely going to join again." Eveline, NYC

"Central Park is one of New York's icons and how special if you can do a yoga class on it's green grass. Silvia is an inspiring yoga teacher and get's you in the (Vinyasa) flow easily." Robbert Z, NYC

"Dear Silvia, I'd like to thank you for the amazing yoga class yesterday, situated at the boat and the pier. I won't forget this ever, so beautiful! I think it's a beautiful thing you're doing, really inspiring! Keep on the good work! " Ottilia, Amsterdam

The Yoga Trail in Prospect Park - Vinyasa Yoga Classes