Description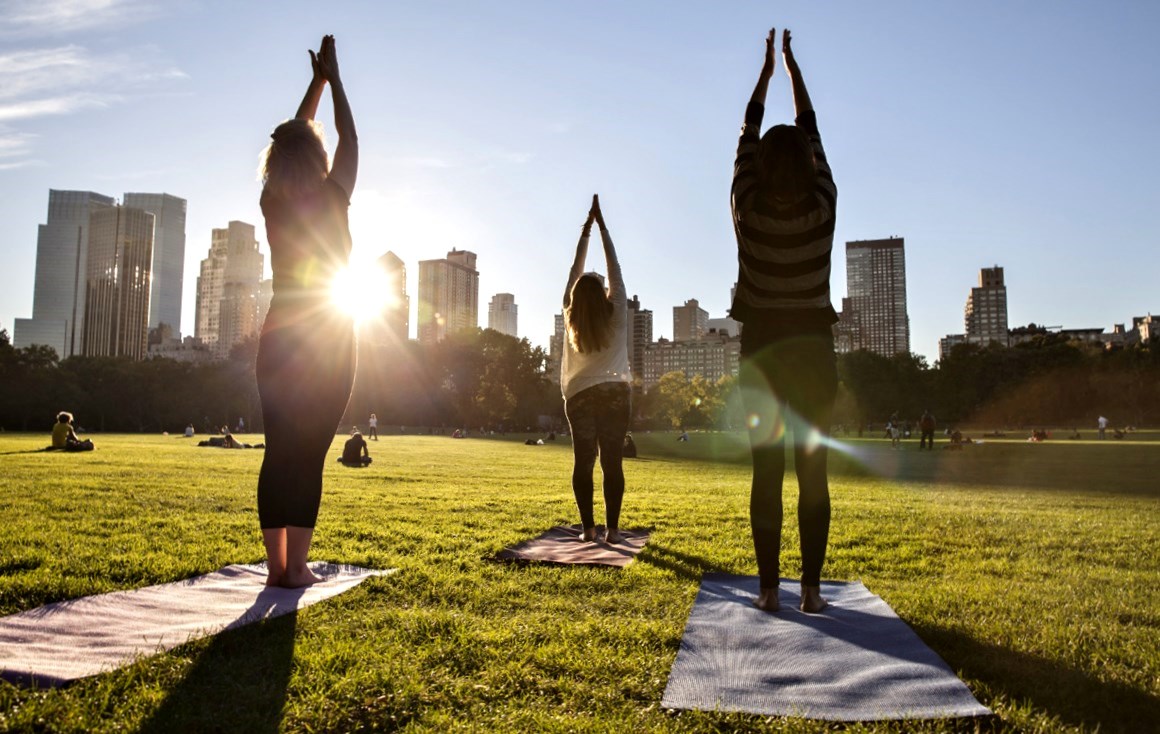 Relax and enjoy a gentle open air yoga practice on the grass. All levels welcome!

Vinyasa Yoga combines breath and movement to cleanse and recharge the body while providing an energizing opportunity to re-connect to Nature in the city. Unlock the tension in your body and relieve stress while building core strength with a mindful focus. Each class ends with final relaxation and meditation.
The classes are meant to establish the foundation of the yoga practice with an emphasis on breathing and healthy pose alignment. They are open to all fitness levels and have a meditative approach but will still involve a good amount of movement and some sweat.
You can contact The Yoga Trail to inquire for a specific date, time, and location:

silvia.theyogatrail@gmail.com
WHEN AND WHERE:
In general meeting point is 15 min before class in front of the cafe Le Pain Quotidien inside Central Park, north side of Sheep Meadow. From there we'll walk together to class location. Closest park entrance is W69th St. From there just walk along the path until you hit the major road with cyclists, cross it and keep walking with the big lawn (Sheep Meadow) on your right until you reach the cafe.
WHAT TO BRING: Bring your own mat if you have one. Otherwise you can pick up a free rental mat before class at Lululemon Lincoln Sq (W64st nd Broadway) Bring water and something warm for final relaxation.Even if they may not be needed please feel free to bring any props you may want to use.
MORE: Yoga is best practiced with an empty stomach and bare feet.
CANCELLATION POLICY: A class may be cancelled in case of rain: you'll receive a notification by email not later than an hour before class.
In case you can't attend the class and you give us notice no later than 2 hrs before the beginning of class your credit will be valid until the end of the season and you can join another class or activity with The Yoga Trail.
In case you don't show up without giving any notice, you won't be entitled to any refund or credit.
WAIVER:
Although yoga can be sometimes challenging for your body, it should not hurt. If something hurts, please release the pose, and either ask the teacher for help, or just relax while you wait for the next pose. Let go of your ego: yoga is not a competition. There's no such a thing as being good at yoga, you don't have to be flexible or agile. Breathing deeply, being in the moment, focusing your mind is much more important for your practice. The reward of yoga is the results it produces in your life.
I agree to take breaks as needed; stop a pose or ease up on it if something hurts; inform the teacher before class if I'm pregnant, or have any injuries. If the teacher is adjusting me in a pose and it does not feel right in any way, I will tell her/him immediately and ask to have the adjustment stopped.
I acknowledge that yoga is a physical activity and like all physical activities there is a risk of injury. I take full responsibility for my physical, emotional and mental well being at all times. I expressly release the Yoga Teacher and any of the assistants (here after referred to as YT) of any and all responsibility for my physical, emotional, and mental well being. I expressly agree and promise to accept and assume all the risks existing in this activity. My participation in this activity is purely voluntary and I elect to participate in spite of the risks. I hereby release, forever discharge, and agree to indemnify and hold harmless YT from any and all claims, demands, or cause of action, which are in any way connected with my participation in this activity, including any such claims which allege negligent acts of omissions of YT. Should YT be required to incur attorney's fees and costs to enforce this agreement, I agree to indemnify and hold them harmless for such fees and costs. I certify that I have adequate insurance to cover any injury or damage myself. I further certify that I am willing to assume the risk of any medical or physical condition that I may have. I agree that if any portion of this agreement is found to be void or unenforceable, the remaining portions shall remain in full force and effect.
I have had sufficient opportunity to read this entire document. I have read and understood it, and agree to be bound by its terms by buying the ticket.
CONTACT INFO:
silvia.theyogatrail@gmail.com