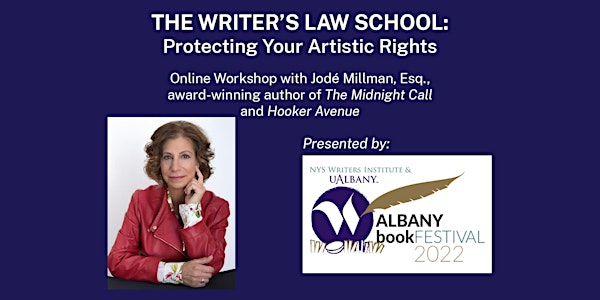 The Writer's Law School with Jodé Millman, Esq.
Covering the basics and key provisions of publishing contracts so that you'll understand the fine print without having a law degree
By New York State Writers Institute
When and where
Date and time
Monday, September 12, 2022 · 4 - 5pm PDT
About this event
This virtual workshop is a featured event of the 2022 Albany Book Festival.
*Workshop will be conducted on Zoom. Link to the Zoom meeting will be shared with registered participants before the workshop or click "View the Event" in your order confirmation.
THE WRITER'S LAW SCHOOL: Protecting Your Artistic Rights
For writers, it's difficult to obtain information about protecting your rights in your creative projects. And if you do, it's difficult to decipher the "legalese."
In this workshop designed for writers, we'll cover the basics of copyrights, trademarks, and key provisions of publishing contracts so that you'll understand the fine print without having a law degree.
In this session, you'll learn:
The differences between Copyright, Trademarks, Patents and Service Marks
The Copyright Registration Process and the CASE law
What is the Public Domain?
What is the Fair Use Doctrine?
Which Business Entity is best for my writing career?
What are the Right of Privacy, Libel and Slander?
The Anatomy of a Publishing Deal-Contract Basics
Resources to help you protect your rights
About Jodé Millman, Esq.
In addition to being the award-winning author of THE MIDNIGHT CALL, Jodé has been an attorney for more than 40 years with practical experience in Intellectual Property Law. She is a contributing editor of "The Kaminstein Legislative History Project: A Compendium and Analytical Index of Materials Leading to the Copyright Act of 1976," holds a MA in English Literature specializing in Law and Literature, the author of the best-selling Broadway Series "SEATS: NEW YORK," a producer/host of a popular podcast, and a book reviewer for Booktrib.com. Her newest thriller, HOOKER AVENUE, was published in April 2022.
To learn more, visit her website at www.jodemillman.com
For more information on the Albany Book Festival, visit: https://www.albanybookfestival.com/
Special thanks to our Albany Book Festival Sponsors:
Presenting:
Bernard F. Conners Foundation; Pernille Ægidius Dake; Literary Hub; Bruce Piasecki & The Creative Force Fund; Renaissance Corporation of Albany; Times Union; University Auxiliary Services
Supporting:
Brown & Weinraub; Hannay Reels; Ellen Jabbur; Richard and Carol Miller; The Swyer Companies
Friend:
A. Andrew Casano, MD & Bella Pipas; Ann and Don Eberle; Fenimore Asset Management / FAM Funds; The Foy Fund; Henry Greenberg; Paul and Mary Grondahl; Heslin Rothenberg Farley & Mesiti; Dr. Richard Holub, Neurological Associates of Albany; William and Dana Kennedy; Terence Kindlon & Laurie Shanks; William & Mary Jean Krackeler; Betsy Lopez; Mackin and Casey; Sheila Mahan & Peter Sanzen; Doris Fischer Malesardi; H. Carl McCall & Dr. Joyce F. Brown; Steve McKee Foundation; Robert and Roberta Redmond; Mary Scanlan; Herb and Cynthia Shultz; James and Teresa Stellar; UAlbany William L. Reese Emeritus Center Three Voices Grant Program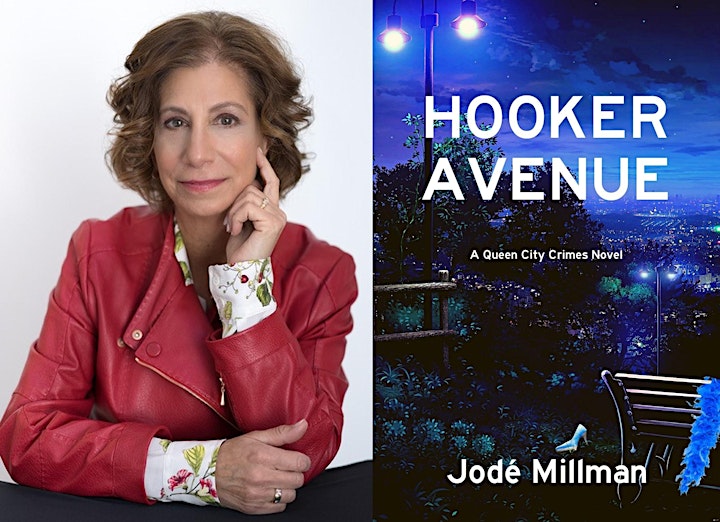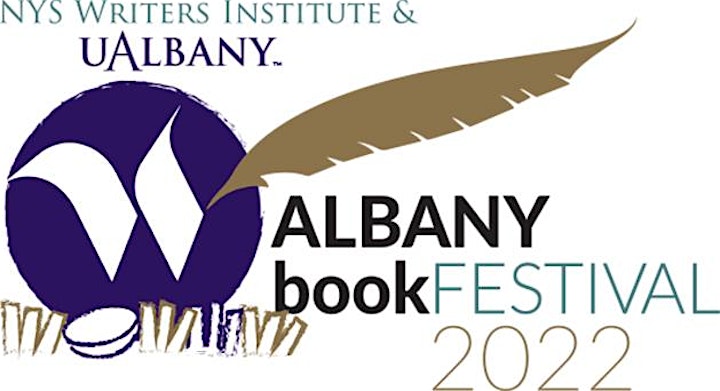 About the organizer
The New York State Writers Institute, based at the University at Albany, has brought more than 2,000 acclaimed writers and filmmakers to Albany for readings, lectures, book signings, and panel discussions. The state-funded non-profit organization encourages residents in the Capital Region to attend its events and help it fulfill its mission to enhance and celebrate literature, writing, and performance, and to recognize the position of writers as a community within the larger community.