Description

THE WRITERS EXPO: 5PM

This premiere event is an opportunity for Arizona Writers to connect, explore, network and learn. The Arizona artist and culture scene can be as exciting as we collectively make it, so JOIN US to make this an epic event filled with resources and connection opportunities to further build, start, and/or deploy your creative writing ideas.
Who Attends?
ALL CREATIVE WRITERS WHO WANT TO:
GAIN new exposure and build quality connections that'll help propel their writing project[s] to the next level.
LEARN and share best practices around online marketing to start dominating in your craft and how to leverage their writing skills and influence to deploy mission-critical work

NETWORK share your work with other creative minds or interest readers to discover new ways to differentiate your sound in these highly competitive and fast moving industries.
CONNECT with the fastest-growing community of talented writers

EXPLORE new features, technologies, and methodologies to properly brand yourself as a writer

PROMOTE exchange contact info for potential collaboration that can bring your brand to the next level. Film writers may be looking for music to place. Bloggers may be looking for songwriters, poets, or authors to feature. The opportunities are endless. Vendor space is also available.
UPSCALE ROOFTOP NETWORKING EVENT (7:00PM - 10PM)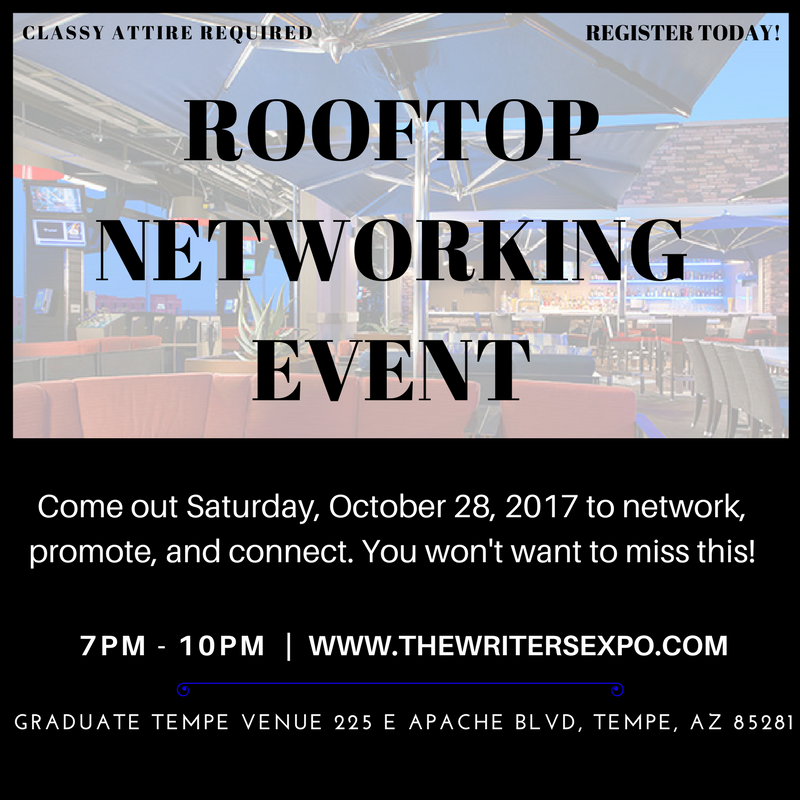 RESERVE YOUR SPOT TODAY!!
$8 Early Bird Dual Admission Sale only 30 tix available ends October 25, 2017, Includes: Expo Entry + Network Event Entry


$5 Expo Only


$5 Network Event Only


$30 VIP Admission Tix includes: VIP Expo Entry + VIP Artist Showcase Entry + Mixer w/ Hors d'oeurves (Presale only)

***ALL PROCEEDS FROM THIS EVENT GO TOWARD FUNDING THE HEART IN ACTION YOUTH PROGRAMS TO TEACH YOUTH SELF AWARENESS, ENTREPRENEURIAL SKILLS, CREATIVE SKILLS, THE ANNUAL PROMISE AND PROMINENT PROGRAM, AND MORE...