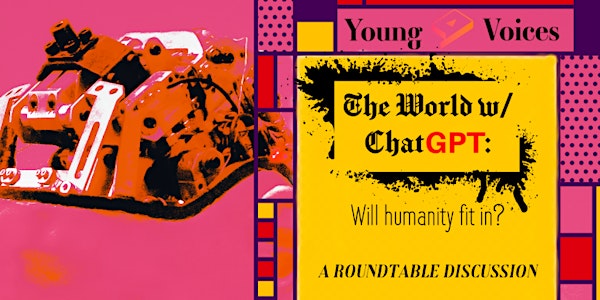 The World with ChatGPT: Will Humanity Fit In?
Artificial intelligence is here, whether you like it or not. Do we have reason to worry? If you've ever wondered, join us on February 16th.
Date and time
Starts on Thursday, February 16 · 5:30pm EST
Location
Microsoft Innovation & Policy Center 901 K Street Northwest #12th floor Washington, DC 20001
About this event
ChatGPT. Robots. Consciousness. The sacred human spirit.
Can they all work together in society? That question is, at this point, a pretty old one. But with the advent of ChatGPT, it's being asked of us all over again. Progress on the AI front is inevitable, and it's happening faster than we can decide what to do about it. Our economy is shifting, labor is going to change, and the way people spend their time may be radically different in 10 years.
For some, this type of progress inspires hope. For others, dread.
Join Young Voices for an evening of fascinating conversation, disagreement, and persuasion on February 16th. Lincoln Network's Luke Hogg will moderate a roundtable discussion with some of the leading young thinkers in the AI space, featuring views from all sides of the debate.
______________________
Speakers:
Liz Wolfe, Reason Magazine — Liz Wolfe is an associate editor at Reason covering tech, free speech, and China. She appears weekly, every Monday, as a recurring guest on The Hill's YouTube show, Rising, which has 1.5 million subscribers. She was formerly managing editor of The Federalist. Wolfe's work has appeared in Playboy, The Daily Beast, Pirate Wires, Bloomberg's CityLab, Houston Chronicle, Dallas Morning News, New York Post, and National Review.
Jon Askonas, Catholic University of America — Jon Askonas is an assistant professor of Politics at the Catholic University of America, where he works on the connections between the republican tradition, technology, and national security. His writing has appeared in Russian Analytical Digest, Triple Helix, The New Atlantis, Fare Forward, War on the Rocks, and the Texas National Security Review.
Will Rinehart, Center for Growth and Opportunity — Will Rinehart is a Senior Research Fellow at the Center for Growth and Opportunity, where he specializes in telecommunication, Internet, and data policy, with a focus on emerging technologies and innovation. Rinehart was formerly the Director of Technology and Innovation Policy at the American Action Forum and before that a Research Fellow at TechFreedom and the Director of Operations at the International Center for Law & Economics. Will's work has appeared in the Wall Street Journal, Bloomberg, Wired, Morning Consult, The Hill, Forbes, Reason, Marginal Revolution, Overlawyered, and on BBC Radio and NPR, just to name a few. He speaks regularly on topics related to tech policy, has been cited in regulatory orders from the FCC, and has been featured in Supreme Court petitions.
Matt Mittelsteadt, Mercatus Center — Matthew Mittelsteadt is a technologist and research fellow at the Mercatus Center whose work focuses on artificial intelligence, cybersecurity, and decentralized finance policy. Prior to joining Mercatus, Matthew was a fellow at the Institute of Security, Policy, and Law where he researched AI judicial policy and AI arms control verification mechanisms. His writing has been featured in The Hill, Discourse, American Banker, and The New York Daily Post. Matthew holds an MS in Cybersecurity from New York University, an MPA from Syracuse University, and a BA in both Economics and Russian Studies from St. Olaf College.
Moderator:
Luke Hogg, Lincoln Network — Luke Hogg is Director of Outreach at Lincoln Network. In his policy work, Luke focuses on the intersection of technological innovation and public policy. Prior to joining Lincoln Network, Luke was Federal Affairs Manager at FreedomWorks where he primarily concentrated on blockchain, internet governance, and regulatory issues. Hogg is currently an Innovation Fellow with Young Voices.
Have a question you want asked of the roundtable?
Ask here, and your question may be featured!
This event will take place on the 12th floor of the Microsoft office.
AGENDA:
5:30 PM: Cocktail Hour
6:10 PM: Panel Discussion— ChatGPT and Mankind
7:25 PM: Mingling/Meet the Panelists