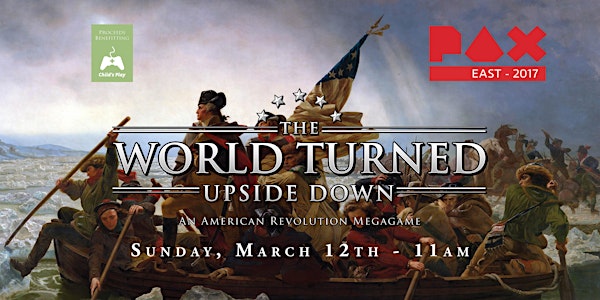 The World Turned Upside Down @ PAX East 2017
When and where
Location
Boston Convention and Exhibition Center PAX East - Tabletop Area 415 Summer Street Boston, MA 02210
Description
**Pre-Registration has CLOSED! Signups for remaining spots will begin at 10am on FRIDAY at TABLETOP HQ. **
---
Command armies, write laws and employ spies to forever change the course of history!
The World Turns Upside Down is a fast paced megagame of political unrest, international conspiracy, and the American Revolution. 60 players will take on the roles of famous lawmakers, generals, and spies of the period. Choose sides and guide your colony toward loyalty or rebellion. Your choices will decide the fate of America. The world will never be the same...
**All proceeds go on to benefit Child's Play Charity!**
You must have a ticket to PAX East in Boston in order to attend this event.
What is a megagame?
Megagames are large-scale gaming events full of player interaction. More than 50 players will play out an in-depth, immersive game in an five-hour event. Each person will take on an individual role crucial to the success of their team. Every decision matters.
Megagames are all about player empowerment. Negotiation, spontaneity and creative solutions are part of what make megagames exciting. Game Masters, called Control, will be on hand to help with rules and structure as well as to also allow you to stretch the boundaries of possibility, creating new scenarios and options that will affect the game as a whole.
More information on our PAX Megagame can be found here.
For even MORE information about The World Turned Upside Down visit our website.
---
FAQs
Is there an age limit to enter the megagame?
Yes, all participants must be 18+ to participate unless accompanied by an adult.
What can/can't I bring to the megagame?
We encourage all players to immerse themselves in their roles by way of costume and accessories. However, PAX policy and procedure must be followed.
Can I be on the same team as my buddies?
Sure you can! Gather your crew and agree on a team name. When each person buys their ticket, be sure they add the team name they want to be a part of and we'll make sure you're all on the same side. You can also buy all team player tickets in one purchase and we'll make sure all ticket holders get placed together.
In The World Turned Upside Down team sizes are variable. Each Colony will have a unique size based on their historical impact. Simply let us know how many people you're planning to have on your team and we'll make sure your team is kept together either as one Colony or adjacent Colonies depending on your team's size.
Do you have to be on a team to play?
Of course not! There are plenty of roles that need to be filled and megagamers are universally very nice people.
I HAVE MORE QUESTIONS!
Ok, not to worry! Check out the game's homepage to find out more. Or feel free to email us.