The World Float

Friday, July 5, 2013 from 9:00 AM to 11:30 AM (PDT)
Event Details
Introducing "The World Float" 
This summer, 3,000 people will descend on Portland for the 3rd Annual World Domination Summit. With so many amazing folks coming to town, we wanted to find a way to bring our attendees and Portlanders together to accomplish something truly spectacular. And we've done just that in the creation of ...  wait for it ... a world record attempt!

Did you know you could be recorded in the history books just by sitting in an inner tube and holding hands with a few friends? Neither did we. That is, until we learned of 542 folks in Italy who did it in 2008, setting the record for the "World's Longest Floating Chain."

And now, with your help, we're going to break that record. 

What It's All About

At 9:00 AM on Friday, July 5th, you'll be able to join your fellow WDS attendees and local Portlanders as we team up downtown on the Willamette River to challenge the Italians to a showdown!

We couldn't think of a more fun way to connect WDS to the city than getting hundreds of people from all over the world together with Portlanders to hang out on our famous river and break a world record.

And it's for a great cause, too. In the spirt of WDS and our commitment to service, we're partnering with The Human Access Project, a local non-profit working to give Portlanders more opportunities to get in the river, just like we'll be doing.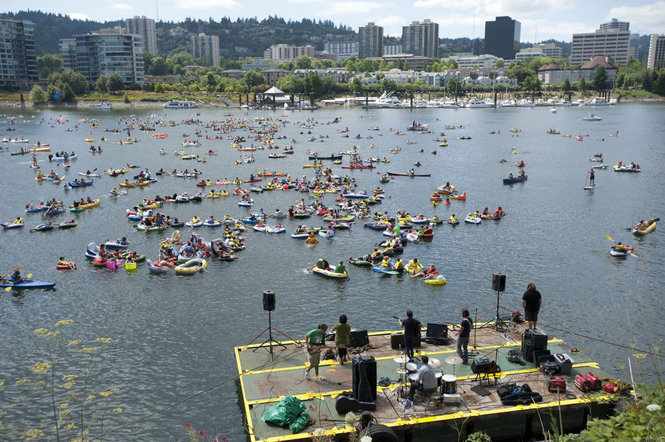 How to Participate (Please Read Carefully)

The World Float is going to be an incredible time for a lot of people, but it's important to note it's not for everyone.

Here are a few things you'll need to say "yes" to before you sign up:
You can swim, and you're comfortable in open bodies of water
You don't mind holding hands with someone you don't know for a few minutes
You're generally awesome and like to work together to accomplish big things
There will also be a small cost of $20 to participate. This fee helps us cover the cost of your inner tube (what you'll be floating in) and your lifejacket (what's going to save your life if you fall out of it). 

What To Bring / What Not To Bring

The World Float is a water-based event (you'll be getting wet!), so plan accordingly. The most important thing to know is that we will not have any place to store personal items, so don't bring anything you don't want to come with you into the river!

What TO bring:
A swimming suit
Your ID (for registration)
A friend! It is always more fun to break world records with friends!
That's it! Don't bring anything else!
What NOT to bring:
Wallets
Keys
Phones
Towels you don't want to lose (it will be hot, so you'll dry off quickly)
Anything that should not get wet or live forever at the bottom of a river!

There will be an unsecured storage area for personal belongings. If you bring a bag with your name on it (first AND last), we'll have a place for you to put it.

This will be a good way to store your towel and a change of clothes but, please, no valuable items as we will not have a way to closely monitor the security of the storage space.

Waiver and Disclaimer (Read This Carefully Too)

It's important to understand there are risks involved in participating in an event like this. The World Float is teaming up with the best in class in water safety, but as with any event that takes place on an open river with lots of people involved, this is strictly an "at your own risk" type of event.

The World Domination Summit—and any of its affiliated partners or members—will not accept any liability for your participation. You'll be required to sign a legal waiver at registration in order to participate.

Lastly, we're going to do everything we can to break the world record, but we can't 100% guarantee that it will happen. We need everyone to show up! In the unlikely event that we don't break the record, we'll plan to try again later. 

How to Sign Up
If you're up to join us in this once-in-a-lifetime event, we'd love to have you. Just sign up here on our Eventbrite page and you will be on our list of folks we look forward to holding hands with on the river on July 5th!

###

All tickets to the World Float are non-refundable and non-transferable. If you get a ticket and aren't able to come, however, please let us know—unless we hear otherwise, we'll be counting on every ticketholder to show up to help break the record. 
Attendee List
Sort by:

Date

|

First Name

|

Last Name
When & Where

OMSI South Parking Lot
1945 SE Water Ave.
Portland, OR 97214


Friday, July 5, 2013 from 9:00 AM to 11:30 AM (PDT)
Add to my calendar
Organizer
Chris Guillebeau and friends.