THE WORK OF HENRY CORBIN: PERSIAN SUFISM AND JUNG'S PSYCHOLOGY
Description
THE WORK OF HENRY CORBIN: REFLECTIONS ON PERSIAN SUFISM AND JUNG'S PSYCHOLOGY
4 Continuing Education Credits MD, PhD, LCSW, MFT, RN
Some thirty-five years ago, I dreamed that my analyst, Dr. Joseph Henderson, was entirely green – skin, hair, eyes. He suggested that I read something Jung had written about "the green man," but he could not remember where it was. Back at my office, I found it on the next page of The Symbols of Transformation, which I was reading at the time. Over the decades since, other synchronicities have kept me intrigued with the curious figure of Khidr in Sufi mysticism.
Central to Sufi lore is the mysterious figure of Khidr, or the Verdant One, who comes down from Islamic and pre-Islamic lore as a spiritual guide to anyone in need. He is the inner companion and guide, an angel or prophet, and the friend of God. Called Hezra in Persian lore, he is known as Elijah to the Jews and as the Paraclete to Christians. He is the physician of the heart who opens the seeker to deeper knowledge, and according to Henry Corbin, he is the Heavenly Witness who seeks each one of us in unique form.
More recently, I have begun to study the work of Henry Corbin (1903-1978), a French scholar at the Sorbonne, who delved deeply into the roots of Persian Sufism of the 12th to 13th centuries. Corbin was a regular speaker at the Eranos Lectures and thus knew Jung. He introduced the idea of "the mundus imaginalis" into Jungian psychology and showed us that active imagination is many centuries old in Persia. Corbin's critique of Jung is both respectful and insightful, and adds a spiritual dimension to depth psychology from an unexpected source. The talk will include tentative questions about Corbin's views on Christianity, Islam, and Jung's theory of the shadow archetype, with time for meditation, discussion, and personal experience.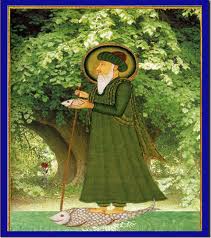 Richard Stein, MD is a psychiatrist and Jungian analyst who has been in private practice in San Francisco for 35 years. His experience in India in the early 1970's led him to a lifelong exploration of the spiritual as well as clinical dimensions of Jungian depth psychology. He has taught for years in the analytic training as well as the public programs at the Jung Institute in San Francisco, as well as other training centers. His study of the parallels and differences between Jung and Sri Aurobindo has been expanded by explorations in shamanism, Sufism, and the kabbalah.
Organizer of THE WORK OF HENRY CORBIN: PERSIAN SUFISM AND JUNG'S PSYCHOLOGY
A non-profit educational and community service organization that devotes itself to the furtherance of Jungian thought in clinical work and in cultural discourse.

In addition to its Analytic Training Program, the Institute provides educational events for the general public, seminars for professionals, and produces Jung Journal: Culture and Psyche, now published by Taylor & Francis. The Institute houses an extensive library and offers a sliding scale psychotherapy clinic.  Friends of the Institute, an auxiliary organization, welcomes new members.