The Work of Cultural Evolution - "Revisioning Ourselves as Responsible Leaders"

Friday, April 29, 2011 at 7:00 PM

-

Saturday, April 30, 2011 at 6:30 PM (EDT)
Event Details
Leadership and Cultural Change - The Work of Cultural Evolution
"Revisioning Ourselves as Responsible Leaders"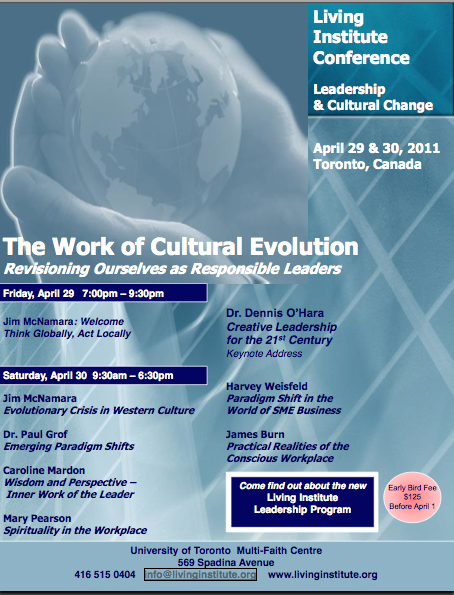 We are living in a time that calls for all of us to take responsibility for the wellbeing of each other and the planet.  The evolutionary challenges facing our culture calls for a revisioning of all of us as responsible leaders.  
The Living Institute's 'Leadership and Cultural Change' conference will bring together a diversity of conscious organizational and business leaders and change agents to offer an engaging and interactive exploration of the the themes. 
Creative leadership for the 21st century calls for a new understanding of who we are within an interdependent planetary ecosystem and the emerging new paradigm of interconnectedness in science.  As well as through looking at psychological and spiritual themes of self awareness and authenticity in individuals and the workplace, we can revision our local approach to business practice models and the workplace as more conscious and realistic, grounded in what actually works. 
Our inner work as leaders calls for holding conflicting, multiple perspectives within a practical, spiritual framework, based in psychological self awareness. This calls for new approaches to business practices with models that are authentically relational and ecological, caring for the triple bottom line of people, planet, profits, in a conscious workplace where everyone feels responsible and empowered.
Presenters Include: 
 Dennis O'Hara, DC, ND, MDiv, PhD; Jim McNamara, ND; Caroline Mardon, BA; Dr Paul Grof, MD, PhD, FRCP; Mary Pearson, CMC; Harvey Weisfeld;  James Burn
Friday, April 29, 7:00pm – 9:30pm & Saturday, April 30, 9:30am – 6:30pm
Multi-Faith Centre, University of Toronto
More about the LIving Institute & the Presenters:
http://www.livinginstitute.org  
For more information contact:   http://www.livinginstitute.org     jim@livinginstitute.org   416 515 0404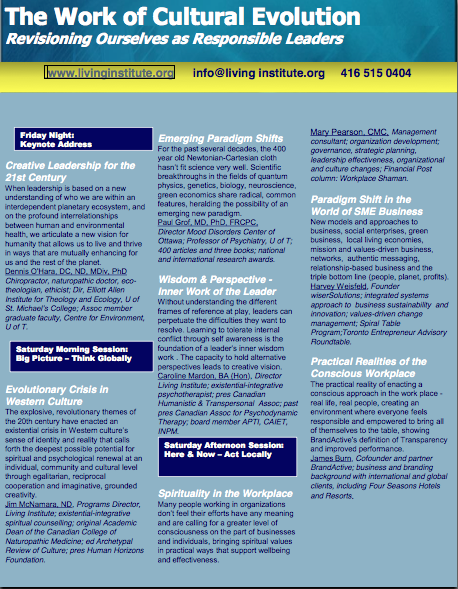 When & Where

Multi-Faith Centre, University of Toronto
569 Spadina Avenue
Toronto, Ontario M5S 2J7
Canada

Friday, April 29, 2011 at 7:00 PM

-

Saturday, April 30, 2011 at 6:30 PM (EDT)
Add to my calendar
Organizer
The Living Institute is a teaching centre committed to exploring humanistic, psychodynamic, existential and mythological themes in individual, cultural and cosmological evolution. The basis for this work is the Holistic Experiential Process Method (HEP). HEP is a model for understanding systemic management and growth that is both social and personal, providing a method for facilitating the evolutionary emergence of self-organizing complexity from apparently chaotic disorder.
The Living Institute recognizes the importance of spiritual and human values in institutional and organizational functions that serve society and culture, based on the interdependence of humans with each other and the natural world.
The Living Institute is also participating in the current re-emergence of spiritual models that draw on ancient cosmologies, from both eastern and western mystical traditions, where nature is seen to embody patterns of integration that link the part with the whole, so that everything is understood to be interconnected.
http://www.livinginstitute.org/