Description
Join us for The Woodlands BBQ Festival in Town Green Park. Proceeds benefit the Pulmonary Hypertension Associaton at www.PHAssociation.org.

PHA's mission is to extend and improve the lives of those affected by PH. Pulmonary hypertension or PH is the other high blood pressure, where arteries of the lungs are constricted, putting pressure on the right side of the heart as it pushes blood through the narrowed vessels. PH is life-threatening because the right heart can become so stressed, it fails.
Thanks to the Pulmonary Hypertension Association's (PHA) Grassroots Events Across America Fund for sponsoring our Special Event. The Grassroots Events Across America Fund is made possible by a Platinum level sponsorship from Actelion Pharmaceutical, a Gold level sponsorship from Bayer Healthcare and a Bronze level sponsorship from United Therapeutics.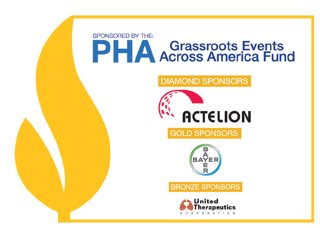 ---
VIP Admission includes: entry into the festival one hour early (at noon), unlimited sample portions from each participating BBQ joint, The Woodlands BBQ Festival t-shirt, two drink tickets, and tote-bag.
General Admission includes: admission to the festival and unlimited sampling from each participating BBQ joint.
To ensure a quality event for all involved, sales are limited. We encourage all guests to purchase tickets online in advance.
---
Food Service will end at 4 pm - or sooner, as food runs out. The park will stay open until 5 pm for live music and beverages.
---
Sponsorship opportunities are now available! Please find the sponsorship packet and more information regarding the opportunity on our website: www.TheWoodlandsBBQ.com.
---
The following BBQ joints will be smoking meats at the festival:
CorkScrew BBQ

Southside Market & Barbeque

Tejas Chocolate

Tin Roof BBQ

Spring Creek Barbeque

Blood Bros. BBQ

Pinkerton's Barbecue

SouthernQ BBQ

Roegels Barbecue Co.

The Brisket House

Goode Company Barbeque

Harlem Road Texas BBQ

Midtown Barbeque

True Texas BBQ (HEB Magnolia)

The Pit Room
More Pit Masters & BBQ Experts To Be Announced!
---
Live Texas-Country Music!
Jesse Raub Jr. & Clayton Gardner
---
FAQs
What is the refund policy?
There will be NO REFUNDS.
Are corporate/group tickets available? ​
Yes. Please contact info@thewoodlandsbbq.com
Do I have to show my ticket to enter the festival?
​Yes. All tickets will be scanned when guests enter the festival. Guests must provide a printed copy of their ticket.
Is my ticket transferable?
​Yes. All tickets can be transferred from one guest (in whose name it is issued) to another guest's name.
Is it okay if the name on the ticket does not match the name of the attendee?
​Yes. The name on the ticket does not have to match the name of the guest attending the festival.
Are there age requirements to enter the festival?
​No. There is no age requirement to enter the festival. However, to purchase alcohol you must present your ID to prove that you are at least 21 years of age.
Is this a barbecue competition/cook-off?
​No. The goal of this festival is to celebrate and recognize barbecue around the area and the people who make it. There will not be any kind of competition or rankings.
How did you pick the participating BBQ joints?
Based on the organizers' experience visiting numerous local BBQ joints, the invited BBQ joints were chosen to represent the quality and diversity of barbecue available in the area.
What is a "sample portion"?
​All of the participating BBQ joints will provide an approximately 2 ounce serving of their barbecue to each guest that comes to their booth. As an example, that is about a slice or half-slice of brisket and one rib.
Can I go back more than once to any, or all, participating BBQ joints?
​Yes.
Will there be enough food for everyone? Will you run out?
We are working closely with the participating BBQ joints to make sure there is plenty of food for everyone. Taken as a whole, all of the food brought by the BBQ joints should provide plenty of food for everyone. However, it is possible that some very popular BBQ joints may individually run out before the end of the festival. We encourage all attendees to arrive early, or purchase a VIP ticket, to ensure that you get a taste of your favorite BBQ joint.
What time will the BBQ joints stop serving food?
Food will stop being served at 4pm.
What time does the park close?
The park will be open until 5 pm to enjoy live music and beverages!
Can I bring my children?
​Yes. However, ONLY CHILDREN 6 AND UNDER WILL BE ADMITTED FREE OF CHARGE. CHILDREN AGE 7 AND OLDER MUST HAVE A PURCHASED TICKET. This is simply to ensure there is enough food for everyone to enjoy.
Is the venue stroller-friendly/wheelchair-friendly?
No, unfortunately it is not. The venue is a park that consists of mostly grass. Sidewalks will be obstructed by barbecue pits.
Can I bring my own beer/wine/drinks?
​No. Outside beverage will not be permitted. You must purchase all drinks at the festival - both credit cards and cash will be accepted for drinks. A bar with craft and national beers will be available for purchase.
Can I bring a cooler?
​No. Personal coolers will not be permitted. ​
Can I bring my pet?
No. Pets will not be permitted - with the exception of service dogs.
Will there be somewhere to sit?
​Yes. We will have plenty of covered and uncovered seating for all guests. Personal lawn chairs will not be permitted.
Will there be restrooms and hand-washing facilities?
​Yes. There will be plenty of restrooms and hand-washing facilities on site.
What will happen in the case of inclement weather?
The festival will happen rain or shine. Contingency plans will be in place in case of inclement weather. ​​
Will there be a designated "Guest Services" location?
​Guest Services will be located at the Registration area. Guests in need of First Aid or Lost-and-Found may report there for assistance. ​
Is smoking permitted in the park?
​No. Smoking is prohibited in the park during festival hours. The festival benefits pulmonary hypertension, a rare lung disease, so we ask that all guests please refrain from smoking.
Are there designated parking areas for the festival?
​Yes. Please see "Parking Information" located at www.thewoodlandsbbq.com.