About this event
**OUTDOOR SOCIALLY DISTANCED - LIVE CONCERT** at the Historic Rural Hill; 4431 Neck Road, Huntersville, NC (less than 20 miles NE of uptown Charlotte!)
Select your reserved area on the Pod Pass chart. Bring your own chairs and/or blankets! *Tents, umbrellas, flags or similar items that obstruct the view of others are not permitted. No coolers, outside food or beverages are permitted - see more details below*.
Gates open at 5:00PM
This is an outdoor event and the artist will appear live on stage. Pod pass options allow for up to 4 people (with the Pod Party Pass) or 2 people ( with the Pod Pass). Extra person passes are available for purchase / *6 people max for each reserved pod area*. Lawn passes (up to 4 per car) are for the general admission area behind the Reserved Pod Section. General Admission/Lawn Pass holders are not permitted into Reserved Pod Area.
All Pod (or Lawn) Pass guests/extras need to arrive/check-in together. It is a vehicle check-in then you will proceed to parking and walk to concert area (no re-entry to parking area). Pod Passes are non-transferable.
Your reserved pod area is approximately 10 feet x 10 feet with spacing around each pod. The pods are not connected. Alternating rows will be staggered for optimum viewing.
All sales are final. No refunds or exchanges. Ticket Valid for event day only.
Rules/Notes
The reserved pods are socially distanced, Attendees may leave their reserved pod to visit concessions and portable toilets.
Please do not enter anyone else's reserved space or stand in any aisles or near the stage. *The area in front of the stage is reserved for stage staff and security only. This is not a dance floor.* We want this to be a safe and enjoyable experience for all.
There is a maximum capacity of 6 attendees per pod.
The event is All Ages. Anyone under the age of 17 must be accompanied by a parent or legal guardian. Promoter reserves the right to ask for proof of age.
Artist merchandise, food & drink (including alcohol) will be available on site. No coolers. Outside food & drink (including alcohol) will not be permitted. Additionally, no grills, fireworks, umbrellas, tents, pets, drones, or glass will be allowed.
Please leave your reserved pod area as you found it. No trash should be left behind for any reason! Each reserved area will be provided with a trash bag, please use it! If you really want to help us, take it home and place in your receptacle. Otherwise, leave it beside your space marker and we'll get it at the end of the night!
The promoter and venue assume no liability for any loss, theft, damage, or injury to property or persons, including death, whether arising in contract, negligence, equity, tort or otherwise.
Pursuant to Mecklenburg County Ordinance, Rural Hill is now a tobacco-free zone. This includes both smoking, smokeless tobacco, e-cigarettes, vaporizers and other such devices. This is a Mecklenburg County Law that Rural Hill must follow.
Overnight camping will not be available for this Rural Hill event.
Code of Conduct
All guests are expected to adhere to CDC and North Carolina guidelines in relation to social distancing while attending pod events. Refusal to respect the safety of other attendees by adhering to these guidelines is grounds for ejection from the event.
*Event rules and layout may alter as the CDC recommendations change and Governor's restrictions are lifted.*
We look forward to having you at the event. #STAYHEALTHY #SAVEOURSTAGES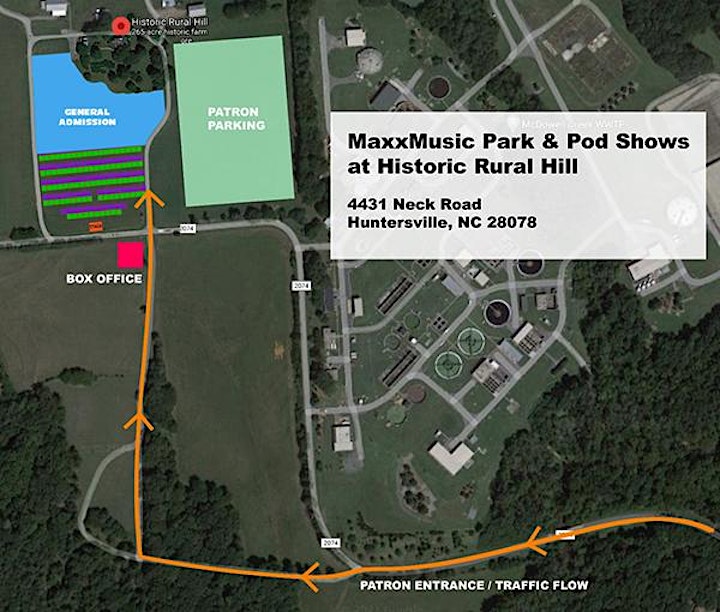 The Wood Brothers didn't know they were making a record. Looking back, they're grateful for that.
"If we had known, we probably would have been too self-conscious to play what we played," reflects bassist/vocalist Chris Wood. "At the time, we just thought we were jamming to break in our new studio, so we felt free to explore all these different ways of performing together without worrying about form or structure. It was liberating."
Recorded live to tape, those freewheeling, improvised sessions became a vast pool of source material from which The Wood Brothers would go on to draw 'Kingdom In My Mind,' their seventh studio release and most spontaneous and experimental collection yet. While on past records, the band—Chris, guitarist/vocalist Oliver Wood, and drummer/keyboardist Jano Rix—would write a large batch of songs and then record them all at once, 'Kingdom' found them retroactively carving tunes out of sprawling instrumental jam sessions like sculptors chipping away at blocks of marble. A testament to the limitless creativity of the unharnessed mind, the record explores the power of our external surroundings to shape our internal worlds (and vice versa), reckoning with time, mortality, and human nature. The songs here find strength in accepting what lies beyond our control, thoughtfully honing in on the bittersweet beauty that underlies doubt and pain and sadness with vivid character studies and unflinching self-examination. Deep as the lyrics dig, the arrangements always manage to remain buoyant and light, though, drawing from across a broad sonic spectrum to create a transportive, effervescent blend that reflects the trio's unique place in the modern musical landscape.
"My brother came to this band from the blues and gospel world, and my history was all over the map with jazz and R&B," says Chris, who first rose to fame with the pioneering trio Medeski Martin & Wood. "The idea for this group has always been to marry our backgrounds, to imagine what might happen if Robert Johnson and Charles Mingus had started a band together."
'Kingdom In My Mind' follows The Wood Brothers' most recent studio release, 2018's 'One Drop Of Truth,' which hit #1 on the Billboard Heatseekers Chart and garnered the band their first GRAMMY nomination for Best Americana Album. NPR praised the record's "unexpected changes and kaleidoscopic array of influences," while Uncut hailed its "virtuosic performances and subtly evocative lyrics," and Blurt proclaimed it "a career-defining album." Tracks from the record racked up roughly 8 million streams on Spotify alone, and the band took the album on the road for extensive tour dates in the US and Europe, including their first-ever headline performance at Red Rocks, two nights at San Francisco's legendary Fillmore (captured on their 2019 release, 'Live At The Fillmore'), and festival appearances everywhere from Bonnaroo to XPoNential.