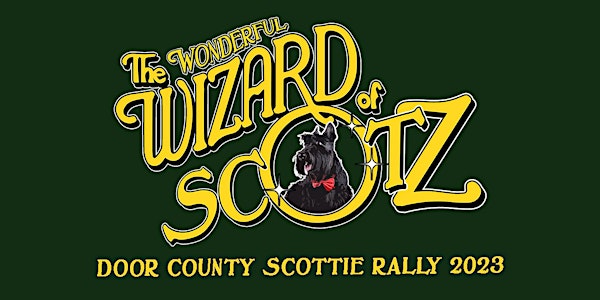 THE WONDERFUL WIZARD OF SCOTZ
BRING YOUR RUBY SLIPPERS, YOUR TERRIER and follow the YELLOW BRICK ROAD to the WONDERFUL WIZARD OF SCOTS the weekend of May 19th–20th, 2023!
When and where
Location
Door County Scottie Rally Headquarters /Door County Scotland Yard 2540 Juniper Ridge Road Baileys Harbor, WI 54202
Refund Policy
Contact the organizer to request a refund.
About this event
1 day 3 hours

Mobile eTicket
There's no place like the Door County Scottie Rally! Scottish Terriers are packing their ruby slippers, tin hats, badges of courage and lots of heart in prep for their journey to see THE WONDERFUL WIZARD of SCOTS. This event will focus on continued socializing with one another, the "Parade of Scots" and other Scottie events. And of course we can't forget that wee bit of fundraising that will help our dreams come true!
WOOFSCOT FRIDAY SCHEDULE 1:00–4:30 pm
1:00-4:30pm SET UP X-pen and Chairs/MEET & GREET Fellow Attendees
SILENT AUCTION Open for Bidding
MUNCHKIN LAND Scottie Shoppe Open for Shopping
1:30–3:30 pm BARBARA A. GIBSON TRIBUTE, "DOGS JUST WANT TO HAVE FUN! " LURE COURSING (ticket event)
1:30–3:00 pm PUNCH NEEDLE ART PROJECT session 1(ticket event)
3:00–4:30 pm PUNCH NEEDLE ART PROJECT session 2 (ticket event)
4:30 pm Door County Dining — Explore on your own!
WOOFSCOT SATURDAY SCHEDULE 9:00 am–4:00 pm
9:00–10:30 am MEET & GREET Fellow Attendees
9:00–1:00 pm SILENT AUCTION Ongoing Bidding
9:00 am–4:00 pm MUNCHKINLAND Scottie Shoppe Open for Shopping
9:00 am–2:00 pm ABDOMINAL ULTRASOUNDS SCREENINGS
9:00 am–2:00 pm ALL SCOTTIE DNA MATTERS — Blood Sample Collection
9:30 am–3:30 pm ANIMAL COMMUNICATION SESSION(ticket event)
11:30 am–3:30 pm SCOTTIE CARICATURE ARTIST (ticket event)
11:00 am PARADE OF THE SCOTS with CLAN DONALD
12:00–12:45 pm BOX LUNCH/BEVERAGE PICK-UP
12:50 pm–1:00 pm POP UP SURPRISE BOXES SALE with Sue Fronsee
1:00 pm SILENT AUCTION CLOSING
1:10–1:45 pm LIMITED LIVE AUCTION
1:45–2:30 pm "RUN TOTO RUN" SCOTTIE RACES
2:45–3:00 pm BEST COSTUMES & SCOTTIE RACE AWARDS
3:00 pm AUCTION (LIVE & SILENT) ITEM PICK-UP
3:30 pm TIME TO CLICK OUR RUBY SLIPPERS and repeat there is NO PLACE LIKE HOME!!!!
Registration includes a box lunch with a sandwich, chips, cookie and bottled water or soda and an official DCSR Wonderful Wizard of Scots long sleeve t-shirt . Our thanks to Bronwyn Major for her generous creation and donation of the Wonderful Wizard of Scots artwork.
Registration closes 4/15/2023 or when our registration limit of 125 is reached. We reserve the right to cancel or substitute topics in the event of unforeseen circumstances.
YOUR Wizard of Scots REGISTRATION FEE WILL COVER THE FOLLOWING:
registration includes admission for both days excluding ticketed events
rental of the large tent for the Silent Auction and Scottie Shoppe
rental of 2 portable commodes and a handwashing station
locally made (on the morning of Rally) sandwiches with high quality ingredients
beverages including bottled water for you and your dog(s)
lodging for faculty
2–3 Door County Sheriff deputies (@ 3 hours each including travel from Sturgeon Bay) for traffic control on State Highway 57
Clan Donald Pipes & Drums ($500)
rental of 20-30 tables for under the tent
trash receptacles, dumpster and pick-up
propane gas and portable heat source for the large tent
honorarium/veterinarian fee(s) for ultrasounds
limited advertising in The Bagpiper (STCA publication) and the Peninsula Pulse
rental of additional golf cart for shuttling guests
contest/race prizes, and
a limited edition Wizard of Scots t-shirt
FRIDAY AFTERNOON EVENTS/FACULTY
Barbara A. Gibson "Dogs Just Want to Have Fun" Event: LURE COURSING
As a tribute to our friend & colleague, Barbara A. Gibson, Door County Scottie Rally's commitment to dogs having fun and the formation of partnerships between people and their dogs we will be offering a new event called LURE Coursing. LURE COURSING is a sport in which dogs chase a lure around a closed area in zigs and zags. Barbara was well regarded in the arena of events such as agility, rally and barn hunt. She was a barn hunt judge and mentor to anyone who was looking for assistance. It is clear that she inspired many to become partners with their dogs. Barbara unexpectedly passed away in 2019 within a few weeks after her 50th birthday with a late diagnosis of ovarian cancer. She took great pride in getting her boy, Duke da Dude, finished in conformation, and he went on to sire a wonderful litter of puppies. She was co-owner of Aulscots Scottish Terriers with her dear friend, Allene Auld in Hawaii.
Scottie Punch Needle Art Workshop presented by fabric artist and DCSR Board member Philomena Poole, Richland Center, WI This workshop will walk you through making your own Scottie Punch Needle Art pin, charm or keyring. A ticket is required to participate, and class is limited to 5 participants in each session.
SATURDAY EVENTS/ FACULTY
SATURDAY HEALTH SCREENINGS & BREED PRESERVATION
ULTRASOUNDS: As a breed, Scottish terriers are known to have an increased presence of certain health conditions including but not limited to bladder cancer, gallbladder sludge, and liver enzyme elevation. Research done by Purdue University recommends annual abdominal ultrasound screenings beginning at age 6 to enhance detection of abnormalities as early as possible. Abdominal ultrasound screenings will be performed and interpreted by a team of board certified veterinarians and a certified ultrasonagrapher. A flash drive of your dog(s) ultrasound and a brief report will be provided for you to follow-up with your primary care veterinarian. This is a ticketed event and limited to 2 dogs/family. Additional dogs may be placed on a wait list and incorporated into the schedule.
ALL SCOTTIE DNA MATTERS! Blood draws for submission of your Scottie(s) DNA to the Health Trust Fund DNA Bank will be provided and mailed following completion of the Rally. Having these samples banked will contribute to the preservation of the Scottish Terrier breed through HTF approved research studies. There is no cost involved in having DNS BANK blood collected at the Rally. Regardless of your Scottie's background or pedigree----ALL SCOTTIE DNA MATTERS!
SCOTTIE CARICATURE ARTWORK created by Ken Klopack who is a retired public school art teacher in Chicago. He has been active in the Chicagoland and Door County art scene for over four decades. In addition to being an award-winning art teacher, Ken is a political cartoonist and a caricature portrait artist. Ken will be creating a caricature portrait of your Scottie(s) at this limited ticketed event.
ANIMAL COMMUNICATION SESSION with Lynn Schuster will allow you to explore your relationship with your dog.Lynn is a telepathic animal communicator who has the ability to hear what animals have to say. Lynn lives in Door County and conducts workshops, retreats and private sessions through her business, Animal Spirit Talker. Sessions with Lynn will be a limited ticketed event.
SCOTTIE RALLY HEADQUARTERS INFORMATION
Parking will be limited to our open meadow immediately adjacent to our driveway. Please follow our parking volunteer directions and pull in as close as you possibly can so we can maximize use of this space.
Shuttle: We will assist you with the use of a golf cart to transport you, your dog(s) and items such as your X-pen to the check-in table.
Smoking: Use of smoking materials including e-cigarettes and vaping are prohibited on our property for the comfort and safety of all of our guests. In the event that you are a smoker please limit your use of any smoking materials (including vaping) to off-property and please do not toss any materials including butts into our woods.
Portable Commodes: Our home is on a private septic system and can not handle additional waste. Please respect the privacy of our personal home. The commodes we rent are completely sanitized and ready for use upon their delivery. Additionally we rent a handwashing station for your personal hygiene, comfort and safety.
Parade of Scots: A limited amount of seating on the Scottie Wagon will be available for 2- or 4-footed passengers who are unable to walk the 1.8 round trip parade route. The Scottie Wagon typically is at the tail end of the parade route to pick up any tuckered out parade walkers!
DCSR IMPACT: Since 2001 Scottish Terriers and their families have gathered in Baileys Harbor to promote fellowship and raise funds for Scottish Terrier Health Research and Scottie Rescue. The efforts of the Door County Scottie Rally, a not for profit 501(c)(3) organization, have resulted in the donation of over $490,000 for Scottie rescue and/or health research that involves or impacts the Scottish Terrier. The Door County Scottie Rally is privileged to have a dedicated volunteer Board who serve the organization year-round with the DCSR mission always in mind. Additionally we began online auctions on social media to enhance our fundraising efforts and increase knowledge of our mission which is to:
Foster fellowship among people who are passionate about Scottish Terriers
Educate the public and owners regarding issues which impact the health and welfare of Scottish Terriers
Provide financial support of Scottish Terrier health related research, and
Provide financial support to STCA Scottish Terrier rescue
,Additionally, we provide an energetic slate of virtual webinars on ZOOM as the DCSR ZOOMIES. These sessions are typically recorded and are availble at Door County Scottie Rally website. www.doorcountyscottierally.com
COVID-19 Protection/Prevention: DCSR will not be asking for proof of vaccination status. There will be attendees who are immunocompromised and may wish to remain physically distant, as well as continue to mask.