Sales Have Ended
Registrations are closed
We are officially sold out. Feel free to join our mailing list by calling us at (314)385-1935 or email info@minorityhealthstl.org
Sales Have Ended
Registrations are closed
We are officially sold out. Feel free to join our mailing list by calling us at (314)385-1935 or email info@minorityhealthstl.org
About this Event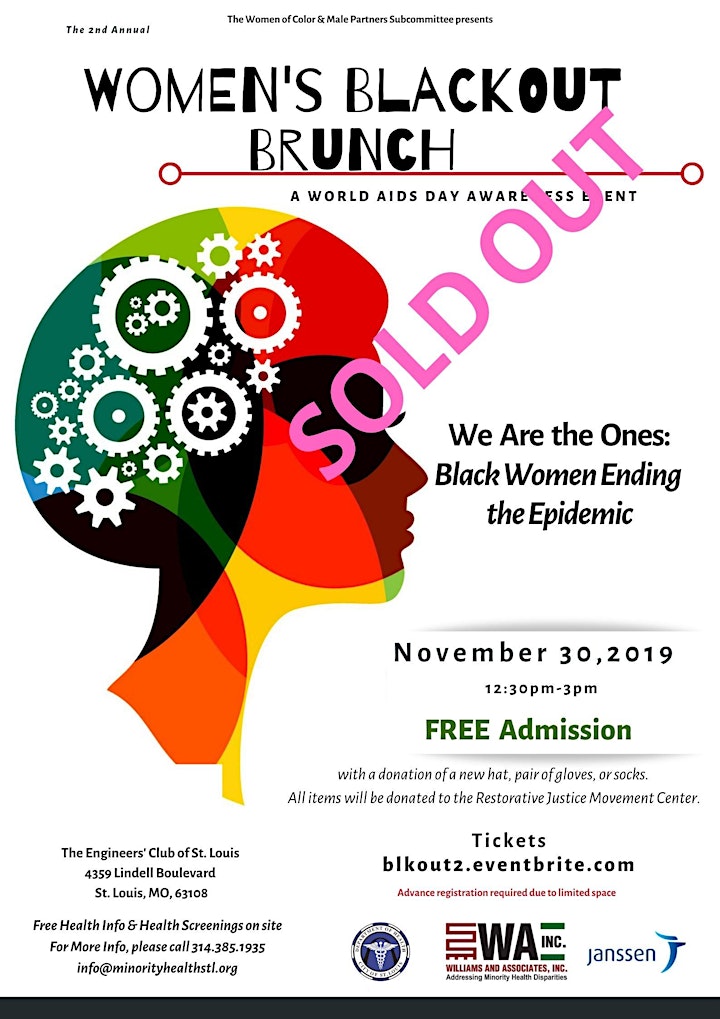 ***This Event is sold out. Please add your name to our email list for our next two community events taking place February and March 2020.
Email: info@minorityhealthstl.org
Join us for an empowering afternoon of conversations around cultivating, restoring, and transforming ourselves intentionally to celebrate black women's holistic health.
The brunch is an opportunity to strengthen health awareness in our region through shared experiences and supporting each other in this safe space moderated by Tracie Berry-McGhee of The i define Me Movement
Come brunch with us! Door Prizes & Giveaways
The 2nd Annual Women's Blackout Brunch is coordinated by The Women of Color and Male Partners Subcommittee. Thanks to our sponsors Williams & Associates, Janssen, and St. Louis City Department of Health.
Space is limited and advance registration is highly recommended.
***There will be no door tickets the day of the event.***
The Women's Blackout Brunch Agenda
12:00pm Doors Open
12:35pm Welcome
1:00pm Brunch & Speaker Presentation
1:30pm Movie Viewing/Discussion
3:00pm The Women's Blackout Brunch Closes
Free & confidential health screenings will be on-site.
-FAQs
Is there a fee to attend?
No, there is no fee to attend. However, the event organizer is asking each attendee to donate a new winter hat, a pair of gloves or socks.
**However, no one will be turned away without the item(s) requested.
All donated items will be given to The Restorative Justice Movement Project
What if I registered, but cannot attend?
Please contact the event organizer, so that we can open the space for other attendees at least on or before, Wednesday, November 27, 2019
What ages are recommended for this event?
Ages 16 and above are recommended.
****Topics of discussion for this event Mental health, sexual wellness, sexually transmitted infections, treatment of sexually transmitted infections, condoms, and other sensitive topics.*******
What are parking options at the event?
Parking is free and located at the entrance of the building, including handicap parking.
What is the attire for The Women's Blackout Brunch?
Come as you are! Wear something black.
What are the public transportation options?
The Metrobus is on this route.
How can I contact the organizer with any questions?
Call 314-385-1935 with any questions or concerns.Email: Info@minorityhealthstl.org
What health screenings are available?
Rapid HIV Screenings will be provided free of charge to anyone ages 13 and above.
Professional health screeners from Williams & Associates, St. Louis City Department of Health, and Partners will be performing the screenings and provide results the same day.
Please call for details about the screening procedure, please contact 314-385-1935.
Nationally December 1st is World AIDS Day
Where can I obtain a test on another day and time?
The organizer Williams and Associates, Inc provides free, confidential screenings. Visit www.minorityhealthstl.org and/or www.stlcondoms.com
Do you have other community events? Yes! Please join our mailing list by contacting us at Info@minorityhealthstl.org