About this Event
WE ARE SOLD OUT FOR TONIGHT
Those women who feel the call to be a stand for peace in this world are asked to come and honor, share and celebrate the art, love, and power we are as we rise in leadership and action.
The night will begin Thursday June 20th at 7 pm at The Sacred Space Miami where we will be uplifted, moved and inspired by our honorary speakers and each other.
We are blessed to:
Learn and support our award-winning humanitarian sister, Alison Thompson as she shares with us her path to becoming a beacon of peace to the world.
Connect with and empower ourselves with heart-connection tools with help of Standing
We are blessed to:
Standing Light Founder and love savant Leyla Salvade.
Share our contributions to our communities and ask for support in our path to leadership with each other.
Be inspired through art, music and philanthropy. We welcome two of Miami's most cherished artistic sisters to share their heart through their art. All will be invited to bid on their charitable creations.
Begin together a movement of peace, learning together to source it powerfully within, and share it powerfully without in our relationships, communities, and personal missions.
Share beautiful food, drink and ambiance
Come With Your Heart Open & Ready To Be Activated**
The Women of Peace is a global educational gathering of female thought leaders, teachers and entrepreneurs who are passionate about being the source of peace to the world. The group, founded by Jelena Petkovic, assembles in beautiful locations infused with health and nature, share food and drink, experience art, connect with each other, and share ideas, thoughts, tools, resources for peace empowerment. Each meeting invites world-renowned speakers, and facilitators of peace, to share inspiration and expertise. All proceeds benefit selected non-profits supporting local or global peace efforts. They will take center stage to inspire guests with their work.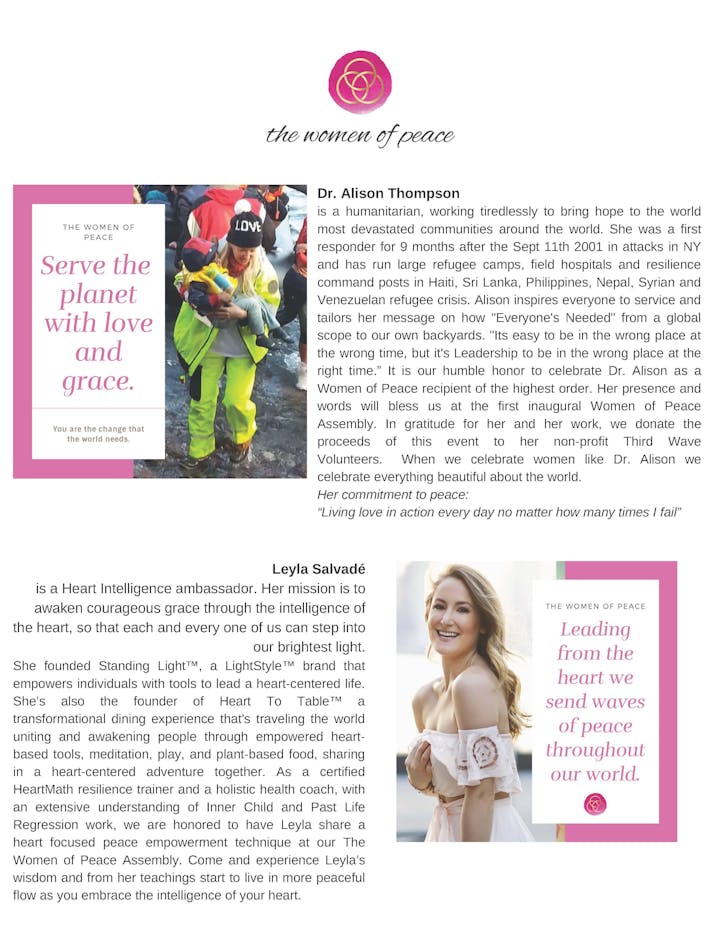 **by purchasing this ticket, I agree to allow the Women of Peace to use any images of me taken at the event for purposes related to their business including marketing collateral.