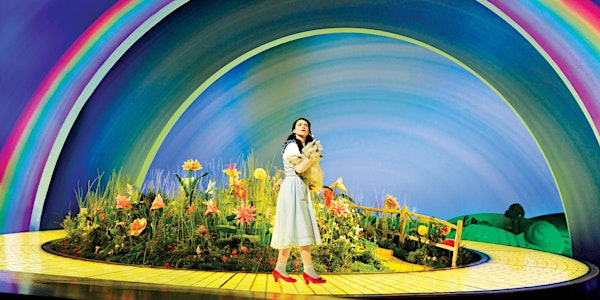 The Wizard of Oz
In-House Milton Theatre Mainstage Production!
Location
The Milton Theatre
110 Union St
Milton, DE 19968
In-House Milton Theatre Mainstage Production of the full-length musical drama The Wizard of Oz!
About this event
We're off to see the wizard! The Milton Theatre Main Stage presents the iconic stage musical Wizard of Oz!
This beloved tale, in which a Kansas farm girl travels over the rainbow to discover the magical power of home, has entertained audiences for generations and is coming to the Milton Theatre stage in time for the holiday season!

The Wizard of Oz
By L. Frank Baum
With Music and Lyrics by Harold Arlen and E. Y. Harburg
Background Music by Herbert Stothart
Dance and Vocal Arrangements by Peter Howard
Orchestration by Larry Wilcox
Adapted by John Kane for the Royal Shakespeare Company
Based upon the Classic Motion Picture owned by
Turner Entertainment Co. and distributed in all media by Warner Bros.
Follow the yellow brick road in this delightful stage adaptation of L. Frank Baum's beloved tale, featuring the iconic musical score from the MGM film. The timeless tale, in which young Dorothy Gale travels from Kansas over the rainbow to the magical Land of Oz, continues to thrill audiences worldwide.
"This is, to come out with it immediately, the most marvellous show." — Jeremy Kingston, The Times
"'Iconic' is an overused word these days, but when you're talking about The Wizard of Oz, there's really no other—whether you mean the 1939 film with Judy Garland, L. Frank Baum's book (it came first, you know), or a stage version... this Oz, brimming with color, seduces and delights." - Collin Kelley, Atlanta In Town
"Since this classic movie first delighted children and grownups back in 1939, L. Frank Baum's glorious fantasy has been a continual favorite. Whether on film, in print or live on stage, as it is at Chicago Shakespeare Theater, this fanciful story, with its inspiring lesson about friendship, is one of the most beloved in children's literature... Did Yip Harburg and Harold Arlen have any idea of the enduring musical magic they'd created when they composed all those wonderful, infectious songs?" - Colin Douglas, Chicago Theatre Review
THE WIZARD OF OZ is presented by arrangement with Concord Theatricals on behalf of Tams-Witmark LLC.
www.concordtheatricals.com
About the Milton Theatre
Official Website | Facebook | Twitter | Instagram
The historic Milton Theatre is a uniquely diverse venue where you will find the best local, regional, national, and international talent. Free municipal and on-street parking are available. Full bar and light food options available. This facility is fully accessible.