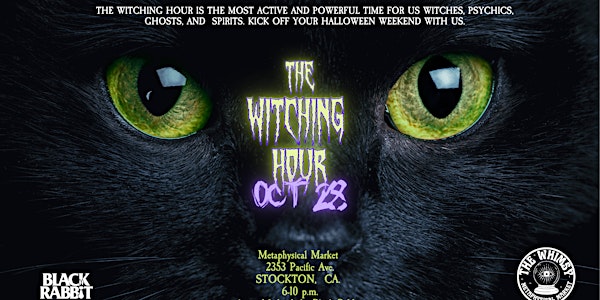 The Witching Hour
The witching hour is the most active & powerful time for us witches, psychics, ghosts, and spirits. Kick off your Halloween weekend with us.
When and where
Location
2353 Pacific Ave 2353 Pacific Avenue Stockton, CA 95204
About this event
There's nothing better than starting your Halloween weekend with a spooky witch market. Come mingle with the other witches and spooky season lovers as you shop all things metaphysical.
Stock up on sage, palo santo, incense, bath and body products, intention candles, crystals, plants, witchy apparel, art prints, herbs & spices, tea, potions, artisan jewelry, and so much more. We'll also have handcrafted witchy decor for all of you who enjoy Halloween decor year-round.
Aside from supplies and artisan goodies, we have an abundance of healing opportunities. Enjoy a mini sound healing session, henna, reiki, tarot reading, or even a psychic reading. The market will be behind the Black Rabbit from 6 p.m. until 10 p.m. ish. Stop by the Black Rabbit to enjoy an adult beverage and a delicious meal.
PARKING: Free but scarce if you come early. More spots are available later in the evening.
ADMISSION: Free to all, including friendly dogs on leashes
RESTROOMS: No public restrooms; however, there are several restaurants nearby that would love your patronage.
This is a family-friendly event, so there is no smoking/vaping within the market boundaries. Please step away from the market to do any type of smoking/vaping. Alcoholic beverages purchased from the Black Rabbit are only allowed in front of and behind the bar- not along Central Ct. Haggling for lower prices or deals is frowned upon at artisan markets. It is somewhat of an insult to the artisans who spend a lot of money, time, effort, and creativity on what they're selling, so do not haggle. Most of them do accept tips on Venmo and Paypal. :)
We can't wait for Halloween weekend! See you there!
Follow us on Instagram or Facebook @whimsymarket209. Check our stories for product posts the week before the event.