The Wisdom of the Body; The Power of the Mind

Saturday, September 23, 2017 from 8:30 AM to 8:00 PM (EDT)
Event Details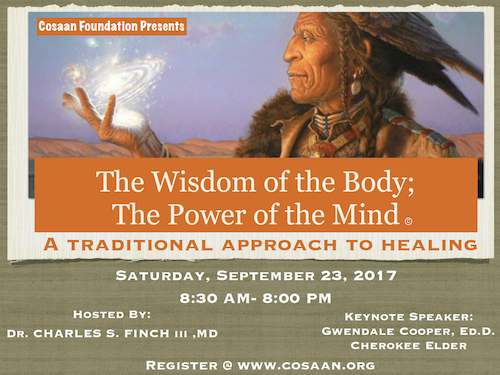 The Cosaan Foundation presents: "The Wisdom of the Body; The Power of the Mind" featuring presentations by experienced and knowledgeable individuals who explore a holistic approach to disease, illness, and healing.  Rather than being the focal point of medical treatment, illness itself is really a symptom.  It is the last phase of a cascade of phenomena brought on by negative and inappropriate behavior, thought patterns, and a bio-energetic/spiritual state that is out of balance.  Dr. Gwendale Cooper, an elder of Cherokee ancestry, will lead an interactive workshop teaching the participants techniques for healing and wellness.  There will also be opportunities for experiencing an assortment of healing modalities.  Our event takes place at the foot of beautiful Stone Mountain, and will be further enhanced by its energy and power.
Please note that no practitioner makes claims for cure of existing medical conditions, problems, or disease states; nor will he/she be held liable for injury, pain, or other medical complications which could occur during or following today's activities.
When & Where

Atlanta Evergreen Marriott Conference Resort
4021 Lakeview Drive
Stone Mountain, GA 30083


Saturday, September 23, 2017 from 8:30 AM to 8:00 PM (EDT)
Add to my calendar
Organizer
The Cosaan Foundation, founded in 1996, has continued to keep abreast of the emerging cultural and spiritual trends evident in Africa and the Diaspora.  Ever more information has come to light concerning the history and cultural antecedents of the African world and this accumulating data is slowly changing perceptions about Africa and PEOPLE of African descent the world over.  The Cosaan Foundation, in response to these developments, is channeling its energies into more dynamic explorations of African...