The Wisdom of Buddha Amitayus - Live-streamed Empowerment and Retreat
Join this special weekend event and establish a deep connection with Amitayus, the Buddha of long life, merit, and wisdom.
About this Event
Life, merit, and wisdom - we need these for daily happiness, and we especially need them to complete the spiritual path. The blessings of Amitayus - the Buddha of long life, merit and wisdom - protect us from untimely death, increase our merit and bestow wisdom. By making a connection with Buddha Amitayus, our life span increases, and our merit and wisdom become fuel for our happiness and success.
On Saturday, Gen Rinzin will grant Amitayus empowerment then give teachings and guide meditations on the practice of Buddha Amitayus. Through this practice, we can remove obstacles to our spiritual practice and eventually attain enlightenment. Amitayus meditation strengthens our own and others' life span, increases our good fortune, and enriches life with transformative wisdom.
During the Sunday retreat, we will engage in the meditation practice and recite the mantra of Buddha Amitayus, receiving special blessings that pacify sickness, sudden dangers, and other problems. By engaging in Amitayus retreat, we accumulate a vast collection of merit, or positive karma, and free ourselves from inner and outer obstacles to spiritual progress. By improving our good nature, the normal stresses of daily life become easier to manage, and we become empowered to express kindness and concern for others.
Recordings will be available on-demand for one week. Everyone is welcome to this very special weekend event!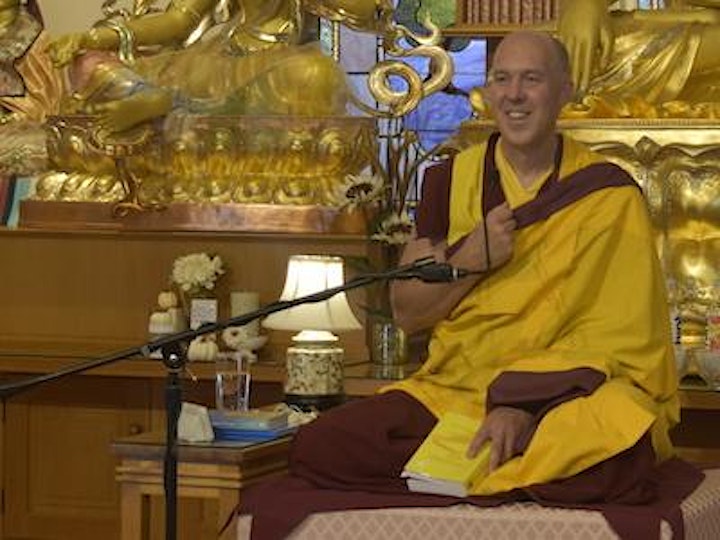 About the Teacher
Gen Kelsang Rinzin was ordained as a Buddhist monk in 2004 and taught at Heruka Buddhist Center in Fort Collins, Colorado for 15 years. He was appointed to the Resident Teacher position at Kadampa Meditation Center Washington and began teaching here in October 2020. Gen Rinzin communicates his love of Dharma with a down-to-earth approach and humor that helps the listener appreciate and understand the teachings and put them into practice. His teachings are clear and practical, making them easy to apply to modern life.
Event Schedule
SATURDAY
10:00-11:30AM Empowerment
1:00-2:30PM Teaching
3:00-4:00PM Meditation with The Yoga of Buddha Amitayus
SUNDAY
10:00-11:15am - Retreat session 1
11:45am-1:15pm - Retreat session 2
2:30-4:00pm - Retreat session 3
Registration
$65 per attendee for Saturday only
$25 per attendee for Sunday only
$85 for full weekend
This event is being offered by Kadampa Meditation Center WA via live-stream for people in the Pacific Northwest. Registrants will receive a link enabling them to watch and listen by phone, tablet or computer.