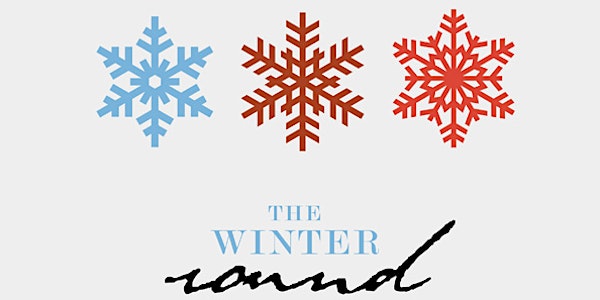 The Winter Round: Katie Kuffel, Pepper Proud, Lizzie Weber, more @ Fremont Abbey
12/12/17 - The Winter Round: Special event with Katie Kuffel, Pepper Proud, Tyler Edwards, Lizzie Weber, Arthur James, Eastern Souvenirs, spoken word poet Siena Burnett, plus live painters Sienna Dawn & Sarah AshwoodKatie Kuffel: WebsitePepper Proud: WebsiteTyler Edwards: WebsiteLizzie Weber: WebsiteArthur James: WebsiteEastern Souvenirs: Website Sienna Burnett: FacebookSarah Ashwood: WebsiteSienna Dawn: Website@ Fremont Abbey Arts Center8:00p show, 7:00p doors$7 student advance, $8 early discount advance, $10 general advance (not including fees) $15 day of showAll ages, mostly seated, bar w/IDMORE EVENT INFO:- We have a mix of normal chairs, some tall chairs, and standing room in back if the show sells out.- Seating is not reserved.- Fremont Abbey is ADA accessible on either level.- We are an all ages venue. - Please refrain from talking or texting during the show.- Kids 10 & under are free at Abbey Arts concerts & arts events unless noted.ABBEY ARTS, SEATTLE | NONPROFIT 501C3, NON-RELIGIOUS, EST. 2005Presenting welcoming music, arts & cultural experiences for people of all ages & incomes.We support low income families, veterans, and humanitarian nonprofit workers with free event tickets. http://www.fremontabbey.org/artsconnect Venue rental info & more: http://www.fremontabbey.org/rent Concert & events calendar: http://www.abbeyarts.me Home Venue: Fremont Abbey, 4272 Fremont Ave North, Seattle, WA 98103 / 206-414-8325 Ballard Homestead: 6541 Jones Ave NW, Seattle
When and where
Location
Fremont Abbey 4272 Fremont Avenue North Seattle, WA 98103
Refund Policy
Refunds up to 7 days before event
About this event
12/12/17 - The Winter Round:  Special event with Katie Kuffel, Pepper Proud, Tyler Edwards, Lizzie Weber, Arthur James, Eastern Souvenirs, spoken word poet Siena Burnett, plus live painters Sienna Dawn & Sarah Ashwood
Katie Kuffel: Website
Pepper Proud: Website
Tyler Edwards: Website
Lizzie Weber: Website
Arthur James: Website
Eastern Souvenirs: Website 
Sienna Burnett: Facebook
Sarah Ashwood: Website
Sienna Dawn: Website
@ Fremont Abbey Arts Center
8:00p show, 7:00p doors
$7 student advance, $8 early discount advance, $10 general advance (not including fees) 
$15 day of show
All ages, mostly seated, bar w/ID
MORE EVENT INFO:
- We have a mix of normal chairs, some tall chairs, and standing room in back if the show sells out.
- Seating is not reserved.
- Fremont Abbey is ADA accessible on either level.
- We are an all ages venue. 
- Please refrain from talking or texting during the show.
- Kids 10 & under are free at Abbey Arts concerts & arts events unless noted.
ABBEY ARTS, SEATTLE | NONPROFIT 501C3, NON-RELIGIOUS, EST. 2005
Presenting welcoming music, arts & cultural experiences for people of all ages & incomes.
We support low income families, veterans, and humanitarian nonprofit workers with free event tickets. http://www.fremontabbey.org/artsconnect 
Venue rental info & more: http://www.fremontabbey.org/rent 
Concert & events calendar: http://www.abbeyarts.me
 Home Venue: Fremont Abbey, 4272 Fremont Ave North, Seattle, WA 98103 / 206-414-8325
 Ballard Homestead: 6541 Jones Ave NW, Seattle