The Wings of Hope Achievement Awards Ceremony 2019 - "I am a champion of......
Description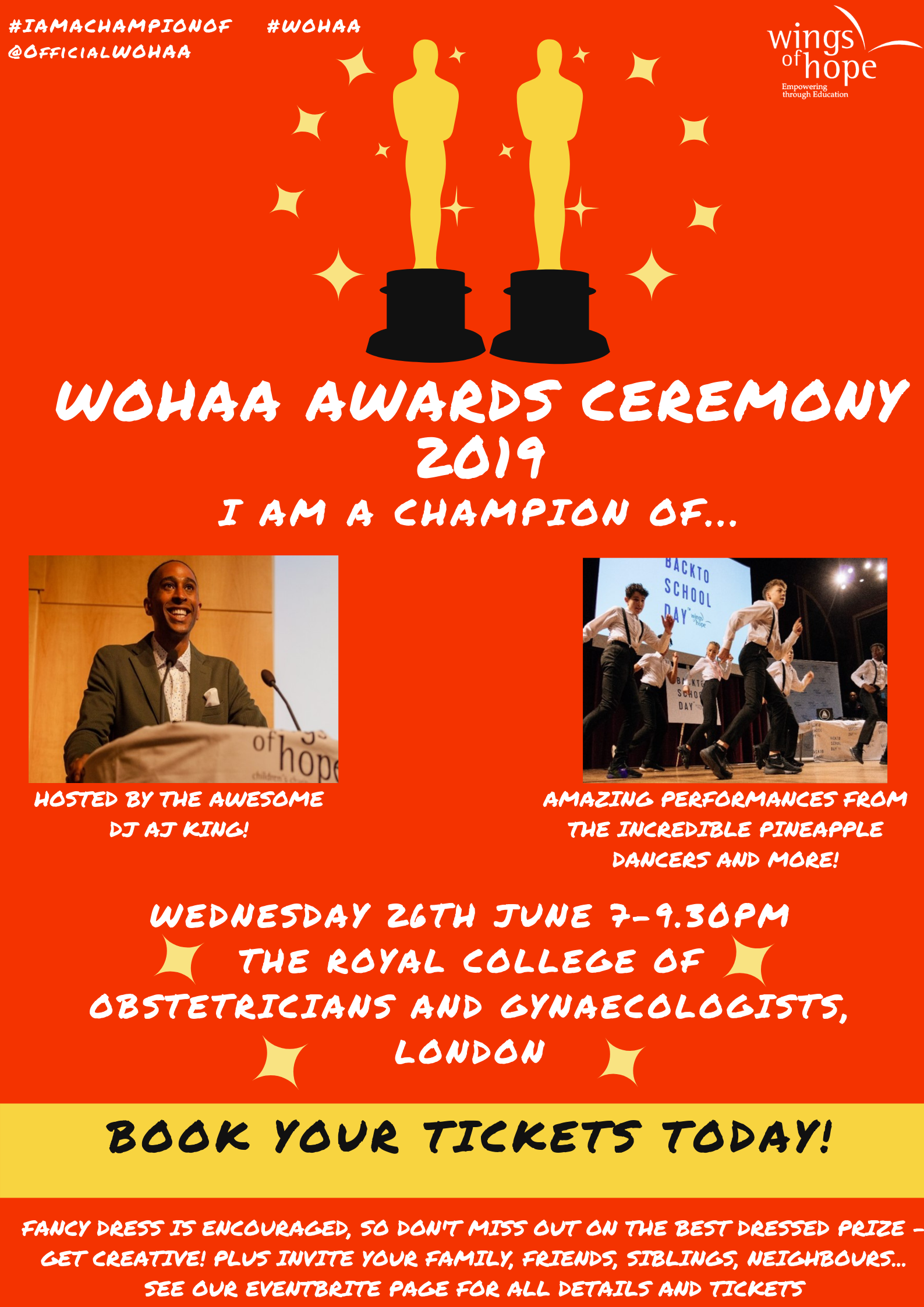 This FREE event is an opportunity for us at the Wings of Hope to say thank you to all the students who have taken part in WOHAA, and to everyone who has supported the Wings of Hope this year. On this evening we will recognise and reward all the hard work and effort of students and teachers. We will also be announcing the winners in each of our categories and the overall winning team who will receive the prize of an expenses-paid trip to India.
Plus this year we will be introducing a new award category for Exemplary Teams which rewards those teams who have shown exemplary efforts in their projects in different ways.
The theme for this year's Wings of Hope Awards Ceremony is I Am A Champion Of...
Are you a champion of dance, of all things green? A champion of free speech, of science, of music? Fashion, women's rights, sports, or education?
What are you a champion of?
Fancy dress to fit with our theme is encouraged - as wild and wonderful as you like! There's a prize for the Best Dressed student so get creative!
This event will be hosted on Wednesday 26th June 2019 from 7pm - 9.30pm at the Royal College of Obstetricians and Gynaecologists, Baker Street, London.

Friends and family (parents, grand parents, other relatives, guardians, siblings) are welcome - so feel free to invite them to the ceremony. Please make sure they reserve a ticket and fill in all the details required for each attendee.
Our guest host for the evening is the fantastic AJ King, from What's Up TV and Kiss FM, plus we have performances from the incredible Pineapple Dancers and more!
The event promises to be a fun-filled evening of entertainment, including student performances and more special guests!
IMPORTANT: Tickets are completely free and ticket details for each attendee MUST be separately filled in and completed properly. This is important as we will be corresponding with all attendees about details of the event. You may get tickets for other people but you must provide their full and correct details. This information is needed for Health & Safety reasons.
If you have any additional needs, please let us know during registration.
Please note, we will be taking photographs and video footage during the event and these will be published on our website and social media channels following the event. By registering to attend, you agree to being included in this footage.