The Winery Conclave - Napa & Sonoma

Tuesday, August 5, 2014 at 9:00 AM

-

Wednesday, August 6, 2014 at 2:00 PM (PDT)
Event Details
The Winery Conclave
Where Winery and Vineyard Peers Gather
to Meet, Share, Learn, Prescribe and Network
Napa: August 5th  9.00 AM - 2.00 PM
Sonoma: August 6th  9.00 AM - 2.00 PM
The Luxury Marketing Council of San Francisco, in partnership with Napa Valley Vintners, Sonoma County Vintners and CANVAS, announces the third in its series of successful Boot Camps specifically designed for general management, sales, marketing and hospitality personnel associated with Napa and Sonoma-based wineries and vineyards. This is a "back by popular demand" sequel to a recent Boot Camp held February 26th that drew 165 wineries and 297 attendees.

Post-event survey feedback clearly indicates that winery and vineyard operatives are desperately seeking a structured environment in which information, experience, and best practices can be shared; and business relationships established and nurtured. The Winery Conclave is our solution to the problem and the need. This is a gathering comprised of industry peers, associates and influentials where industry issues, opportunities, challenges and "gossip" are discussed in an informal setting conducive to candor, sharing and networking.

Although separate region-specific Boot Camps will be conducted in both Napa and Sonoma, participants are welcome to attend either event (or both) depending upon their location and interest.

How It Works:

Conclave attendees will have the opportunity to participate in 4 roundtable discussions on subject matters of their choice. 50 minutes will be allocated for each roundtable rotation. During the reservation process, attendees will be able to select their table topics from an extensive menu of industry-related issues (Click

here

for a table topics menu list)

Attendees will be seated at tables of 10 (maximum seating per table) with a guaranteed (reserved)  seat

At the end of the Conclave, each attendee will have been exposed to a minimum of 36 + industry peers with similar professional interests and needs

Attendees will be briefed prior to the Conclave with respect to their table topic selections and provided with suggested tips and advice for gaining the maximum value and learning from the Conclave

Table captains will be pre-appointed and tasked with applying and monitoring the rules relating to time management and proper group discussion protocol

An attendee contact sheet will be provided at the conclusion of the Conclave containing name, winery/vineyard affiliation, email address and phone number  (with an opt-out provision for those not wishing to be listed)

Attendees will be given a "Dance Card" to record follow-up meeting commitments (i.e., "Let's continue the conversation over lunch!"

Attendees will be invited to bring collateral materials for sharing with other Conclave participants (at their table discussions and in a common display area)

Wish lists will be considered. Tell us who you would like to meet and we'll invite them. But no celebrities and industry luminaries, please! And no promises either. We'll try to get them to attend
PROGRAM AGENDA & TIMING
8.00—8.50…Registration + coffee & tea service
8.50—9.00…Introductions and event briefing
9.00—9.50…Table Rotation #1
10.00—10.50…Table Rotation #2
10.50—11.10…Break
11.10—12.00…Table Rotation #3
12.10—1.00…Table Rotation #4
1.00—2.00…Lunch and optional networking
DATES & LOCATIONS:
Napa Conclave: Tuesday August 5th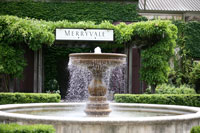 Merryvale Vineyards
1000 Main Street
St. Helena, CA 94574
---
Sonoma Conclave: Wednesday August 6th

Kendall-Jackson Wine Estate & Gardens
5007 Fulton Road
Fulton, CA 95439
EVENT CO-SPONSORS:
When
Tuesday, August 5, 2014 at 9:00 AM

-

Wednesday, August 6, 2014 at 2:00 PM (PDT)
Add to my calendar
Organizer
The Luxury Marketing Council of San Francisco
The Luxury Marketing Council, a business organization of CEOs and senior sales and marketing practitioners, is considered the global leader in the rapidly-growing arena of luxury marketing and the "Gold Standard" for the intelligent exploration of best marketing practices and trends in the luxury marketplace.
Each chapter delivers an intensive program of intimately-exclusive, member-only, monthly events at which…
Member marketing alliances, collaborations and jointly-sponsored marketing programs are incubated and developed
Experts in the luxury arena present valuable and relevant, proprietary research and trend data
Members network with peers in a private and confidential setting that encourages learning, collaboration and the sharing of information and experiences
In short, the Council brings together the smartest and most innovative marketers of luxury products and services to explore best practices, critical issues and trends. The result is a "spontaneous combustion that provides Council members with a unique platform for growing revenue, share-of-wallet and loyalty of the luxury market's best customers…the 4 + million individuals in the U.S. with liquid portfolios of $1,000,000 or more.
For further information about The Luxury Marketing Council of San Francisco please consult the Council's website at www.luxesf.com or contact Alf Nucifora at 415-332-1085, or nucifora@luxesf.com
The Winery Conclave - Napa & Sonoma