Actions and Detail Panel
The Wine & Cheese Entrepreneur Business Mixer
Thu, April 13, 2017, 7:00 PM – 10:00 PM PDT
Description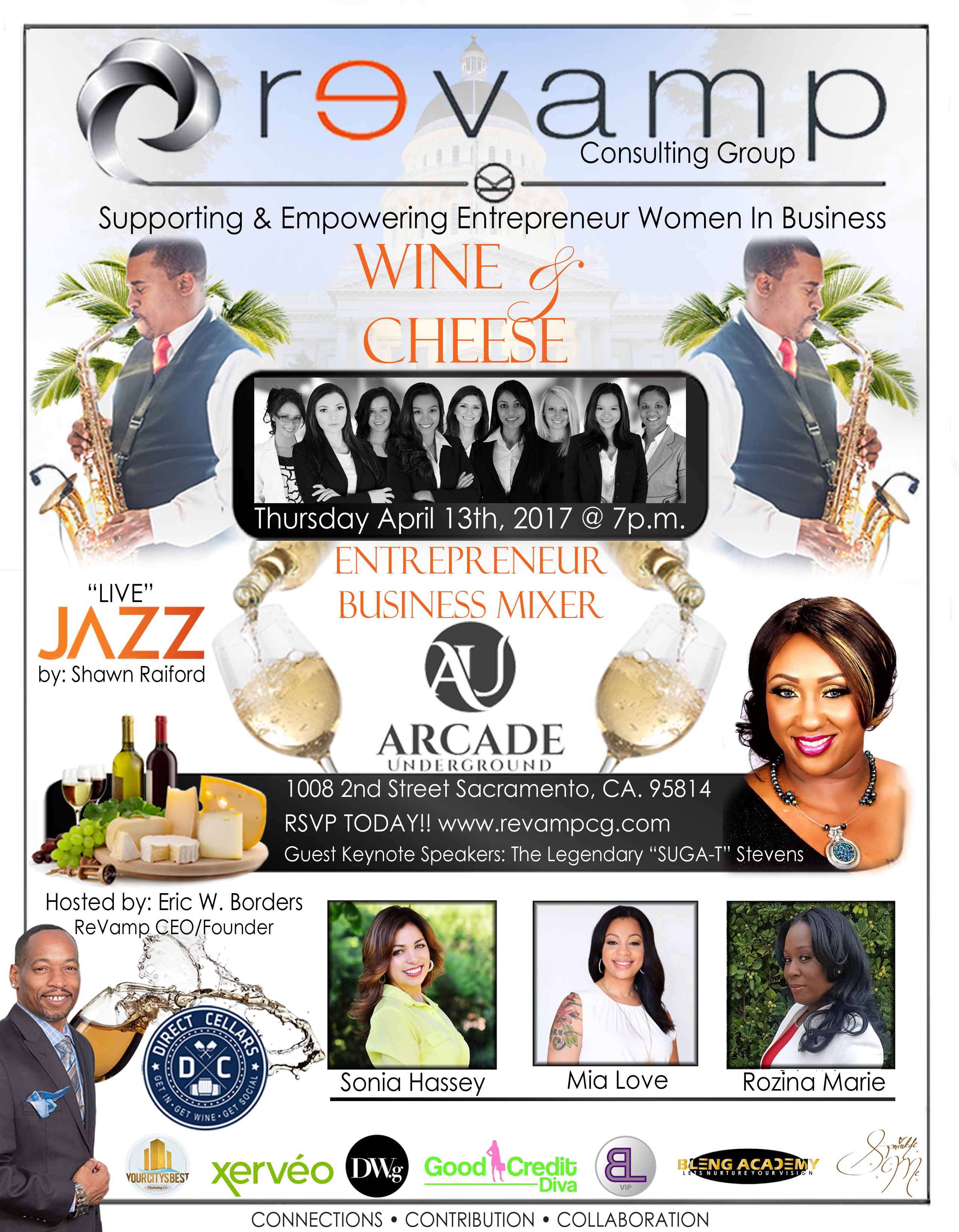 The Wine & Cheese Entrepreneur Business Mixer, supporting & empowering entrepreneur women in business. Join over 200 business leaders as ReVampCG honors women from all over the region who have overcome obstacles and blazed trails of opportunities. This historic event will take place This Spring Season, April 2017:
Advance RSVP: $25 or ($35 @ the door)
"LIVE" JAZZ by: Shawn Raiford

Hosted By:
* ReVampCG CEO ~Eric Borders

Guest Keynote Speaker:
* The Legendary "SUGA-T" Stevens

Panel Discussion with Q&A Session:
* Sonia Hassey
* Mia Lynette (Love)
* Rozina Marie
**** This initial part of the mixer will bring local women entrepreneurs (and aspiring entrepreneurs) together to share goals, obstacles, ideas/resources on how to get started, and success stories through a panel of successful women entrepreneurs, networking and structured activities. We will address issues across a broad spectrum of personal development and business opportunities.
Gain access to strategy, wisdom, collaboration, contribution, and connections not available anywhere else, to exponentially grow your business at the ReVamp Entrepreneur Network Mixer® Annual Even.
EVENT BENEFITS:
• Give exposure to a variety of professional Entrepreneur's & Businesses owner's in Northern California
• Event where people can network and make business connections
• Enjoy motivational speakers, music, with hors d'oeuvres and drinks/wine
• Opportunities to make new connections and new partnerships
Mark your calendars come ready to network, mix and mingle with some of the most trailblazing Entrepreneur's & Businesses