Description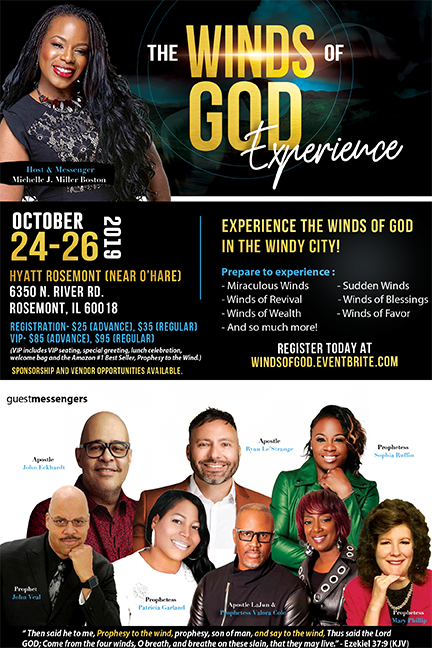 You are invited to come and experience the Winds of God!
God wants to literally breathe on you!
God wants to blow on your ministry, your businesses, your visions, your dreams and even you bank account!
This meeting is not just a conference, it is an invitation to gather in the "Windy City" to experience what happens when you are surrounded by powerful winds. Lives change when you are in the catapulted by a powerful wind even when that wind comes out of the mouths of God's messengers! God's messengers are gathering in the "Windy City" and they will be prophesying to the winds and releasing apostolic and prophetic winds that will literally shift your life.
Guest Messengers:
Apostle John Eckhardt
Apostle Ryan LeStrange
Apostle LaJun Cole, Sr. & Prophetess Valora Shaw-Cole
Prophetess Sophia Ruffin
Prophet John Veal
Prophetess Patricia Garland
Prophetess Mary Phillip
Hotel Accomodations
Hyatt Rosemont Near O'hare
6350 N. River Road
Rosemont, IL 60018
Additional Hotel Info:
- Discounted Room Rate $139
- 3 miles from O'hare Airport
- Complimentary O'hare Airport Shuttle
- Complimentary wifi for guest
- 15% Hotel Dining Discount
- $10 Discounted Overnight Parking ($18 Value)
- Room rates available 2 days pre + post event
Please book your room online using the link below or call 402-935-5311 and book via phone give the code "MJMI".