Description
THE WINDOW SEX PROJECT calls young women and gender queer folks living in Harlem to ACTION!
Celebrate your body.
Use your voice and movement to respond to street harassment.
Fellowship with others living in your community.
Harlem women and genderqueer folks ages 18-40 are invited to participate in a FREE workshop rooted in movement, discussion and healthy living. We'll spend the day investigating the way in which our bodies are perceived in Harlem.
Space is limited. Be sure to RSVP.
PLEASE BE AWARE that these community workshops are intended to be a liberated and supportive space for women and genderqueer folks. The Window Sex Project creates space to center ourselves, particularly our bodies and our stories. It is an opportunity to affirm one another while sharing tools and resources.

SLMDances' performances of The Window Sex Project are the spaces intended for dialogue across genders. We ask audiences to witness the performance work and then engage in discussion informed by the stories shared. If you are interested in bringing us to your community to perform the work, please contact Sydnie at sydnie@slmdances.com.

If you are a cisgender man who cares about gender equity, HERE ARE SOME RESOURCES to help stop street harassment.
Click HERE for additional FAQs about the workshop.
---
About The Window Sex Project
The Window Sex Project (TWSP) is ongoing community engaged work that SLMDances began in commitment to providing liberated spaces for young adult women folks to voice their concerns, find agency and community support and take action in response to the violence against their bodies in public space. Since 2011, we have facilitated workshops in partnership with Hollaback!, Stop Street Harassment, Girls for Gender Equity, and Barnard Center for Research on Women, and have conducted workshops at Harlem School of the Arts, Grosvenor YMCA, Barnard College, Brooklyn YWCA, Black Girl Project Sisterhood Summit, Center for Anti Violence Education and more. Learn more at http://www.sydnielmosley.com/the-window-sex-project.
The Window Sex Project Community Workshops 2019 are presented in community partnership with The Gothe Family, Five Boro Story Project and Honey & Chi. The Community Workshops are made possible in part with public funds from Creative Engagement, supported by the New York City Department of Cultural Affairs in partnership with the City Council and administered by Lower Manhattan Cultural Council (LMCC). LMCC serves, connects and makes space for artists and community. The workshops are also presented in marketing partnership with Hollaback!, I, Too Arts Collective // Langston Hughes House, Aiesha Turman, Dwyer Cultural Arts Center, Girls for Gender Equity, Gibney's ICAT Community, Dance Caribbean Collective and Renegade Performance Group.
---
10:00AM REGISTRATION
10:30AM WELCOME
10:45-11:50AM YOGA + DANCE CLASS
12:00-1:00PM LUNCH + STORY CIRCLES
1:15-2:00PM CREATIVE MOVEMENT WORKSHOP
2:15-3:00PM KEYNOTE SPEAKER
Be sure to review our FAQs!
---
MEET our SPEAKERS and MOVEMENT FACILITATORS
OCTOBER 5
Movement Facilitator Candace Thompson-Zachery, born in Trinidad and Tobago, now local to Brooklyn, NY, operates between the spheres of dance, cultural production and fitness and wellness, with a focus on the Contemporary Caribbean. She has had an established career as a performer, choreographer, fitness professional, cultural producer, teaching artist, community facilitator and Caribbean dance specialist. In addition to her work in these areas, she leads CanDanceFit, a full service fitness and movement entity, ContempoCaribe, an ongoing choreography and performance project and Dance Caribbean COLLECTIVE, a organisational platform for Caribbean dance in the diaspora.
When not doing these things Candace is avidly analyzing Soca music, spending time with family and eating as many doubles as she can.

NOVEMBER 2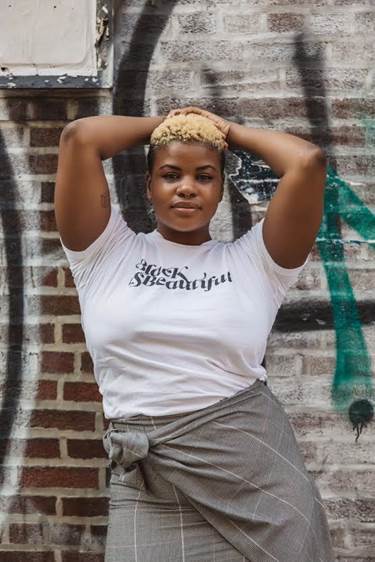 Guest Speaker Ericka Hart (pronouns: she/they) is a black queer femme activist, writer, highly acclaimed speaker and award-winning sexuality educator with a Master's of Education in Human Sexuality from Widener University. Ericka's work broke ground when she went topless showing her double mastectomy scars in public in 2016. Since then, she has been in demand at colleges and universities across the country, featured in countless digital and print publications including Buzzfeed, Washington Post, Allure, Huffington Post, BBC News, Cosmopolitan, LA Weekly, Vanity Fair, W Magazine, Glamour, Elle, Essence, Fader, Refinery 29, and is the face of three running PSAs on the television channel VICELAND. Ericka's voice is rooted in leading edge thought around human sexual expression as inextricable to overall human health and its intersections with race, gender, chronic illness and disability. Both radical and relatable, she continues to push well beyond the threshold of sex positivity. Ericka is currently an adjunct faculty member at Columbia University's School of Social Work and the CUNY School of Public Health at Hunter College, a bratty switchy Sagittarius service bottom and misses Whitney more than you.
---
SEPTEMBER 14 (past)
Guest Speaker Michelle Hope is a dedicated Sexologist, educator and activist with a Master's degree in Human Development and extensive post graduate training in sexuality. As a veteran speaker, Michelle has over 15 years of experience delivering impactful informative lectures and training's across the nation. She believes as though her work, in marginalized urban communities, has provided her with deep insight and comprehension of the holistic implications of sexuality on one's life.
Michelle has dedicated her career to understanding and communicating to the masses the complex intersections of various social identities: race, class, gender, and sexual orientation, through a Reproductive Justice lens. She has taken deliberate actions in exploring and developing a unique language to speak to communities of color. Michelle feels as though her experience in working with marginalized urban communities, and understanding holistic sexuality has shaped her perspectives on the direct connections between sexuality and generational poverty in those communities. Her passion and commitment to the work has provided her with a unique style that has the ability to captivate and educate across various populations; with a proven track record of developing, implementing and evaluating dynamic and creative programming for individuals.
Movement Facilitator Sira is a NYC based Middle Eastern Belly Dance performer, instructor and choreographer. In addition to performing for events and celebrations, Sira also has enjoyed taking the art of belly dance to the theater stage. She is currently in her fifth season performing with the the Brooklyn Ballet as Arabian Dancer in The Brooklyn Nutcracker. Sira has also worked with the Metropolitan Opera, as well as several Off Broadway productions and theatrical Belly Dance shows. Film/TV experience includes Sex and the City 2, the Dr Oz show, The Colbert Report, Late Night with Conan O'Brien, and MTV. She is also featured in DVD's "Belly Dance Stars", "The Way to Belly Dance" and "Fantasy Bellydance: Cult of Myth". Sira enjoys sharing her knowledge and expertise of this beautiful art form through dance workshops available worldwide.
Organizer of The Window Sex Project: 2019 Community Workshops
Sydnie L. Mosley Dances (SLMDances) is a New York City-based dance-theater collective that works in communities to organize for gender and racial justice through experiential dance performance. SLMDances' works engage audiences in the artistic process; our dances provoke a visceral reaction to the physicality on stage, and incite conversation toward community action. The works reflect real life experiences central to our identities, and pulls focus to the stories of women and Black folks. The movement vocabulary fluidly integrates modern dance techniques and movement of the African Diaspora, while dancers frequently use their voice with spoken text and audible breath. Through dimensional compositions, specific, textured movement, humor and character development, choreographed works appeal to a sense of humanity.
Sydnie L. Mosley Dances has shown work at Harlem Stage's The Takeover, The Performance Project @ University Settlement, Dixon Place, 92nd St Y, The Chen Dance Center newsteps program, the FIGMENT Festival on Governor's Island, RoofTopDance, The Actor's Fund Arts Center, the Harlem Arts Alliance Artz, Rootz & Rhythm Festival, Movement Research at Judson Church, Brooklyn Arts Exchange (BAX), Bronx Academy of Arts and Dance (BAAD!), Triskelion Arts, The Red Carpet Theater at Taino Towers, as a part of the New York Foundation for the Arts Boot Camp Arts Festival at Joyce SoHo, The New School for Hollaback!'s HOLLA:Revolution, Barnard College, Cornell University, Penn State, Duke University, the Exponential Finance Conference, in addition to the annual NYC anti-street harassment rally, and many other outdoor performances.​​

The company situates itself amongst the Harlem arts community by creating and presenting dance uptown; partnering with other Harlem artists and businesses; and focusing community-based initiatives within Harlem. SLMDances travels for projects both domestically and internationally as relevant to the mission and interests of the company.