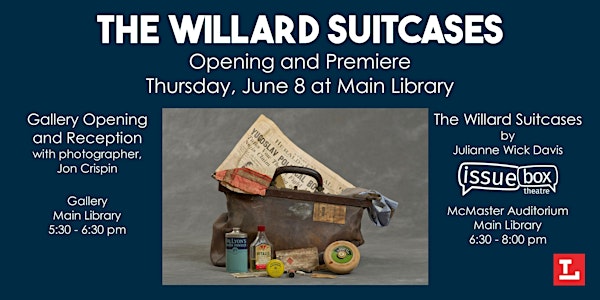 The Willard Suitcases - Opening and Premiere
Join the Library for a gallery opening, reception, and local musical premiere of the Willard Suitcases.
By Toledo Lucas County Public Library
Date and time
Thursday, June 8 · 5:30 - 8pm EDT
Location
Main Library - Toledo Lucas County Public Library 325 North Michigan Street Toledo, OH 43604
About this event
The Toledo Lucas County Public Library, in partnership with Issue Box Theatre, is excited to bring you the Willard Suitcases.
For more than 125 years, the staff of Willard Psychiatric Center in Ovid, previously known as the Willard Asylum for the Insane, cared for people with long-term mental illness. When it closed in 1995, workers discovered hundreds of suitcases belonging to former patients that appeared untouched since their arrival at the center. Dating as far back as 1869, each suitcase was a time capsule to be discovered and explored.
Join us for a special evening featuring the photography of Jon Crispin, the artist who captured the history through photos, and the local premiere of the musical based on the suitcases, The Willard Suitcases by Julianne Wick Davis, performed by Iocal Issue Box Theatre.
About the photographer, Jon Crispin:
Jon Crispin has been a full-time, self-employed photographer since 1974, dividing his time between regular freelance assignments and longer-term photo documentary projects. His regular clients include national publications, colleges and universities, and non-profit organizations. His documentary projects include exhibitions and publications on 19th-century New York State insane asylums; 19th and early 20th-century New York State prisons; the living conditions of rural New York State residents; New York State agriculture; county fairground architecture in New York State; the architecture of Syracuse, New York; food and nutrition programs for the needy, and the Erie Canal.
Many of these projects were funded by The New York State Council on the Arts and the New York State Museum. He has exhibited his photographs extensively in museums and galleries. Jon has photographed over 300 plywood panels from the Fulton Street viewing area at the New York City World Trade Center site and over 100 panels from Liberty Island overlooking the same location. His documentation of suitcases left behind by patients at the Willard Asylum in Willard, NY, can be viewed at www.willardsuitcases.com.
About the musical and author, Julianne Wick Davis:
In Julianne Wick Davis's moving and original musical, the titular suitcases – some full of many objects and some empty – all contain memories, tales, and facets of identity. The musical is replete with songs, stories, history, and humanity. And, like the act of packing a suitcase, the creation of The Willard Suitcases involved making decisions and setting a destination.
For writer/composer Julianne Wick Davis, the entire project began with a single image taken by photographer Jon Crispin. "I came across one of the photographs, and I was immediately intrigued by the items. That's what drew me in. And then learning the history of it, the reason that this suitcase existed, and why it was being photographed." As Davis learned more, she felt the pull of the objects: "I immediately started to think of songs… and as I saw more and more of the suitcases, every single one of them [prompted me to say] 'I would love to write a song about this.'" Her curiosity coalesced around the questions that would become the heart of the musical, questions of why people chose to include what they did in their suitcase, who packed the luggage, and what the cases' owners knew about their destination.
About Issue Box Theatre:
Issue Box Theatre is an organization committed to making theatre that grows out of the communities it serves. Whether the community is one of location or identity, such as the LGBTQ+ community, disability community, or victims of dehumanizing crimes. Issue Box Theatre works with community partners who provide resources that address specific issues.
Our programs and workshops use theatrical elements like storytelling and improv to catalyze open discussion. We write and develop original work and devise performances from existing scripts. We're not just putting on a show to entertain; social justice is at the forefront of what we do – and we're doing it to make a difference.
FAQs:
Do I have to bring my printed ticket to the event? No.
Can tickets be reserved by phone? Tickets may only be booked through Eventbrite.
What are my parking options at the event? The facility has free parking, and access to the parking garage is on Adams St.
What time do the doors open? Gallery opening is at 5:30. Auditorium opens at 6:15.
Are there assigned seats? No. Seating is general admission.
Is handicapped seating available? Handicapped seating is available. For special seating arrangements, please call 419.259.5199 at least one week before the event.
Will an American Sign Language Interpreter be provided for the event? We are happy to provide an ASL Interpreter for the event - if you require this service, please contact us at 419.259.5199 at least two weeks before the event so arrangements can be made.
What can/can't I bring to the event? There is no video recording or flash photography allowed.
Where can I contact the organizer with any questions? Call the Library at 419-259-5199.
About the organizer
Development and Events Department
Toledo Lucas County Public Library