The Wilderness Dinner

Sunday, January 20, 2013 at 4:30 PM (PST)
Event Details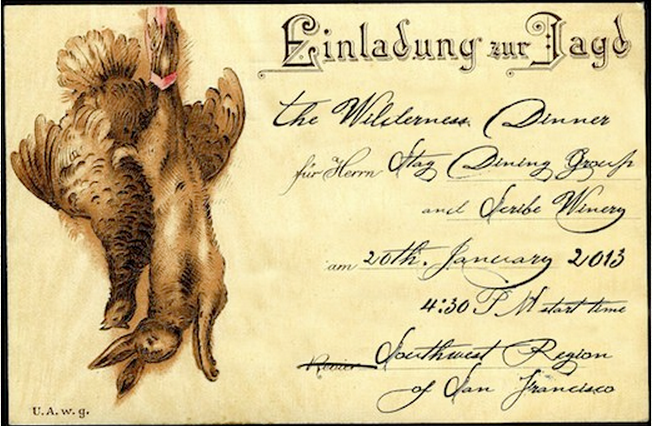 The idea of wilderness needs no defense. It only needs more defenders- Edward Abbey
Happy New Year to you and yours!
We are putting our best foot forward in 2013 with an inspired Clandestine Dinner that reflects our passion, appreciation, and love for nature. With our collective skills as outdoorsman, we are setting forth to fish, forage, hunt, and glean as many elements of this feast as possible. Given the diverse bounty of our region, we promise to leave no diner behind.

Based on availability, the menu will contain the following elements:

Ocean
dungeness and other crabs-seaweeds, ling cod, halibut

Sky
goose, duck

Land
nasturtium, oxalis leaf and flowers, wild onion blossoms, alyssium, mustard flowers, wild watercress, miners lettuce, chickweed,
wild nettles, wild arugula, sea rocket, winter citrus, chanterelles, black trumpets, blewitt mushrooms, wild pig, hare

We are thrilled to host this event with Scribe Winery. Scribe uses sustainable growing practices and a non-interventionist approach to wine making, producing distinct, lively wines that capture the terroir and stories of Sonoma, California. Their "Forever Wild" farming philosophy and appreciation for the clandestine make Scribe and apropos huckleberry for this dining endeavor.


 Scribe will be featuring wines from their current release:
2011 Carneros Chardonnay
2011 Estate Riesling
2011 Carneros Pinot Noir
2007 Napa Valley Cabernet Sauvignon

We look forward to having you join us at the table.

Event Details:
$135 dinner
A formal menu will be assembled three days prior to the dinner.
Expect a hybrid service of individually composed plates and family style dining.
Location in southwest San Francisco; exact location given day of event.
All guest must be 21+


*72 hour no cancellation policy / Menu subject to change / No substitutions
Share this experience with your friends!
Organizer
Stag Dining
Stag Dining Group is an eclectic culinary event producer that strives to deliver unique dining experiences.

SDG provides a feast for all the senses by incorporating art, music and unique locations (from vineyards to battleships). 
Our events incorporate our passion for creativity, sustainably-sourced ingredients and our joie de vivre for bringing people together. This foundation provides the raw ingredients for a special time.
It is our belief that a feast is meant to be shared and that the conversation happening across the table is as important as the food that is on it.

We welcome you to the celebration.