The Wild Rumpus #5

Saturday, January 18, 2014 at 7:00 PM

-

Sunday, January 19, 2014 at 12:00 AM (GMT)
Event Details
"Seriously, if you've never caught one of these things, come along – and bring lots of people who 'don't usually play games', because their lives are about to change."
The Guardian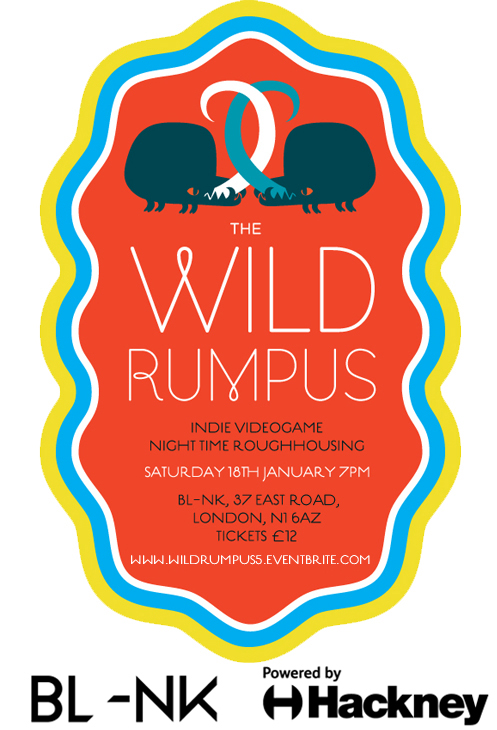 & awesome support from

The Wild Rumpus brings together the best of indie multiplayer videogames for the most unique nights of crazy, exuberant, social and sometimes physical gameplay.
Our line ups turn conventional videogame culture on its head. Closer in spirit to party, playground, or even drinking games, these are all games that you can't play at home on your own. So come along and LET THE WILD RUMPUS START!
THE LINE UP
 
===THE GAMES=== 
 ROFLPILLAR - Lucky Frame 
Just stick your head in the swiss chalet and writhe around on the mat (apparently).
 MEGA A͈L͈P͈H͈A͈B͈E͈T͈ - Keita Takahashi, Asuka Sakai, Adam Saltsman, Jordan Fehr & Rebekah Saltsman
Look at the lovely alphabet guys. Help them by by using your feet to make them run, jump, eat, sing, poop, and sleep through silly obstacle courses
 SUPER PIÑATA PRO - Edd Parris
A two player future sports simulator with candy and gore.

LHS BIKESHED - Charles Yarnold, Chris Paton, Tom Wyatt, Tim Reynolds
A spaceship simulator in a caravan. Everybody dies.
 
 THE YAWHG - Emily Carroll & Damian Sommer
The evil Yawhg is returning. How will the town's locals lead their lives in the meanwhile, and what will they do when the dreaded Yawhg finally arrives?
 GET ON TOP - Bennett Foddy
Bennett Foddy's duel trampoline* homage to 1996 demoscene freeware game by Tuomas Korppi, "Fight of the Sumo Hoppers"
(*sadly there's no trampolines this time)

UN EP - Ian Snyder
A collection of sound toys masquerading insidiously as a game. Please alert the authorities and remain motionless until the imposter is detained. 
TURNOVER - Chad Toprak, Kalonica Quigley, Rhys Van Der Waerden, Shannon Barnes, Arden Beckwith
¡ʎzuǝɹɟ unɹ-puɐ-ןןɐq-ǝɥʇ-ןɐǝʇs ʎʇıʌɐɹbıʇןnɯ ɹǝʎɐןd ɹnoɟ ɐ
 TETHER - Matt Rix, Dan Cox and Whitaker Trebella
A 4 player competitive battle which sees you chained to your enemies.
  the night also comes with a brief interlude with some serious explosions from LUFTRAUSERS - Vlambeer
oh yeah.... 
& NIDHOGG - Messhof
 o( `▽´)o━━ An epic award-winning fencing tug-of-war, full of graceful acrobatics and clumsy stabs ━━o(`∀´ )o 
===THE MUSIC=== 

KOZILEK - Home-made bangin' electro and game music from Finland. You might know LUFTRAUSERS, GUN GODZ, or NUCLEAR THRONE?
When & Where

BL-NK
37 East Road
N1 6AZ London
United Kingdom


Saturday, January 18, 2014 at 7:00 PM

-

Sunday, January 19, 2014 at 12:00 AM (GMT)
Add to my calendar
Organizer
A multiplayer indie game event organising bunch of roughhousers.