The WILD Foundation Presents: "Wild Ways:Corridors of Life" Film Screening

Tuesday, November 15, 2016 from 7:30 PM to 9:00 PM (MST)
Event Details

VIP Reception: 6pm
(VIP tickets include reserved seating, admittance to a special reception at 6pm with the filmmaker and hosts, one wine/beer ticket, one soft drink ticket, and heavy appetizers)
 
General Admission: 7pm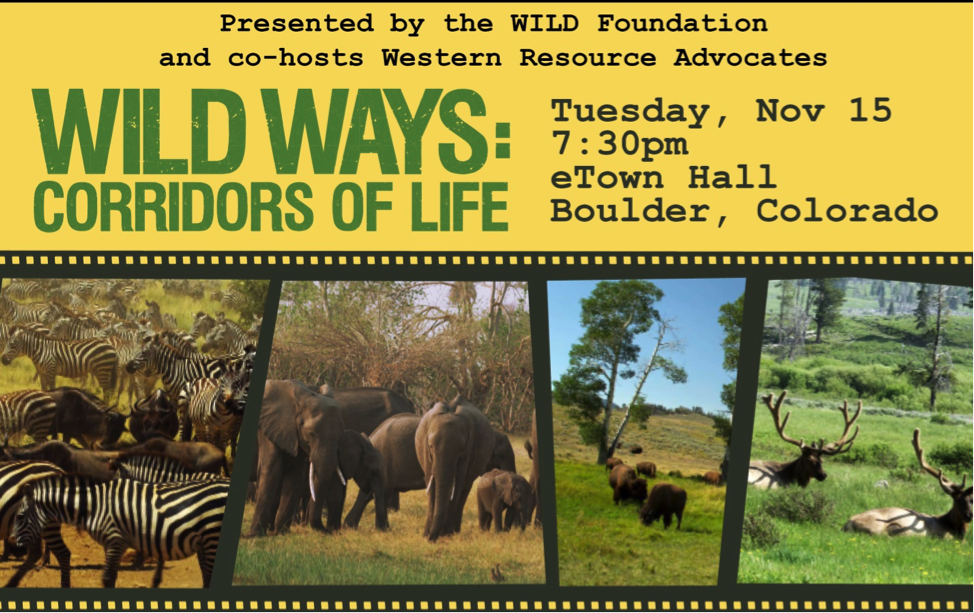 The future of wildlife is imperiled. If some of the world's most beloved species are to be saved, it falls to us to take action. But how? Join award-winning director, James Brundige, for a special screening of the film Wild Ways, which uncovers hope and pragmatic solutions in the midst of the extinction epidemic. The screening, presented by the WILD Foundation and co-hosts Western Resource Advocates, will be followed by an exclusive Q&A hosted by the filmmaker, James Brundige, and WILD Foundation President, Vance G. Martin. Proceeds benefit the WILD Foundation and its international conservation efforts.
 James Brundige - Since 1990, James has focused on environmental documentaries for PBS, BBC, NBC, ABC, Turner, Discovery, and National Geographic. In 1996 James met Chelsea Congdon, an accomplished environmental activist also working in film. Since that time Chelsea and James have produced several award-winning films, two award-winning children, and a house in Old Snowmass, Colorado.
About the WILD Foundation:
For over 40 years, the WILD Foundation has shaped the cutting edge of conservation, uniting groups behind an ethic of care and commitment for wild nature in order to facilitate collaborative action that results in impacts that far exceed our lean organizational structure. Nothing short of collective impact will put a dent in the ecological challenges confronting life on this planet. WILD's expertise is in leveraging a reputation for integrity to forge enduring collaborations, igniting support for a common vision and bridging the institutional and cultural gaps that so often impede cooperation. Learn more at www.wild.org
 About Western Resource Advocates:
Founded in 1989, Western Resource Advocates is dedicated to protecting the West's land, air, and water. We use law, science, and economics to craft innovative solutions to the most pressing conservation issues in the region.
Learn more at www.westernresourceadvocates.org
Have questions about The WILD Foundation Presents: "Wild Ways:Corridors of Life" Film Screening?
Contact eTown
Organizer
eTown
eTown's mission is to educate, entertain and inspire a diverse audience, through music and conversation, to create a socially responsible and environmentally sustainable world.
eTown Hall is in the heart of downtown Boulder. A world-class performance venue, full service recording studio and community center, eTown Hall is also home to the famous eTown radio show. True to eTown's 25-year commitment to environmental education, eTown Hall is quite possibly the greenest music and media center in Colorado!
eTown Hall Refund and Exchange Policy: eTown does not provide refunds or exchanges for any ticket purchases. If you have further questions, please call us at 303-443-8696, ext. 100.
When purchasing a ticket to an event at eTown Hall, you will be automatically signed up for the eTown newsletter mailing list. You will have the option to opt-out of this list at any time.
NOTE: If you are trying to reach us over the weekend about a weekend show or event, the best way to get in touch with us is by calling our Box Office at (303) 443-8696, ext. 117. Someone should be on-site a couple of hours before doors open the day of the show to answer your call, or return your message as soon as possible.

The WILD Foundation Presents: "Wild Ways:Corridors of Life" Film Screening