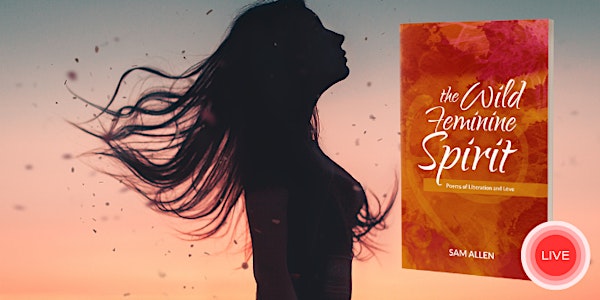 The Wild Feminine Spirit - Live Poetry Recital 3 with special requests ❤️
Sam Allen's 3rd live poetry recital will take you on a new journey of Truth, Freedom, Fire, Pleasure, Self-Love and Love & Special Requests
About this event
Join author Sam Allen to experience for her third inspiring live Zoom poetry recital session in which she will share a new selection of poems from her book, The Wild Feminine Spirit and will also be taking your special requests!
Sam began writing poetry when she lost her amazing Dad to pancreatic cancer back in 2015 and received a message to write her feelings down. Seven years on and she has written at least one poem every day ever since. Now that is a lot of poetry!
This is a poetry recital with a difference 👀
A live Zoom recital in which you, the listener, get to not only hear another brand new selection of poems from her new book The Wild Feminine Spirit. You will also be invited to spontaneously suggest poetic themes of interest via the chat and she will do her absolute best to recite according to your wishes!
About Sam's book
The Wild Feminine Spirit was inspired by Sam's hugely liberating personal journey of Truth, Freedom, Fire, Pleasure, Self-Love and Love.
A journey which began one summer afternoon when she was mysteriously led by a stranger towards a large, red, textured, sultry painting with the words "Der Wille" (will or intention) written boldly above it. On seeing the painting she had an immediate gut feeling that a divine path was opening up before her. She was being called to feel, own and fully express her fiery passion. To live her desire. To take giant leaps on that eternal human journey towards greater authenticity, self-love and heightened bliss. To work past grief. To heal. And to reclaim her own wild, feminine spirit.
You can access Sam's book on Amazon here:
About the Author
Sam is a Creative Leadership Coach, Trainer, Podcaster and Poet with 20 years experience as an International School Educator. A coaching journey with Sam is light, deep, playful and healing and her superpower is using her finely-tuned intuition and sensitivity to see you and challenge you in a powerfully loving and courageous way.
Sam's core values are: Courage, Authenticity, Freedom, Loyalty, Creativity and Humanity and her life purpose is "Speak Truth with Love." Sam's strong Tantra background has enabled her to experience heightened states of joy, bliss and love and her passion is to help you to connect to your own Kundalini or life-force energy and to experience self-love, sensuality and pleasure on a whole new and exciting level. Her coaching style is playful, somatic and compassionate.
Throughout her career Sam has empowered individuals to write books, make life-affirming career changes, overcome anxiety and to take giant leaps towards heightened self-realisation, increased authentic leadership presence and spiritual growth.
A blogger and a jogger, Sam lives and breathes her own creativity and in turn inspire others to do the same. She writes poetry in nature on a daily basis ever since losing her incredible Father to pancreatic cancer and loves helping her clients to express and heal through creative expression.
Email: samallencoachingcreatively@gmail.com
Find out more about coaching with Sam here
Follow Sam on Insight Timer here
And connect with Sam on Facebook here