About this Event
Should you just wait until the heart attack happens, or instead, go in regularly for a physical checkup? Most would choose the latter. Sign up for another in our Hot Topics for Business Owners™ series as nationally regarded business attorney Troy Romero and R. J. Kelly discuss the important considerations for your buy-sell agreement . . . even if you do not have a business partner! Free to those who register.
About Speakers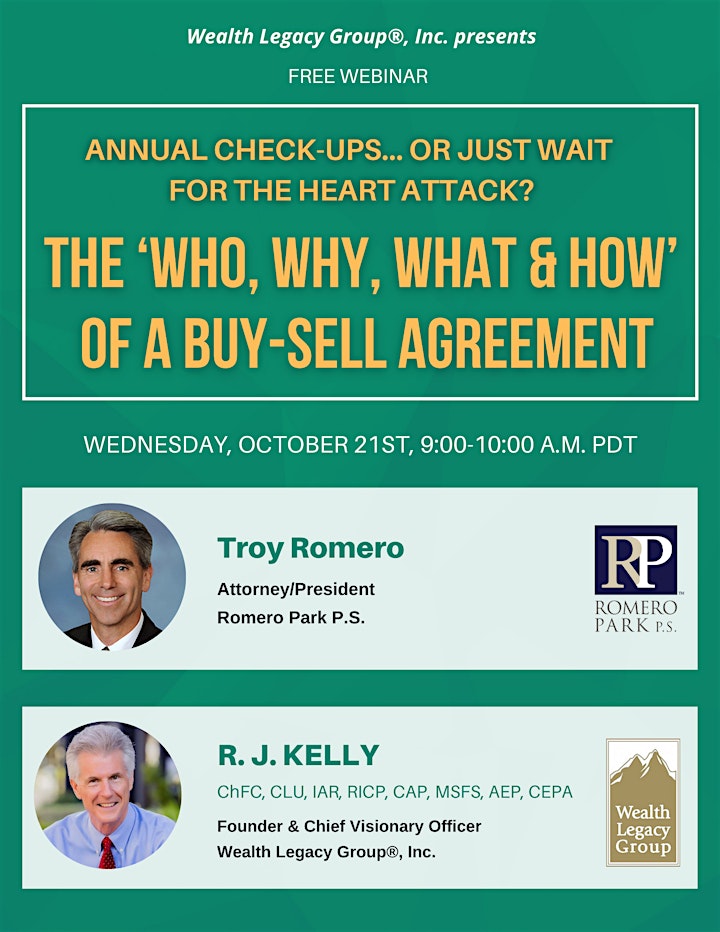 HOW TO JOIN THE WEBINAR:
Join from PC, Mac, Linux, iOS or Android: https://meetings.ringcentral.com/j/1493086972
For the best audio experience, please use computer audio.
Or iPhone one-tap :
US: +1(213)2505700,,1493086972#
+1(650)2424929,,1493086972#
+1(720)9027700,,1493086972# (US Central)
+1(346)9804201,,1493086972#
+1(623)4049000,,1493086972# (US West)
+1(646)3573664,,1493086972#
+1(773)2319226,,1493086972# (US North)
+1(312)2630281,,1493086972#
+1(469)4450100,,1493086972# (US South)
+1(470)8692200,,1493086972# (US East)
Or Telephone:
Dial(for higher quality, dial a number based on your current location):
US: +1(213)2505700
+1(650)2424929
+1(720)9027700 (US Central)
+1(346)9804201
+1(623)4049000 (US West)
+1(646)3573664
+1(773)2319226 (US North)
+1(312)2630281
+1(469)4450100 (US South)
+1(470)8692200 (US East)
Meeting ID: 149 308 6972
International numbers available: https://meetings.ringcentral.com/teleconference