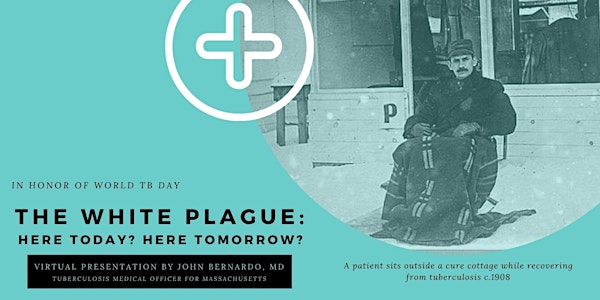 The White Plague: Here Today? Here Tomorrow?
Tuberculosis was the most frequent cause of death in Massachusetts in the 19th Century and it remains a lurking threat to this day...
About this event
Tuberculosis (TB) was the most frequent cause of death in Massachusetts in the 19th Century. With the discovery of the bacterium that causes TB by Robert Koch, announced on March 24, 1882, control of the disease began to become a possibility. Through the end of the 19th and through the 20th Century, other discoveries contributed to success in the control of TB so that now we have historically low rates of disease in Massachusetts. Yet, TB control still remains a daily public health challenge; and worldwide, TB is still among the ten top causes of death and the leading cause of death due to a single infectious agent. Dr. Bernardo will provide an overview of the history of TB and its control, discuss the current challenges presents, and put the current status of TB in perspective. Join us for an informative and engaging presentation on an old enemy that remains a lurking threat...
John Bernardo, MD is a Professor of Medicine and Research Professor of Biochemistry at the Boston University School of Medicine, and the Tuberculosis Medical Officer at the Massachusetts Department of Public Health. He has been involved in the care and control of tuberculosis for over 40 years. He served as TB Control Officer for the City of Boston from 1991 to 2002. He is a past president and board member of the National Tuberculosis Controllers' Association (NTCA) and has been chair of Stop TB USA. He has served on the federal Advisory Committee on the Elimination of Tuberculosis and the CDC/Association of Public Health Laboratories Task Force on the Future of TB Laboratory Services, as well as many other advisory committees. For many years, he has provided TB services to the homeless of Boston and recently consultation to the Republic of Marshall Islands on TB elimination.
Co-hosted by the Public Health Museum & the Northeast Branch of the American Society for Microbiology.