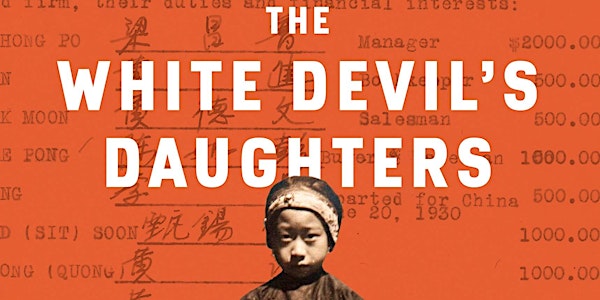 The White Devil's Daughters: A Chinatown Walking Tour
The tour will feature sites and stories from the book as well as others that help paint a fuller picture of the Chinatown neighborhood.
When and where
Location
Chinese Culture Center of San Francisco 750 Kearny Street 3rd Floor San Francisco, CA 94108
Refund Policy
Contact the organizer to request a refund.
About this event
The Chinese Culture Center in partnership with Litquake presents a special afternoon in Chinatown. This tour is part of the Litquake Festival taking place between October 10 - October 19. Please check Litquake's website for a sneak peak at the festival's headliners. Tickets go on sale September 9!
Julia Flynn Siler, bestselling author of The White Devil's Daughters: The Women Who Fought Slavery in San Francisco's Chinatown, created this historical walking tour partnering with the Chinese Culture Center. The tour will feature sites and stories from the book and the Chinatown neighborhood. Siler's book is a "story of both the abolitionists who challenged the corrosive anti-Chinese prejudices of the time, and the young women who dared to flee their fate."
Admission includes a 90-minute tour with author and CCC docents, followed by a one-hour author discussion and Q&A over tea/wine reception. Book sales by Eastwind Books.
About White Devil's Daughters:
From 1874, a house on the edge of San Francisco's Chinatown served as a gateway to freedom for thousands of enslaved and vulnerable young Chinese women and girls. Known as the Occidental Mission Home, it survived earthquakes, fire, bubonic plague, and violence directed against its occupants and supporters–a courageous group of female abolitionists who fought the slave trade in Chinese women. With compassion and an investigative historian's sharp eyes, Siler tells the story of both the abolitionists, who challenged the corrosive, anti-Chinese prejudices of the time, and the young women who dared to flee their fate. She relates how the women who ran the house defied contemporary convention, even occasionally broke the law, by physically rescuing children from the brothels where they worked, or snatching them off the ships smuggling them in, and helped bring the exploiters to justice. She has also uncovered the stories of many of the girls and young women who came to the Mission and the lives they later led, sometimes becoming part of the home's staff themselves. A remarkable story of an overlooked part of our history, told with sympathy and vigor.
"In this incisive history, journalist Siler uses the biographies of Donaldina Cameron and her longtime assistant, Tien Fuh Wu, to tell the story of San Francisco's Presbyterian Mission Home. . . . Their campaigns included literal rescues from sexual or household slavery as well as providing protection and a home to women and girls fleeing enslavement, forced marriages, and other forms of exploitation. . . . Siler offers a fascinating example of the urgency and ambiguity of turn-of-the-century social reform movements and reformers."
—Sara Jorgensen, Booklist
"Julia Flynn Siler has written a diamond of a book—solidly researched, polished, and crafted with a cutting edge. The White Devil's Daughters tells an unforgettable story of exploitation, oppression, and resistance, showing how the enslavement of Chinese women was woven into the birth of Asian America in nineteenth-century San Francisco. Most important, Siler rescues the remarkable women who waged war on this criminal trade, inside and outside the law, even as they battled pervasive anti-Chinese bigotry. This book is not only rewarding, but necessary."
—T.J. Stiles, winner of the Pulitzer Prize for Custer's Trials and The First Tycoon
"With a flair for archival digging and literary narrative, Julia Siler unveils a remarkable and controversial chapter of Chinatown history. Sounding a warning gong in a world still plagued by human trafficking and cursed by political exploitation of the global scourge, The White Devil's Daughters is a timely book and a valuable lesson in caring for the suffering of fellow humans while looking for a real cure."
—Yunte Huang, author of Inseparable
"In "The White Devil's Daughters," Ms. Siler offers readers a sympathetic if at times critical account of this largely unknown story. Her smooth prose and vivid descriptions, as well as the numerous photographs reproduced throughout the book, create a compelling picture of life in the rough-and-tumble world of San Francisco's Chinatown."
— Maura Elizabeth Cunningham, The Wall Street Journal
About Julia Flynn Siler:
Julia Flynn Siler is a New York Times best-selling author and journalist. Her most recent book is The White Devil's Daughters: The Women Who Fought Slavery in San Francisco's Chinatown (Knopf, May 2019) which the San Francisco Chronicle called "meticulously researched and inspiring…" Her other books are Lost Kingdom: Hawaii's Last Queen, the Sugar Kings, and America's First Imperial Adventure. Her first book, The House of Mondavi: The Rise and Fall of an American Wine Dynasty, was a finalist for a James Beard Award and a Gerald Loeb Award for distinguished reporting. A veteran journalist, Siler is a longtime contributor and former staff writer for The Wall Street Journal and has been a guest commentator on the BBC, CNBC, and CNN. She lives in Northern California with her husband and their two sons. www.juliaflynnsiler.com
About Litquake:
Originally hatched over beers at the Edinburgh Castle pub in 1999, Litstock debuted as a free one-day reading series in a fog-bound Golden Gate Park. Local writers Jane Ganahl and Jack Boulware realized quickly that booklovers craved something grander. Against the backdrop of a technology-crazed San Francisco, writers were still drawn to the city, and readers still appreciated the written word.
In 2002, the festival was rechristened Litquake, and began expanding its programming to include all elements of the Bay Area literary scene. Taking a cue from a USA Today report that San Franciscans spend twice the nation's average on books and booze, in 2004, the festival inaugurated an immediately successful closing night Lit Crawl bacchanal throughout the city's Mission District.
Popular demand drove Litquake to expand even further, adding more national and international authors, youth programs, classroom visits and book giveaways, monthly literary Epicenters, and special localized editions of the Lit Crawl now held each year in Austin, Seattle, New York City, Iowa City, Los Angeles, Portland, London, and Helsinki.
Whether it's poets reciting in a cathedral, authors discussing science versus religion in a library, or novelists reading in a beekeeping supply store, the goal remains the same: whet a broad range of literary appetites, present the literary fare in a variety of traditional and unlikely venues, and make it vivid, real, and entertaining. Now grown to the largest independent literary festival on the West Coast, Litquake continues its mission as a ten-day literary spectacle for booklovers, complete with cutting-edge panel discussions, unique cross-media events, and hundreds of readings.