Description
We invite you to attend the 3rd Annual Wharton Sports Business Summit! Join us for a day full of learning from leaders in the sports business industry and opportunities for networking.
Hosted in Jon M. Huntsman Hall at the University of Pennsylvania, WSBS is an all-day conference for students and industry members. We present panels, speakers, workshops, and more.
A full recap video of the first Summit can be found here. Please also see here for details about last year's event.
Note: You must use a .edu email address to purchase a student ticket. All other attendees need general admissions tickets.
---
Speakers and Sessions
Keynote Events
Morning: Michael Rubin, Founder and CEO of Kynetic and Fanatics, Co-Owner of the New Jersey Devils and Philadelphia 76ers
Afternoon: David Blitzer, Global Head of Blackstone's Tactical Opportunities group (Tac Opps), and Co-Owner of the New Jersey Devils and Philadelphia 76ers

Speaker Events
A Conversation with Andrew Brandt
Thinking in Bets: Poker Champion Annie Duke on Decision-Making
Running the League: Kiki VanDeWeghe and Troy Vincent
The Gridiron Genius: Michael Lombardi on Sports, Leadership, and Life
How to Create a Hockey Team: The NHL's Expansion to Seattle
Did MLB Juice the Baseballs? The Inside Story: Meredith Wills
Inside Sports Marketing: A Conversation with Anheuser-Busch
Behind the Scenes: How MLB Plans its Season with Jeremiah Yolkut
Panels
Breaking into the Front Office
Assessing the Current Football Analytics Landscape
The State of Analytics in Philadelphia Sports
Finance, M&A, and Investing in Sports
The Future of E-Sports
---
Schedule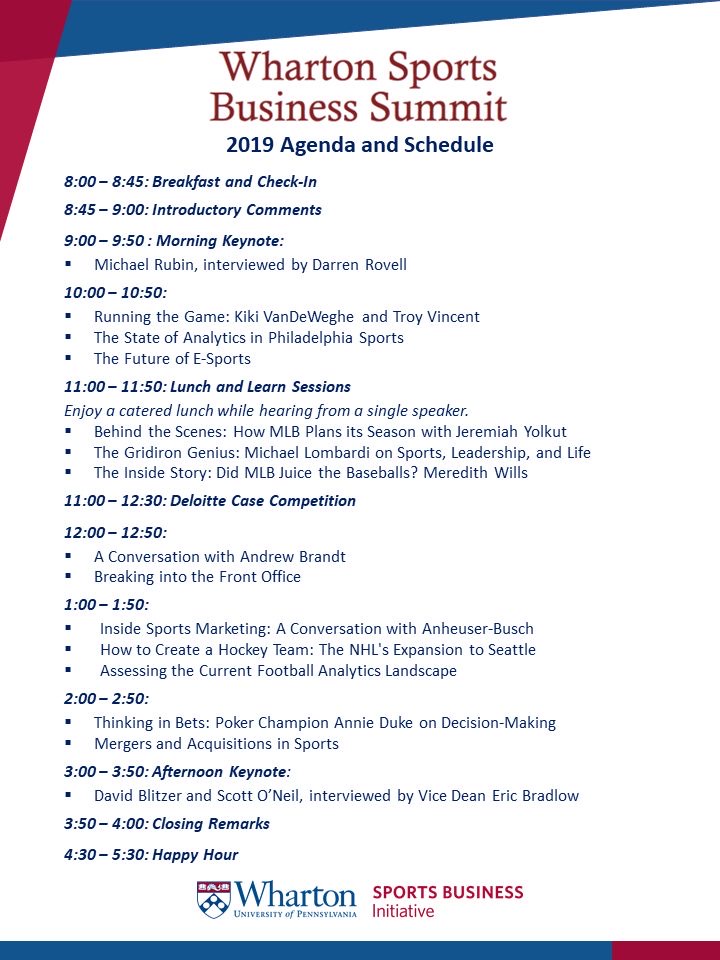 ---
Deloitte Case Competition
WSBS has partnered with Deloitte to host a case competition at the conference. Attendees will have the opportunity to submit a solution to a business problem before the event. Finalists will then be invited to present their solutions at the Summit, where a winner will be chosen by the Deloitte team. Deloitte will also be doing a recruiting info session during the Summit, where attendees will be given the chance to learn more about a career in consulting.
The prompt is as follows:
"How can the NFL (or NBA – any professional sports league) embrace the new world of player empowerment in a way which incentivizes collaboration between the league, players, teams, and their respective social media platforms, to mutually benefit from their huge brands?"
** Sign-ups are now open here. Register your team today to get access to more information about the competition. **
---
Partnerships

WSBS 2019 would like to thank our sponsors Turner Sports, Big League Advance, Wells Fargo, EdjSports, Blank Rome, and Harris Blitzer Sports & Entertainment. We could not put on the event without their support.
This year we are excited to have a beneficiary of our event, Good Sports. Good Sports is a national nonprofit with the mission to give all kids the lifelong benefits of sport and physical activity by providing equipment, apparel and footwear to those in need. Through partnerships within the sporting goods industry, Good Sports is able to obtain brand new sports equipment that is then distributed to youth-serving organizations in need throughout the United States and Puerto Rico. Every donation helps Good Sports get more kids in the game. Check out this video to learn more.

One of our partners, SSRS, is hosting a free webinar on November 14th featuring Dr. Rich Luker. Dr. Luker, a social psychologist, has been studying American life for more than 25 years. He is best known for his creation of the ESPN Sports Poll in 1994, which was the first ongoing intelligence tool for the American sports industry.
Attendees can sign up for the webinar at this link.
Additional Details
The WSBS dress code is business formal

Breakfast and lunch will be provided for free to all attendees

If you are interested in attending but feel that the price is prohibitive, please reach out to usbcupenn@gmail.com