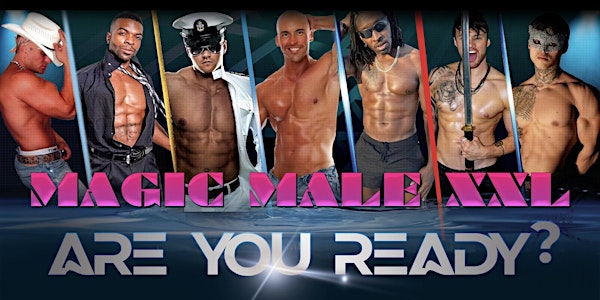 The Wharf Presents.. MAGIC MALE XXL SHOW®
The Premier Ladies Night Experience is coming to Manitowoc WI! If you and your friends are overdue for a night out, this is your answer!
When and where
Location
The Wharf Manitowoc 606 Quay Street Manitowoc, WI 54220
About this event
Far from what you would consider a typical "male strip show," MAGIC MALE XXL has captivated hundreds of thousands of women with a high-energy, interactive and intensely immersive experience that will have you on the edge of your seat from start to finish.
**Only a limited amount of tickets will be sold for each event to ensure a more intimate and personal experience.
The age requirement is 21+. You will also need to bring a valid form of ID (Drivers license, permit and or passport.)
Come and enjoy, sit back and relax with some wholesome male entertainment!
⭐️⭐️⭐️⭐️⭐️ ~Julia M. "GREAT show!! Best girls night out ever!!!!!!! Can't wait for the next show!
⭐️⭐️⭐️⭐️⭐️ ~Lori W. "A friend and I went for her birthday". "The guys are gorgeous with lots of sexy moves, the party atmosphere was great, we had an amazing time!!
⭐️⭐️⭐️⭐️⭐️ ~Phillis C. "We bought my daughter...a bride to be...the VIP queens package". They made her night sooo special!!! They had HER come on stage with one of the guys for a lap dance! Memories to last a lifetime!!! Thank you sooo much Tristan! More glad than I ever imagined that I brought her for this show!!
⭐️⭐️⭐️⭐️⭐️ ~Lisa W. A lot of fun!! "The guys definitely made sure the girls were having fun and they were very nice!"