The Westminster HUMAN Show - an Animal Roleplay Competition - Thurs, April...
Sales Have Ended
Registrations are closed
Thank you. The guest list has now been closed. No walk-ins will be accepted.
Sales Have Ended
Registrations are closed
Thank you. The guest list has now been closed. No walk-ins will be accepted.
Description
The Westminster Human Show
Sponsored by Cherry Noir
Thursday, April 4th, 2019 - 7pm-Midnight
An Animal Roleplay Competition



This is considered a "Private Event" - RSVP HERE and Pre-payment of tickets on the club's website is necessary. $20 per person for spectators, $30 per competing couple.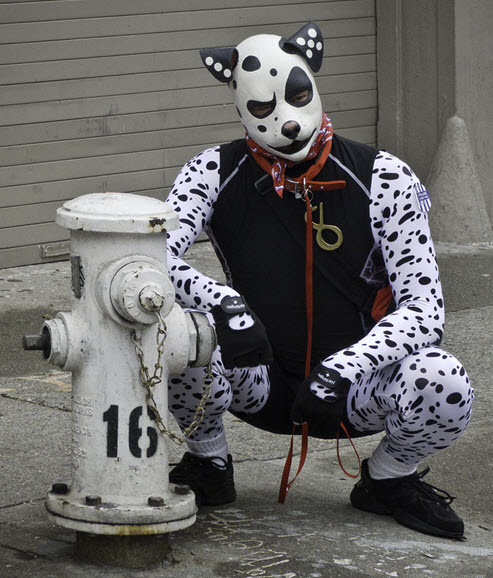 The Westminster Human show is your safe space to let out your "inner animal."
Come to watch couples win specialty ribbons and metals and compete in competition. Testing their animal prowess. Similar to the Westminster Dog Show in London, England, this competition will combine obstacle courses and special events to determine the Cutest, Fastest, and most Loyal animal roleplay in Philadelphia.
This event is for members of the wider kinky community.
Held at the Saints and Sinners Club and sponsored by Cherry Noir, the event hopes to bring pet play enthusiasts together to compete in this fun, good-natured event. Doors open at 7pm. Competing couples may have a one-hour primp and grooming session with opportunity to practice. Competition starts promptly at 8pm. Competition ends when the last couple competes. Lockers for street clothes will be provided. Bring your own lock. The event goes until Midnight.
Our Host & Master of Ceremonies Baron will be celebrating his birthday in this grand style. Treats will be provided.


Our Judges:
The Vetrinarian - An actual vetrinarian. She understands animal behaviour for a wide variety of animals
The Bookkeeper - To authenticate the results we have a numbers cruncher of the highest caliber
The Titleholder - Well versed in animal roleplay competitions, he knows what he's looking for and how to get the best out of his pups
Event Details:
The Westminster Human Show features a number of contests separated into events for dogs, and non-dogs. There is no limit to the type of animal may participate. If you want to be a cat, dinosaur, pony, shark, rabbit, etc. - ALL are welcome. Each event will be judged based on how well the performing couple completes each task with a point value system. Special-made metals and ribbons will be given for the top contestants. Our judges and our audience will decide who will go home with the gold.

Competition Events:
The Westminster Human Show will feature a number of events that competing couples may try for. Not all events may be suited for your animal type. Events are subject to change.

Inspection & Showmanship - Like any good dog or cat show, there is the inspection of the animal. This is done much in the same style with some physical touch. Judges will be looking at how the Human-animal presents their roleplay, costuming, their behavior in animal form, and how well the Handler and Human-animal are acting like a team.

Obstacle Course - A timed course featuring low hurdles, weaving, crawling, and balancing.

Animal Dancing - A Soul Train-like runway for the Human-animal to strut their stuff and kick those paws up.
Pick up the Scent - Each handler gets a colored paper with a particularly identifyable scent. Paper bags are then filled with a coordinated colored stuffed animal coated in that scent. The bags are semi-hidden around the course and the Human-animal must identify the right one in the fastest time.
Stupid Pet Tricks (Talent) - Is there something that you want to show off? Is there a hidden talent that your Human-animal can do? Do you want to act out a skit? Do you want to impress the judges with a super skill? This is the event that is as open as your imagination.
The judges will grade all participants on a point scale which is adjusted for the variety of animal competing. The scale is weighted so animals that are naturally more stubborn, primal, or are ill-suited to a particular event can get graded fairly against the obedient and fast breeds of animals.
Competition Rules:
No actual cats or dogs are allowed. Only humans.

No fictional animals. Species must exist or have existed at one time.

At minimum, competitors need to have a set of ears and a tail, (or some mask, makeup, or token that indicates their animal selection). However, full body costuming for Human-animal and Handler is optional, but appreciated.

Human-Animals will require a Handler in order to compete for metals. One Handler per Animal is allowed. If you are a Human-Animal that does not have a Handler, please contact an event coordinator to be matched with an available Handler.

Human-Animals may not speak words while competing in each event

Competing couples do not need to compete in every event. You can pick and choose which ones you want to participate in.


PRICING PROCEDURE DETAILS:
Our venue, the Saints and Sinners Club, considers this to be PRIVATE EVENT. So you MUST RSVP in order to get in. There will be no walk-ins. After you RSVP here, then you can purchase your ticket on the Saintsandsinnersac.com website using the link provided. If you RSVP and don't buy your ticket ahead of time, it'll be $30 at the door per spectator.

Must be 21 or over - BYOB - Locker room provided, bring a lock
If you find yourself in economic hardship but would like to come please PM an event organizer.

2533 Emery Street Philadelphia, PA 19125
---
---
Photo credits: By: Larry Jones - Dog at Fireplug - Taken at Folsom Street Fair 2011, San Francisco, California
JT's Stockroom - Animal roleplay header image. Highly recommend shopping at JT's Stockroom for some supplies if you need anything right away.

---
Upcoming Cherry Noir Events: Thursday, March 21st - Friday March 22nd - Thursday, May 16th - Friday, May 17th

Another awesome event from http://www.ElegantlyKinky.com
Contact Mistress Zeneca with any questions - Fetlife.com username: ElegantlyKinky