Description
Welcome to the first annual
WESTCHESTER BAROQUE FESTIVAL
September 2018!
St. Thomas Church's Baroque Ensemble in residence, Ensemble L'Harmonie des saisons (from Quebec) directed by Eric Milnes, is one of North America's most distinguished performing groups, as attested to by their numerous tours, critically acclaimed recordings and frequent appearances at festivals and venues across North America, South America, and Europe. Frequently heard on NPR and CBC Radio broadcasts, winners of the prestigious JUNO Award for Best Classical CD of 2016, the Opus Prize for Best CD of 2016, and with glowing reviews in Gramophone Magazine, Toccata Magazine, and numerous other publications, its members and collaborators represent the finest in period performance world-wide. Joined by internationally acclaimed vocal soloists, and The St. Thomas Choir - We are delighted to share their talents with you!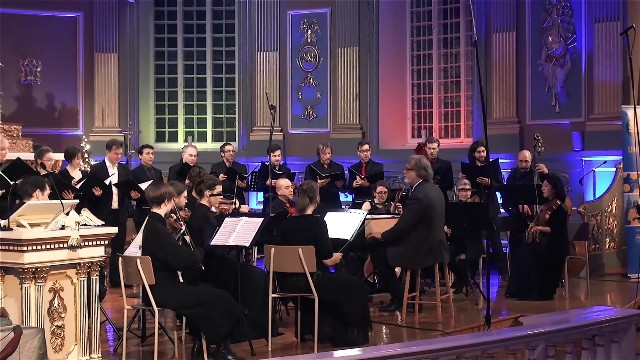 Over the course of three days, five exquisite concerts sure to delight, all in one location.
We have ample parking and are but a 10 minute walk from the Mamaroneck train station on the New Haven line. There are numerous restaurants at which to eat and a beautiful harbor at which to sit between concerts!
There are several options for tickets:
You may purchase a general festival subscription (all 5 concerts) for $120,
or a senior festival subscription (all 5 concerts) for $100.
A single event adult ticket is $30, $25 for seniors.
Admission for persons under 18 years of age is free.
THE PROGRAM

Friday, September 14th at 7:30 pm
Antonio Vivaldi's The Four Seasons

Vivaldi's Four Seasons for Violin Soloist and String Orchestra has remained one of the most treasured pieces in all of Western Music. Come to find out why. The sheer delight in virtuosity and the poetically musical depictions of the seasons of the year never fail to delight. We intersperse the concerti with seasonally appropriate songs by George Gershwin, Joseph Kosma & Vernon Duke!
Featuring internationally renowned baroque violinist Olivier Brault.
Saturday, September 15th at 2 pm
Songs without Words
Internationally renowned baroque oboist Debra Nagy, cellist Melisande Corriveau and harpsichordist Eric Milnes present their critically acclaimed program of 17th century French love songs, brilliantly mixed with more modern songs made famous by Nina Simone, Willie Nelson, Billy Strayhorn, Errol Garner and Stephen Sondheim.
Debra, Mélisande Corriveau and Eric Milnes have recently recorded and toured this delightful program - it is full of programming surprises!

Saturday, September 15th at 7:30 pm
Johann Sebastian Bach's Brandenburg Concertos #4 and #5
with The Coffee Cantata & The Wedding Cantata
Bach in Entertainment Mode in a program reminiscent of those he presented for fun at Zimmerman's Coffee House in Leipzig. It is less familiarly known that Bach regularly supplied instrumental music for his university ensemble, and for the many friends and family members who played with him. The Brandenburg concerti are an amazement of sonic variety and brilliance, and the two vocal cantatas, written for friends and family, reveal the recreational composer Bach! Featuring sopranos Helene Brunet and Lielle Berman, with tenor Paul Shikany and baritone Jesse Blumberg.


Sunday, September 16th at 2 pm
Beatles Baroque! The Music of Lennon & McCartney
Eric Milnes' arrangements of Beatles songs for Baroque Ensemble have been featured on three critically acclaimed CDs for the ATMA label, and he has toured the program to audience delight across Europe and North America. The magic of the "swinging London" sound of 1966-68 Beatles music with baroque accents...and the audience is welcome to join in!


Sunday, September 16th at 7:30 pm
George Frideric Handel's Acis & Galatea : Intimate Opera in Concert Version

The most charming, intimate opera in two Acts written for four soloists, chamber orchestra & chorus, based on Ovid's classic Metamorphoses. During his long career in England Handel was the most popular and commercially successful opera and show composer of the day - and this delightfully light dramatic work shows why in every way. Performed in concert version, our internationally renowned vocal soloists are joined in the ensembles by the wonderful St. Thomas Choir, and our authentic instrument Baroque orchestra provides the perfect accompaniment to transport you to 18th century England.
Acis: Philippe Gagné, tenor
Galatea: Helene Brunet, soprano
Polyphemus: Peter Becker, bass
For More Information on the Programs and Artists:
www.westchestermusicfestival.org