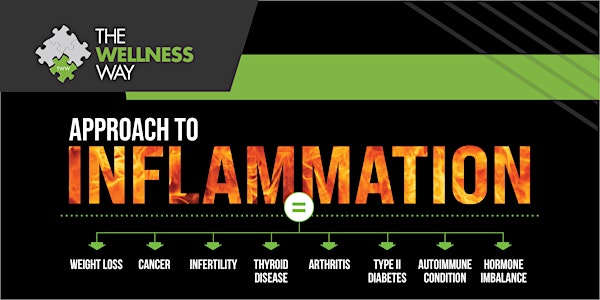 The Wellness Way Approach to Inflammation
Chronic health conditions are at an all-time high. Despite medical advances, we are sicker than ever. Something needs to change!
When and where
Location
Liberty Chiropractic- Wellness Way Knoxville 9145 Cross Park Drive Suite 102 Knoxville, TN 37923
About this event
Inflammation is involved in 8 of the top 10 leading causes of death in the United States today.
What is inflammation?
The term inflammation is being thrown out a lot in our current health society.
We have all heard of this NORMAL biological process BUT .. have you ever asked what it really is?
It is by far one of the most important processes of our body that helps with fighting off bacteria, viruses, ect.. as well as assisting our body in healing itself.
Here are some of the topics we will discuss:
-Thinking differently about inflammation
-Why addressing inflammation is incredibly IMPORTANT
-The difference between chronic and acute inflammation
-Our fireman & carpenter principle
-Our swiss watch Principle on how the body works
-The 3 T's of stress and how to remove them
We'd love to have you attend this event to learn the steps you can start to take control of your health again!
This event will be presented by Dr. Jason Smith of Liberty Chiropractic. To learn more about Dr. Jason go to https://knoxvilletn.thewellnessway.com/