Description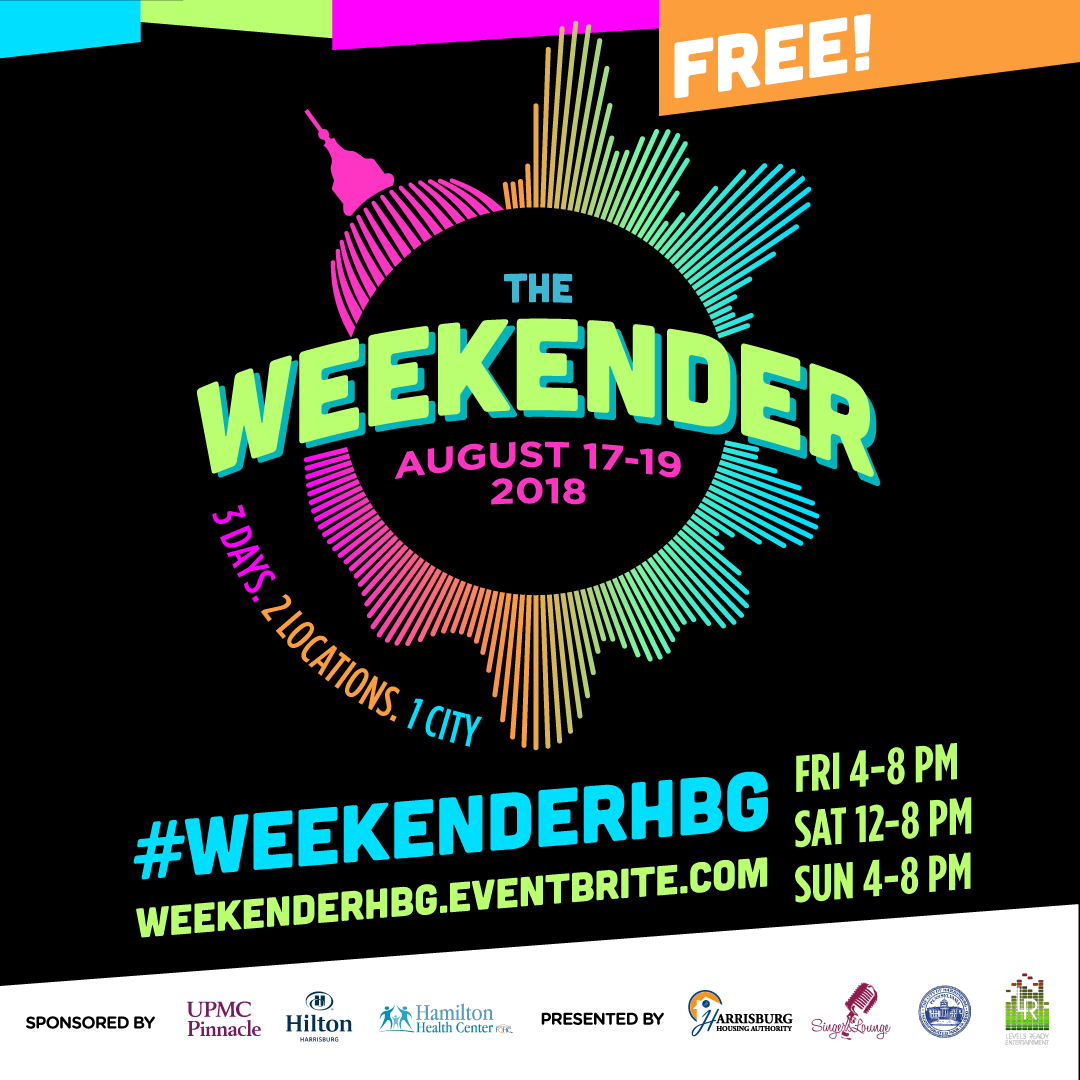 August 17th – 19th All roads lead to Harrisburg for The Weekender. As a joint venture between the Harrisburg Housing Authority, the City of Harrisburg, Levels Ready Entertainment, and The Singer's Lounge, we are bringing a unique urban festival to the Harrisburg summer lineup, with national recording acts such as Sa Roc, Tobe Nwigwe, and DJ Diamond Kuts!
The Weekender, which is free to the general public, and spans over 3 days. The Event Schedule is as follows:
August 17th – HHA Community Day 4pm-8pm
Hall Manor
Friday offers family-friendly activities such as kickball, free food (1st 300 people), Live DJ, and field games. The day will also feature Health Screenings, career fair, school supply give away, and an open mic for local talent to come and express themselves through poetry and music. Community Organizations are welcomed and encouraged to participate. Email weekenderhbg@gmail.com to request vendor information.
August 18th – Harrisburg Music Fest Noon-8pm
Reservoir Park
Saturday''s Harrisburg Music Fest will offer a fun-filled day of music and entertainment featuring rising stars, Sa-Roc, Tobe Nwigwe, Zariya, and veteran DJ Diamond Kuts. Founded in 2012 by Anwar Curtis and Jonathan Williams, both of Levels Ready Entertainment, Harrisburg Music Fest has drawn in the support of over 1,000 patrons every year and is a staple in the Harrisburg Independent Music scene.
August 19th - Reservoir Park
Unity Community 3-on-3 Basketball Tournament 9am-4pm
Don't miss the opportunity to be a part of our 3-on-3 Basketball tournament. The Unity Community 3-on-3 Tournament will feature a live DJ, an action packet dunk contest, and some of the best players in the region. Sign up to play or plan to come and watch. Either way, you won't be disappointed! (Email starcity16@gmail.com for more info)
The Singer's Lounge Family Cookout 4pm-8pm
The Singer's Lounge is a platform created to showcase the talents of Harrisburg's amazing soul singers. Every 3rd Sunday of the month, over 300 people come out to hear local talent perform songs from popular themes such as the 90's, Motown and Gospel. Sunday's show theme is the "Family Cookout" and will feature artists performing your favorite summer hits and cookout anthems! Featuring special guest performances by 14-year old, award-winning singer-songwriter, Zariya, and Bobby V.