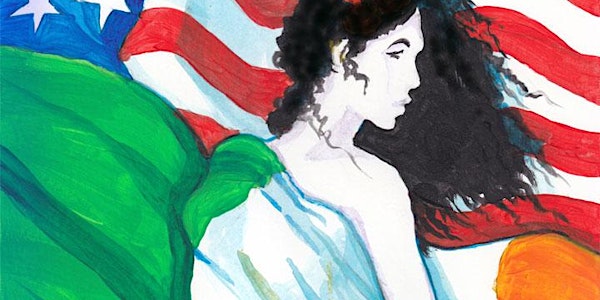 The Wearing of the Green: Making Art and Peace in Northern Ireland
Event Information
Location
Mask Center
Little 5 Points Center for Art and Community
1083 Austin Avenue - ground floor - 008
Atlanta, GA 30307
Description
Gateway Performance Productions - Celebrating 45 years as a Non Profit Organization
Presents
Saint Patrick's Day 2020 & Women's History Month
The Wearing of the Green: Making Art and Peace in Northern Ireland
Part I of The Warrior Tree - Drama, Poetry, Monologues, Memoir, Mask Theater, Music and Song
Written, Directed, Choreographed by Sandra Hughes
Performed by Michael Hickey and Sandra Hughes
Masks by Michael Hickey
Celebrating 50 Years of Artistic Collaboration
Sunday, March 15, 2020 @ 3 pm
@ The Mask Center
Celebrating 20 years as Gateway's Performance/Rehearsal/Workshop Space
Little Five Points Community Center, 1083 Austin Avenue
Ground Floor, 008, Atlanta, Georgia 30306
Suggested Donation $10
Free parking in the building parking lots
404-222-9262, gatewaypp@masktheatre.org
This production is made possible in part by the Georgia Council for the Arts, the Mayor's Office of Cultural Affairs in Atlanta, Fulton County Commissioners under the guidance Fulton County Arts and Culture and individual contributors.
About The Wearing of the Green
In November 2000 while performing in New York City award-winning writer, director, choreographer, performer Sandra Hughes was unexpectedly invited to perform in what was then called "The Murder Mile" in Belfast, Northern Ireland. She immediately accepted and less than two weeks later found herself in Belfast performing for the opening of the Christmas Season at Duncairn Complex (now The Duncairn Performing Arts Theatre). Sandra's performance resulted in an invitation from the McCracken Cultural Society to return to Belfast in July 2001 as a playwright and performing artist for their annual Peace and Reconciliation Project. She did return with her long time artistic partner, performer and award-winning mask maker, Michael Hickey. Together they utilized their art to help support the peace process through 2006 and watched as ancient wounds began to heal and agreements were made - all the while growing in their awareness of and commitment to their own Irish heritage.
The Wearing of the Green is Part 1 of The Warrior Tree, a three part performance piece, in development at Gateway's 20 year old venue - The Mask Center - in Atlanta, Georgia. Previous performance venues include the Miami Light Company in Florida, Road to Nowhere Festival in West Baltimore, the National Senior Theatre Conference and Festival in Atlantic City and the American Friends Service Committee, Georgia Peace Center in Atlanta. This theatrical production - created from poetry, drama, monologues, memoir, mask theater, music and song - spans a 30 year history of performing in areas of global conflict and oppression. Written, directed and choreographed by Sandra and performed by Sandra and Michael, the production was inspired by the careers of two artists who have been invited to perform and teach in 36 states in the United States and 13 other countries as well as on television, film and radio.
In 2005 Sandra met with literary agent Susan Schulman in New York City. Sandra shared manuscript chapters and photos - the makings of a memoir. Ms. Schulman looked over the materials and told Sandra to use them to create a stage production that included the mask theatre pieces she had performed in Belfast, Amsterdam, Budapest, Slovenia, Oaxaca and elsewhere. The Wearing of the Green is Part 1 of this massive artistic process.
Date and time
Location
Mask Center
Little 5 Points Center for Art and Community
1083 Austin Avenue - ground floor - 008
Atlanta, GA 30307