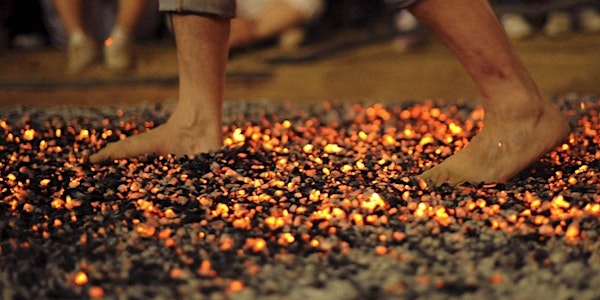 The Way of the Firewalker
When and where
Location
Shawnee, Kansas 7435 Deer Ridge Drive Shawnee, KS 66227
Description
This is your opportunity to experience a transformational journey through fire. During this workshop, we invite you to look at your life's obstacles, identify unsupportive conditioned behavior patterns, breakthrough your paralyzing fears, and shatter limiting beliefs that stand between you and your dreams. During this bonfire celebration, certified firewalk instructors Kirsten Harwick Mills and Brad Elpers will guide you through a self-empowerment program as part of your own journey to personal emotional and mental freedom. We are grateful to share our firewalk teaching experience with our community. Please bring your excitement, your joy, your fear, and anything you wish to motivate your bare feet across the burning hot coals.
Please reserve your ticket so that we can create an AMAZING evening for you!
One of the first things we learn is that fire burns.
But when you first see someone walk on fire, or you walk yourself, this fundamental agreement shatters, and suddenly your world is full of new possibilities.
If it's not true that fire burns all the time, what else do you tell yourself that is not true?
This is the gift and lesson of fire walking.
When you challenge your beliefs you open up your perspective. With a new perspective, we challenge you to take responsibility for creating something more expanded and powerful with your life.
Step into the fire, and prove to yourself once and for all that you have much greater power than you ever believed possible.
The firewalk is an amazing experience you will not want to miss!
Agenda:
3:00-3:15 PM - Arrival and Sign-in
3:15-3:30 PM - Walk to bonfire.
3:30-4:00 PM - Gather, Open, Group Intention, Light Fire
4:00-6:30 PM - Program and Energy Raising
6:30-7:00 PM - Firewalk
7:00 - Closing and Dismissal
FAQs
Are there ID or minimum age requirements to enter the event?
Yes. Only registered participants are allowed to attend and enter the event. All participants will sign waiver and release forms provided at the event in order to participate. Minimum age for participation is 16 years old with written and signed parental consent for all participants under the age of 18.
If I attend the Firewalk/Bonfire Celebration, am I required to walk on the hot coals?
No. You are invited to join us at the fire and witness those who choose to walk. Even as an observer, this experience will have powerful, life-changing effects. We ask you to listen to your heart and only walk if you are called to do so.
If I choose to walk on hot coals, will I burn my feet?
As with all forces of nature, a firewalk contains the element of risk. Sundoor Certified Firewalk Instructors teach people the ancient practice of firewalking with proper techniques, tools, guidance, methods and the safe and mindful handling of this powerful element. For participants who listen carefully and follow instructions, burns are very rare or cause only minimal injury.
What are my transportation/parking options for getting to and from the event?
For the Shawnee location, parking instructions and access to the event space will be provided via email prior to the event.
What can I bring into the event?
You will be outdoors, in a pasture, in the elements, walking barefoot over the coals from a 1000+ degree fire. Therefore, the following are strongly recommended and encouraged: denim pants, long-sleeved shirts, ties for long hair or to secure loose clothing, additional clothing appropriate for outdoor elements/weather such as raincoats, jackets, hats, gloves. Shoes that can be easily put on and removed are recommended. Other considerations are water bottle, a journal and pen to document your experiences, a towel to wipe your feet off, a bag to hold your loose belongings and jewelry.
Is alcohol allowed?
Alcohol and drugs are prohibited at and during this event. Participants are expected and required to participate free from the influence of any non-prescription drugs, including alcohol or other hallucinogenic substances, that would otherwise limit clear and responsible decision-making.
Is photography or video allowed?
There will be time set aside toward the end of the event to capture images with you and the glowing embers. Event facilitators/organizers may have designated photographers to document the event.
How can I contact the organizer with any questions?
You may email Brad at brad@acmeyogaco.com or Kirsten at kirsten@silentsynergy.com with any questions or concerns.
This program requires a ticket and signed waiver/release form prior to participation. Waivers will be provided at the event sign-in.