The Water Ride

Saturday, May 11, 2013 at 8:00 AM (CDT)
Event Details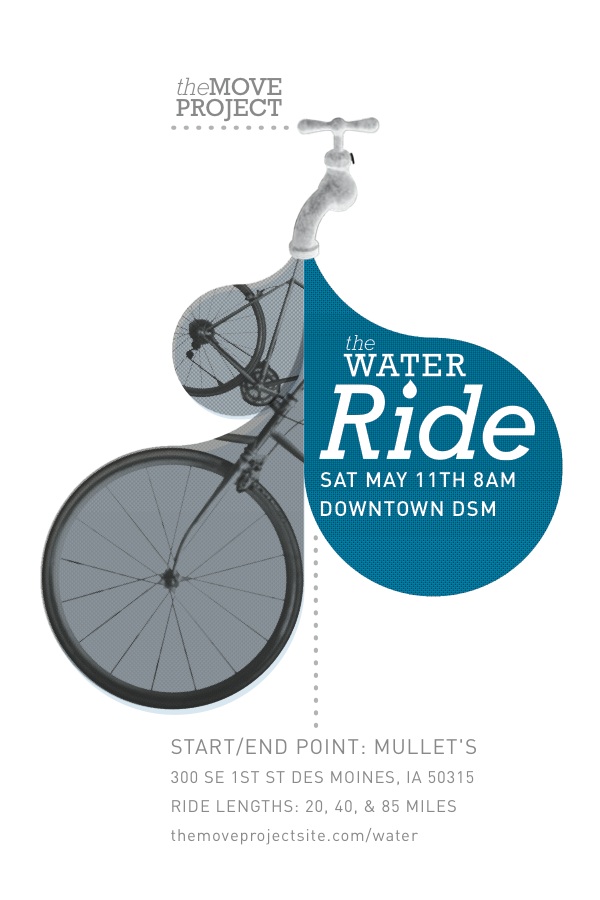 On May 11, 2013 The Move Project is hosting their first signature event, The Water Ride. Join us in riding for a cause, and help raise awareness and funds to provide clean water to a community in Africa (the specific community will be determined this Spring, and geolocation will be used to pinpoint the location of the well).

By signing up for this ride throughout Greater Des Moines, you are making a significant difference in the lives of people who currently lack access to clean water. Our goal is to raise $50,000 to build a well and trench water lines to communal locations within a community.

Think about it - you get to reach a personal goal, ride with friends, meet new people, enjoy great food and at the same provide new opportunities for our neighbors across the Atlantic.

Sign up today and we'll send you more information about the event and how you're making a tremendous impact. Prices go up to $100 on May 3rd ($50 for students).

The three route options can be viewed here:
20-Mile Route: http://www.mapmyride.com/routes/view/164412702

40-Mile Route: http://www.mapmyride.com/routes/view/164417192

85-Mile Route: http://www.mapmyride.com/routes/view/164415876
Questions? Email Emily at thewaterride@gmail.com
Waiver:
WAIVER, RELEASE AND CONSENT
In consideration for allowing my participation in The Water Ride, I freely agree to and make the following contractual statements and agreements. 
Risks of Bicycling: I fully realize and appreciate the dangers of riding a bicycle on open public roads and fully assume the risks associated with this activity including, by way of example but not limitation, the dangers of collision with pedestrians, vehicles, other cyclists, and fixed or moving objects; the dangers arising from surface hazards, pot holes, broken roads, equipment failure, inadequate safety equipment, and weather conditions; and the possibility of serious physical and/or mental trauma or injury associated with bicycle related mishaps. I understand that potentially dangerous situations may arise during the event which are beyond the control of The Move Project. Knowing these risks involved, I nevertheless agree to assume those risks and to release all the persons or entities mentioned below for any injury, death, illness or property damages occurred on these tours or in the travel to and from these tours.
Responsibilities of Bicyclist: I attest I will be riding at my own risk and release the aforementioned entities from liabilities for any injury, death, damages which may occur to me or anyone else. I further understand that if I leave before the posted daily starting time or bicycle a course different than mapped, or marked, that I will not receive the services as published or advertised.  I also agree to wear a CPSC approved bicycle helmet at all times when riding a bicycle during this event. I also agree to have adequate medical insurance coverage for the duration of the ride. I consent to and permit emergency medical treatment in the event of injury or illness. I attest that I will abide by the rules and regulations of these tours, and all state and local municipal laws applicable, including vehicle laws and practice safety in bicycling. I understand The Move Project reserves the right to suspend the tour for participants unwilling to ride in a safe manner or displaying unacceptable behavior as defined by The Move Project. The Move Project may change or cancel tours (with refunds) for various reasons.
Release: Having read the foregoing material, I hereby waive, release, and discharge, for myself, my heirs, my executors, administrators, successors, and assigns, any rights or claims which I have or may hereafter accrue to me against the officers, employees, owners, volunteers and staff of The Move Project, participating clubs, sponsoring businesses and organizations, and the cause(s) for which I am raising funds, if any, for any and all damages which may be sustained by me directly or indirectly in connection with my participation in this event subject to Iowa law. 
The Move Project: Cannot be held liable for theft or loss of any personal gear including bicycle. I also grant full permission for use of my name, photograph, videotape, motion picture, recordings and evaluations in connection with this event. 
When & Where

Mullets
1300 Southeast 1st Street
Des Moines, IA 50315


Saturday, May 11, 2013 at 8:00 AM (CDT)
Add to my calendar
Organizer
http://themoveproject.org/thewaterride