2-Day Women's Event - The Warrior Conference 2021
About this event
You are invited to The Warrior Women's Conference 2021.
Our purpose for this community-wide conference is to have a place where we can all come and grow in our personal relationship with God as well as learn how to walk out this life of faith the way Jesus intended. It would be our honor to have you spend the weekend with us as we encourage and serve you.
Also, to aviod any confusion, your $35 ticket will cover the cost for your Friday night and Saturday morning. Even though the ticket date listed only has the Friday night shown, it still covers the Saturday morning as well. (See flyer below)
*We will be serving dinner and dessert on Friday night. Saturday morning we will have breakfast, a snack bar, and of course... COFFEE!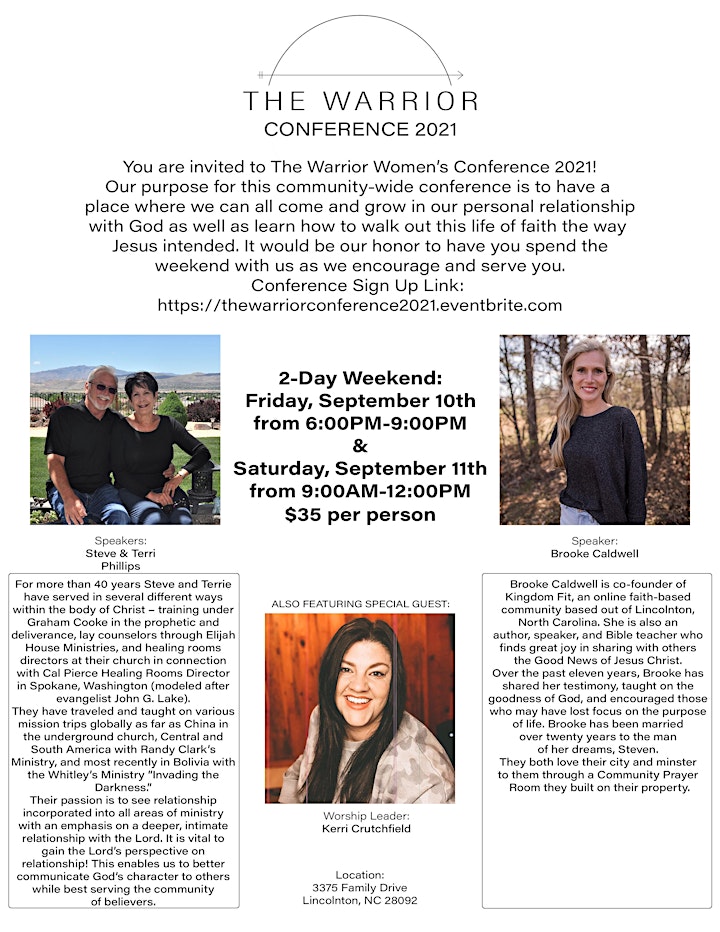 Additional information about our Guest Speakers:
Terrie Phillips:
Have you ever felt like God was trying to get your attention?  Have you ever experienced crazy dreams in the middle of the night?  More often than not, you also probably ponder those elusive symbols and scenarios that parade across your dream scape?  
Terrie has served with her husband Steve in various fields of ministry, but her real passion lies in gaining a deeper understanding for how God speaks to us in the night seasons. Job 33:14-15 best sums it up:  "For God does speak – now one way, now another – though man may not perceive it - in a dream, in a vision of the night when deep sleep falls on men as they slumber in their beds."
For the past 15 years, Terrie has taught (with Biblical evidence) several classes in her home church in Nevada while also participating in conferences locally, on the East Coast, and in Bolivia, South America.  Always with an emphasis on helping others understand what really happens "behind the scenes" of our dreams.
She has recently authored the book "Conversations and Encounters with God in the Night - the Hidden Mystery behind Dreams" currently available through Barnes & Noble and Amazon Books.  
 Steve Phillips:
Steve has been a servant of the Lord for 40 years.  He is an encourager and a prayer warrior who loves to stand on the word spoken in Ephesians 6:18 "And pray in the Spirit on all occasions with all kinds of prayers and requests.  With this in mind, be alert and always keep on praying for all the saints."
He has been a leader in the prayer team ministry at his local church as well as at the Mission Church in Vacaville, CA where he received training in both the prophetic and deliverance.  In addition, he and his wife have been directors of healing rooms in Sparks, NV.  
Through several global mission trips, he has been given the opportunity to minister to the Underground Church in China, to minister with Randy Clark in South America, and most recently with the Paul and Karen Whitley's Ministry "Invading the Darkness" in Bolivia.  
Steve is now retired from the daily business world, but his strengths in translating business strategy into business aligned logistics programs presented him with the opportunity several years ago to teach at a university leadership group in Bolivia.  He is also a trained aviation private pilot with multiple licenses with an amazing testimony of surviving an airplane near disaster crash in January, 2018.
Steve and his wife Terrie currently live in Sparks, Nevada.
Brooke Caldwell:
Brooke Caldwell is co-founder of Kingdom Fit, an online faith-based community based out of Lincolnton, North Carolina. She is also an author, speaker, and Bible teacher who finds great joy in sharing with others the Good News of Jesus Christ.
Over the past eleven years, Brooke has shared her testimony, taught on the goodness of God, and encouraged those who may have lost focus on the purpose of life.
Brooke has been married over twenty years to the man of her dreams, Steven. They both love their city and minster to them through a Community Prayer Room they built on their property.