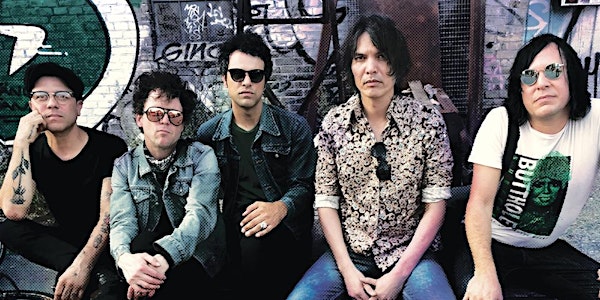 The Warlocks
ALL AGES
(((folkYEAH!))) Presents
(((folkYEAH!))) Presents The Warlocks at The Chapel
When and where
Location
The Chapel 777 Valencia St San Francisco, CA 94110
Performers
Headliners
More Performers
About this event
Tickets now on sale on See Tickets - CLICK HERE
$20 advance / $25 day of show
Effective March 2, 2022, The Chapel is changing our COVID-19 policies to align with the latest health directive from the City of San Francisco.
In order to attend a show at The Chapel you must provide either:
1) proof of full vaccination
OR
2) proof of a negative COVID test taken within one day for antigen tests, and two days for PCR tests. Proof can be either a printed document or an electronic notification on your device.
We still highly recommend wearing a mask at all times.
Acceptable proof of vaccination:
The CDC vaccination card, which includes the full name of the person vaccinated, type of vaccine provided, and date last dose administered, or similar documentation issued by another foreign governmental jurisdiction. A photo or copy of a vaccination card as a separate document. A photo of a vaccination card stored on a phone or electronic device. A personal digital COVID-19 vaccine record issued by the State of California.
Policy is subject to change. Please check our website for updates prior to attending events at The Chapel.
"Creamy, dreamy, glass breaking-style storytelling" is how Bobby Hecksher describes the psychedelic-rock sound of The Warlocks' tenth full-length studio album, The Chain, released April 3, 2020, on Cleopatra Records.
"We're telling a story this time," Hecksher says about the album's ripped-from-the-headlines concept, which he says had been percolating for a few years before it suddenly came to him with the delirious intensity of a fever-soaked dream, like that "out-of-body experience you get at a show when you're drenched in sweat and suddenly feel so alive."
That concept, Hecksher says, is based around "a Bonnie & Clyde-ish twenty-something couple who rob a bank but get caught and then are cast down the bottomless pit of our justice system. The main characters, Rocky and Diamond, come from different means and thus have very different outcomes. It's a loose collection of 'you got fucked and swept under the rug'-type feelings revealed amid happy songs about their relationship, provided as a kind of relief."
"I've been reading lots of articles about our justice system" Hecksher says. "I've also been watching a lot of real-life/fictionalized prison TV series. All these young adults are caught committing very low-level crimes, but they end up getting these huge bits of their lives taken away from them. The ones who have money usually fair better."
The Chain was recorded by The Warlocks — Hecksher (vocals, guitar, keyboards, bass), John Christian Rees (guitar, feedback), Earl V. Miller (guitar, drone machine), Christopher DiPino (bass), Cesar A. Reyes (keyboards), and Jason "Plucky" Anchondo (drums) -- over the course of a few weeks and co-produced by Hecksher and Rob Campanella at Rob's Figment Studios in Lake Hollywood, CA.