Description
The War for Talent - Attracting and Retaining the Best Human Capital
hosted by
The Jacksonville CFO Leadership Council
Tuesday, February 13, 2018
11:15 AM to 11:45 AM Networking | 11:45 AM to 12:00 PM Lunch | 12:00 PM to 1:15 PM Program
Program Description
Today's economic climate provides employees with many career options which makes attracting, recruiting and retaining top talent increasingly challenging. Businesses are finding it difficult to find and keep employees and keep them engaged and productive, especially top performers who have been approached with competitive opportunities.
Join us for "The War for Talent: Attracting and Retaining the Best Human Capital," where our panel of experts will address these challenges and provide insights into how to successfully recruit, maintain and motivate top talent. Our speakers will share their first-hand experience, their lessons learned, and share practical solutions attendees can utilize within their organizations. We'll focus on compensation and benefits, professional development, recruiting strategies and how to create a work environment that will maximize the performances of a multi-generational workforce.
Learning Objectives
How to recruit, attract and retain top talent
How to develop skillsets and maximize employee performance
Invest in the workforce and measure the ROI of employee retention programs
Employment trends that CFOs should be aware of
---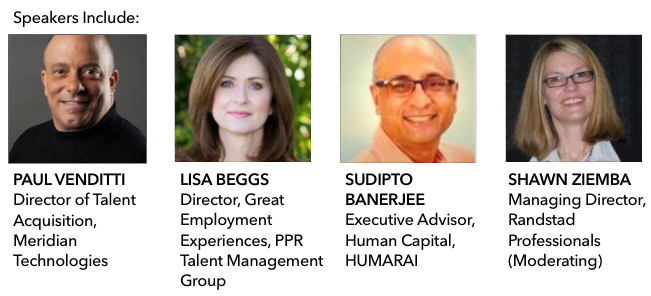 Paul Venditti has over 15 years of experience as a Talent Acquisition professional, with expertise in designing, building and optimizing talent acquisition strategies. He has in-depth experience within professional services, IT project-based staffing, corporate recruiting, retained executive search, and high-volume IT production-based staffing. He also possesses a working knowledge of recruiting best practices in technology and several industries including banking, financial services, and health care, as well as a diverse background ranging from small boutique owned businesses, to midsize and national companies, and large Fortune 100 organizations, at both the corporate and operating division levels.
Lisa Beggs develops teams, through growing communication channels, developing cross functional work groups to drive collaboration, and is her passion. Her goal is to make an immediate impact as a key contributor to world class human resources. An audit of workforce operations provides the starting point for her action plan to further engage, refine and develop leaders across the organization to grow and drive strategic alignment, and calibrate work activities to performance metrics. She is a culture expert and thrives on building a strong HR infrastructure through leading all HR operations. Lisa is a member of the Society for Human Resources Management-SHRM, American Society for Training and Development- ATD, National Human Resources Association-NHRA, and Professionals in Human Resources Association-PIHRA.
Sudipto Banerjee is a CEO and Executive Advisor for Humarai, a firm committed in delivering outstanding HR solutions to its clients. Humarai engages with clients to analyze business challenges, provide solutions and help transform in the digital era. He is an experienced executive leader with strong business acumen and proven corporate and consulting experience, in the field of Human Capital Management. He provides vision, strategy and direction to build and deliver human capital capabilities for growth and profitability while maximizing the investments. He is also an expert in achieving value for shareholder by leveraging technology, analytics and design thinking in complex digital landscape.
Shawn Ziemba, Managing Director, Randstad has 21 years, of staffing industry experience, 19 of which have been focused in accounting & finance, audit and tax. Expertise in providing traditional temporary staffing solutions, contingent direct hire recruitment resources & executive consulting solutions which include highly accomplished professionals with the experience and credentials needed to add value and complete a wide range of projects under the CFO umbrella. Partnering with leadership at all levels, her ultimate goal is to provide the best interim resources, permanent employees and project teams in a timely and cost-effective manner so that her clients achieve their most important & critical business objectives. Shawn relocated to Jacksonville, internally within Randstad in December 2015 from the Greater Philadelphia (PA) Area and has Bachelor's degree in Spanish- Language, Literature & Culture from Syracuse University where she attended on a full basketball scholarship.
---

Click here to learn more about CFO Leadership Council.
Registration
CFO Leadership Council members may attend this program for free. Non-member senior financial executives who are CFOs, Vice Presidents of Finance, Directors of Finance and Controllers (or the like) are welcome to attend this program at a one-time cost of $60.

Please note that service providers or any executives who are not senior financial executives (CFOs, Vice Presidents of Finance, Controllers, Directors of Finance, etc.) will not be admitted attendance to this event. The CFO Leadership Council reserves the right to decline any registration.
---
More Information
For more information about this program or The CFO Leadership Council, please contact Jennifer Langley, Southeast Regional Director, at jennifer@cfolc.com.
---
Cancellation Policy

If you would like to cancel your ticket or request a refund, please contact jennifer@cfolc.com. Refunds are available up to 24 hours prior to the program.
---