The Wall Street Journal Tech Café
When and where
Location
Think Coffee 73 8th Avenue New York, NY 10014
Description
The Wall Street Journal Tech Café is a hub for the entrepreneur and tech communities to share ideas and debate how technology and business coexist.
Refuel. Coffee, tea and pastries on us!
Recharge. Charging stations will keep your devices running.
Reconnect. Learn from renowned business leaders, technology experts, the startup community, investors and WSJ editors about what your existing or future business needs to succeed.
8 a.m. – 9 a.m.: CEO and Founder Breakfast Panel: Secrets of Tech Recruiting
Exclusive event for CEOs and founders of startups. Join Katia Beauchamp, co-founder of Birchbox, Dave Gilboa, co-founder of Warby Parker, Serkan Piantino, site director of the Facebook NY office, and Aaron Schildkrout, co-founder of HowAboutWe for a discussion about how and where to find today's most-wanted talent. Spencer Ante, WSJ Deputy Bureau Chief, will moderate the conversation.
Noon – 1 p.m.: Digital Privacy in a Social Media Age
Are we sharing too much information at the expense of our privacy? In this social-media age, when we can easily share our thoughts, photos and whereabouts with one tap or click, the line is blurring between privacy and profits. Erin Egan, Chief Privacy Officer for Policy of Facebook, and Aswini Anburajan, Director of Partner Development at Buzzfeed, join Danah Boyd and Justin Brookman, privacy researchers from Microsoft and the Center of Democracy & Technology, to debate the consequences of sharing personal data.
6:30 p.m. – 7:30 p.m.: WSJ Startup of the Year: Entrepreneurs & Investors Tell All
Entrepreneurs and investors from WSJ's Startup of the Year online documentary series, tell all: How they reached success and what they are looking for next. Does your business have what it takes? Don't miss Jay Samit, President of ooVoo; founder of Jasmine Multimedia Publishing (pioneer of the CD-ROM and laserdisc technologies), Brian Cohen, CEO, Launch.It, chairman NY Angels and Steve Case, Chairman & CEO of Revolution LLC; former Chairman & CEO of America Online (AOL).
WSJ Startup of the Year is sponsored by NYSE Big StartUp.
Please share this invitation. WSJ Tech Café is open to all tech entrepreneurs and investors.

Subway lines closest to WSJ Tech Café:
L at 8th Avenue
A, C, E at 14th Street
Enter for a chance to win a pair of Premium Northside Festival Passes!
Follow @WSJSpotlight for clues about the below WSJ Startup of the Year mentors. If you identify three mentors correctly you will be entered for a chance to win. Sweepstakes begins Wednesday May 22 at WSJ Tech Café. Enter your guesses here: http://bit.ly/ZcsskP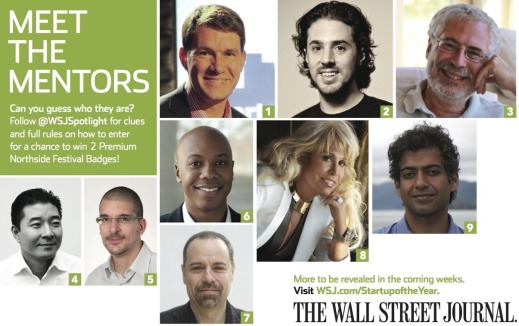 See full sweepstakes rules here: http://dowjones.com/images/contest-rules/soty.html
By registering for this event you agree that you are happy to recieve email correspondence from Dow Jones & Company on product news and promotions.
For more information please see Dow Jones & Company's Privacy Policy: http://www.dowjones.com/privacy-policy.asp