Description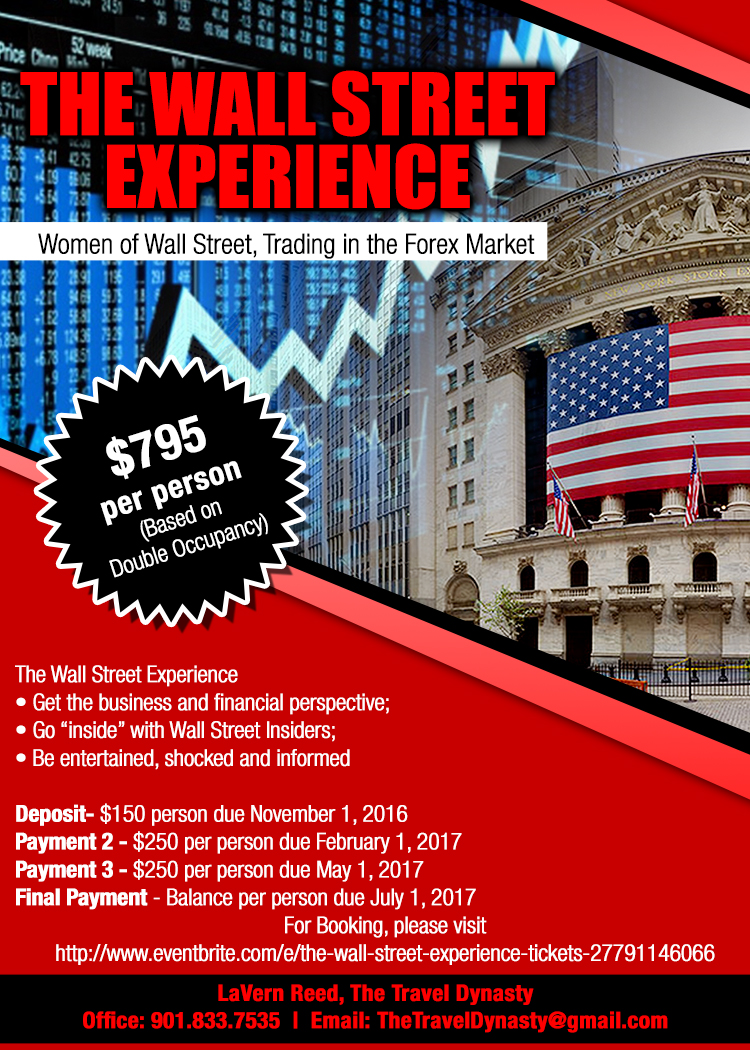 Dear Women of Wall Street,
Are you seeking Time and/or Financial Freedom? Are you seeking a Financial Transformation? Do you desire to Trade in the largest financial market in the world, FOREX? Do you desire to invest in yourself to fulfill your personal and professional goals? Well, this unique Sisterhood journey is for you! Join the Women of Wall Street for the "Ultimate" The Wall Street Experience! Meet us in New York City, the Financial Capital of the World, for an experience of a lifetime. We will share Cocktails and Conversations regarding Forex Trading; Engage with some powerful Women who Trade in the Forex Market; Tour the World's Financial District; Go "inside" with Wall Street Insiders; and more.
Women of Wall Street - The Wall Street Experience is offered exclusively by The Travel Dynasty. Complete details and inclusions are outlined below:
Land only rate: $795 per person (Based on Double Occupancy) - Triple/Quad Occupancy available upon request
Inclusions: *Accommodations in the Financial District for 5 Days/4 Nights* *The Wall Street Experience Tour* *Meet and Greet*
**Airfare and Transfers are Additional and at the expense of each attendee**
Please direct all Travel Questions and/or Concerns to: LaVern Reed, The Travel Dynasty, 901.833.7535
Cancellation Policy:
All Deposits/Payments are non-refundable. However, payments are transferrable 60 days prior to start of tour. If your roommate cancels, the full tour amount becomes the sole responsibility of the other roommate(s) sharing the room.
The unforseen can and will happen at the most inopportune time. Therefore, Vacation Protection Insurance (VPI) is Highly Reocmmended to protect your investment. Once VPI is secured, you will receive a full copy of the policy and its inclusions.