Seattle Grunge and NC Fuzz Rock Bands
About this event
"The Walbournes bring to mind the styles and ideology of the fun purity of that Seattle grunge rock era with no pretense or scene rulebook worries. This is a loud rock band that really works the basics of their rhythm and riffage anchor foundation then decorating it with catchy vocals. It's apparent these guys have a strong focus and attention to the outpour of rock and grunge dirt they have to give."
Facebook | Instagram | Spotify
Nuclear powered five piece fuzz rock band, hailing from North Carolina. The Eccentrics are Kyle Parsons, Alex Lozada, Joseph Flais, Michael Freeman, and Jay Hanel.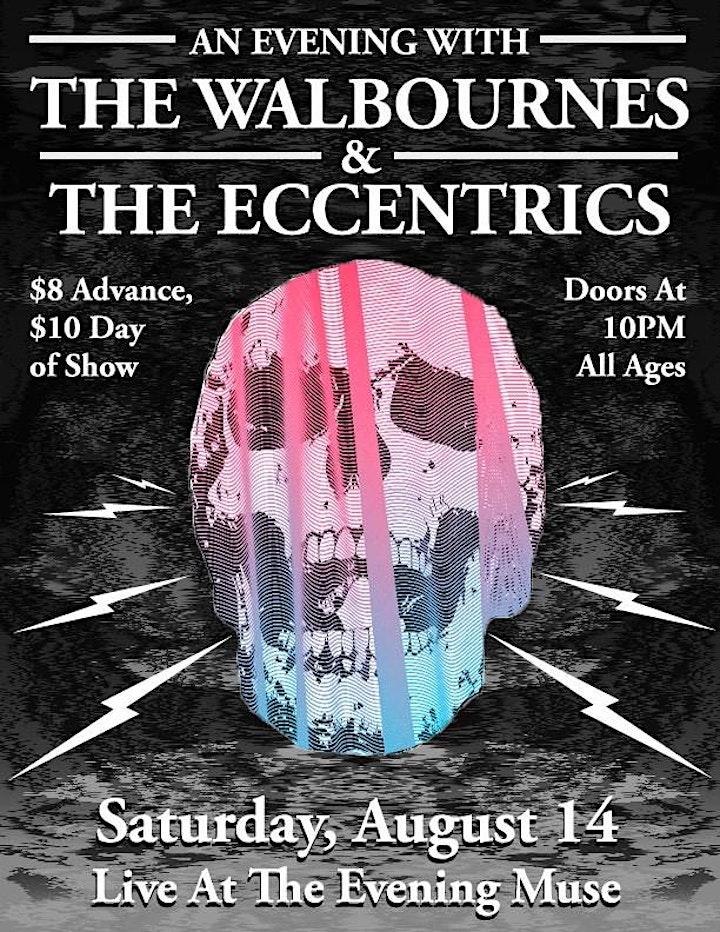 Performers
Date and time
Location
Refund policy
Organizer of The Walbournes and The Eccentrics
**IMPORTANT UPDATED COVID POLICY
AS OF AUGUST 20TH, EVERYONE ENTERING THE EVENING MUSE MUST SHOW THEIR PROOF OF VACCINE CARD (OR PHOTO OF VACCINE PASSPORT), OR HAVE PROOF OF A NEGATIVE COVID TEST AS OF THE LAST 72 HOURS. EVERYONE WILL STILL NEED TO WEAR A MASK, REGARDLESS OF WHETHER YOU HAVE BEEN VACCINATED OR NOT.
Everyone must have their State Issued ID scanned at the door. We are a private club selling liquor, which means you must become a member in order to purchase alcoholic beverages. New and renewing members pay $1 for an annual membership. If you do not have a legal ID, and you are over 21, we will not be able to serve you adult beverages. There is also a surcharge at the door of $2 if you are under 21.