About this Event

The legendary Wailers band is carrying its revolutionary sound and message to loyal fans around the world. Steered by famed bassist and founder Aston "Familyman" Barrett, and joined in solidarity with original Wailers' band members, The Wailers are on the brink of musical history!
This Wailers band promises to deliver music and talent perfected over numerous decades. Old-school members welcome the new-generation talent of drummer Aston Barrett Jr., Fams' multi-talented son and nephew of Wailers co-founder and innovative drummer Carlton "Carly" Barrett. Familyman Barrett is heralded as a musical genius, was named as one of the most influential bass players of all times, and received the 2012 Lifetime Achievement Award from Bass Player magazine.
Since 1974, Bob Marley & The Wailers have recorded, toured, and performed before millions of fans in multiple countries. They have claim to more than 250,000 Bob Marley & The Wailers records sold since the early 70s, including 1977's Exodus, declared Best Album of the Century in 1999 by Time Magazine. The BBC named "One Love" Song of the Millennium that same year. The New York Times named Bob Marley the most significant musician of the century, and Rolling Stone magazine name Bob Marley & The Wailers Band of the Year in 1976. All of these accolades were made possible with the Wailers band creation of and participation in timeless, distinctive music; intricate arrangements, and lyrics that touched fans everywhere.
The incomparable Wailers are coming together, to perform on stage, and this is a slice of musical history you must not miss.
Umojah Nation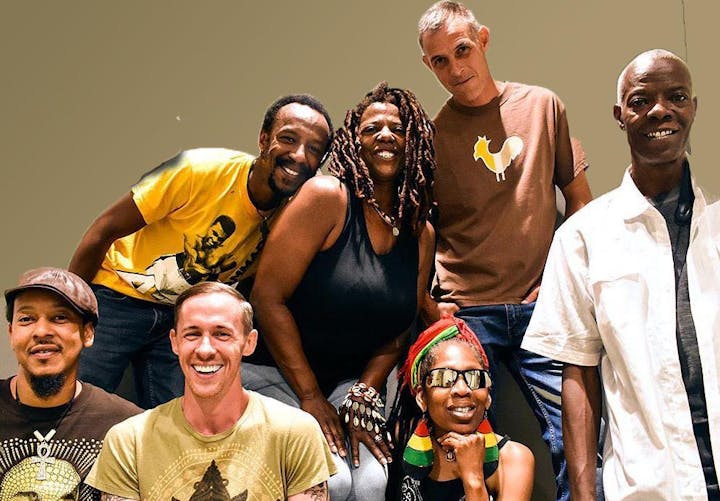 Women like Marcia Griffiths, Phillis Dillon, and Tanya Stephens have provided some of reggae music's brightest moments over the years. Yet too often women involved in the genre are delegated to singing back-up or otherwise providing a minor supplementary role to a dominant male front man. Few realize that quite often the best results are dependent on an equally collaborative effort. Certainly the husband and wife team of Tracey and Stefano Nguma would concur. Together they lead Northeast Ohio's most inspired new reggae band, Umojah Nation.
The group adopts its moniker from the Swahili word for unity, and while seeded in Jamaican roots and dancehall, Umojah Nation possesses an original style of reggae all its own. Both Tracey and Stefano are gifted singers and crafty songwriters. Intelligent lyrics adorn intricate musical arrangements that recall the great British reggae bands Steel Pulse and Aswad from their late 70's heyday. But Umojah Nation refuses to be pigeonholed. The group is just as likely to punch its way through a dancehall rave up that could give Cecile a run for her money. Stefano's tasty bass lines provide the perfect complimentary foundation to his wife's thoughtful material. Umojah Nation is fleshed out by a sturdy seven-piece cast of expert musicians and a heaven-sent chorus of back-up singers.
Tracey overflows with charisma and is incredibly versatile. Where "Travel" is a light-hearted dancehall scorcher giving thanks to Jah for bringing forth precious herbs, her somber "I Cry," on the other hand, is so moving it could coax a tear from a rock. "Temptation" is a sassy number infused with a glorious dose of R&B. She possesses all the pizzazz and sex appeal of a reggae Billie Holiday. Stefano's songs are equally inspired. "Right Place Right Time" is a sincerest of love songs that could be a hit in any style of music . "Smoke Screen" finds this normally chipper Rastaman lambasting the Babylon system that seeks to hide the righteous truth from Jah's children. His impassioned vocals and desolate lyrics are delivered over raw-beef bass and an in-the-pocket one drop that shatters into an enlightened rockers march for its rich harmony laden chorus.
Umojah Nation naturally plays a varied stockpile of popular cover songs from the likes of Bob Marley and Freddie McGregor to Tanya Stephens and Buju Banton. Umojah has opened for popular acts like Beres Hammond, Mighty Diamonds, The Itals, Culture, Collie Buddz, Midnite, Dub Is a Weapon, as well as Cleveland's beloved Carlos Jones and the PLUS Band. Umojah Nation live performances are exceedingly vibrant, while the band is capable of entertaining a most diverse crowd of any age or demographic. Which makes perfect sense; after all, Umojah is unity.