Sales Have Ended
Registrations are closed
We will send you a confirmation that your registration has been accepted within the next 5 business days. Thank you for your interest.
Sales Have Ended
Registrations are closed
We will send you a confirmation that your registration has been accepted within the next 5 business days. Thank you for your interest.
Description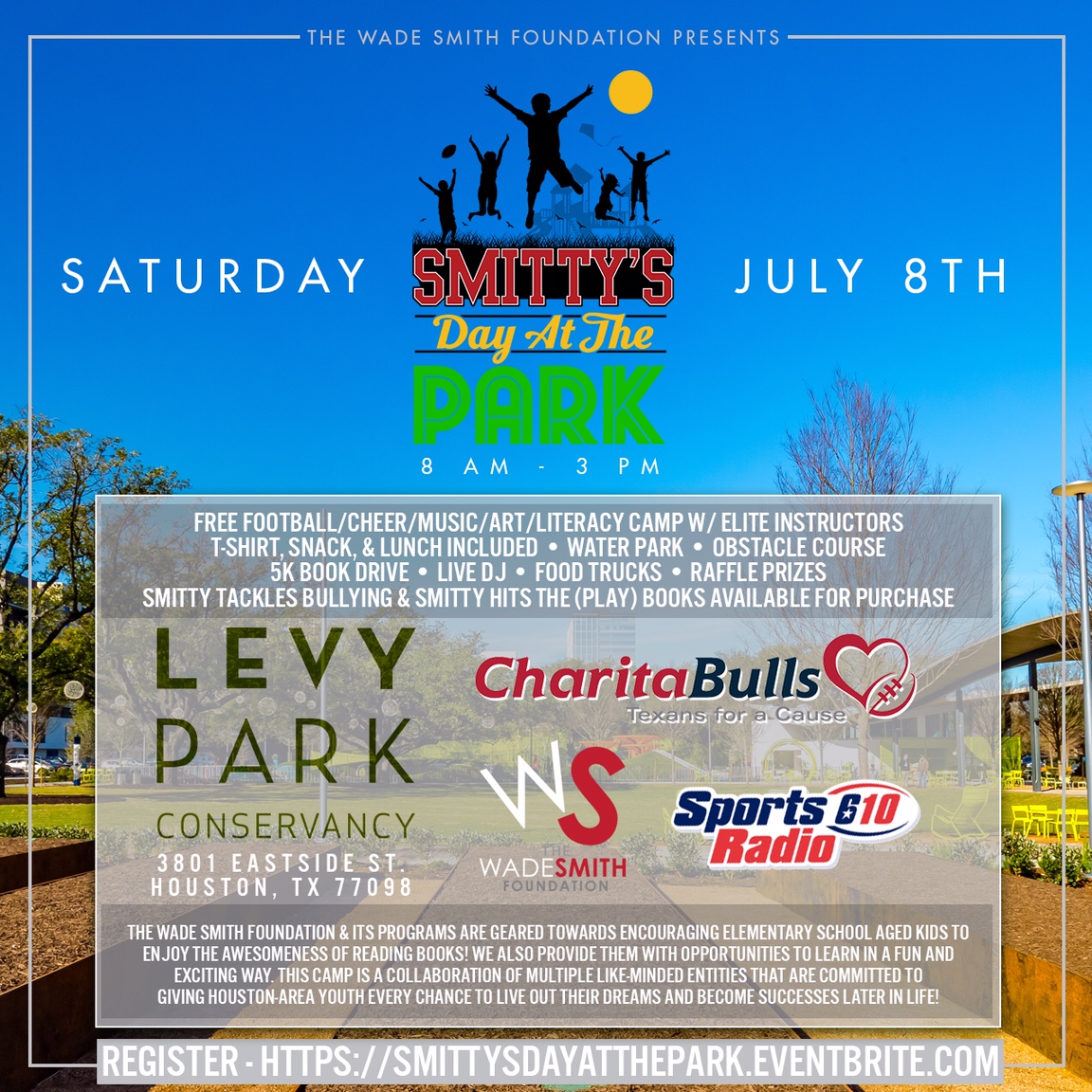 The Inaugural Smitty's Day at the Park presented by the Wade Smith Foundation will team up Retired NFL Pro Bowl Offensive Lineman Wade Smith, current and former NFL players, collegiate student athletes, professional dancers, cheerleaders, authors, musicians, and artists to host this one of a kind event. This FREE camp, located at Levy Park in Houston, Texas will serve students grades K-6 and includes, elite hands-on instruction from NFL players, veterans, college athletes and coaches. Participants in the cheer camp will learn and preform a choreographed cheer and dance routine taught by professional dancers and cheerleaders. Following the camp, participants and families alike are invited to enjoy games, snacks, and activities aimed to promote health and fitness at the recently renovated Levy Park. Camp participants are required to read one age appropriate book, answer questions about said book, and are encourged to bring one book to donate in order to take part in the camp. Our goal is to collect a total 5 THOUSAND Books during this camp!! These new or lightly used books collected will be subsequently be donated to children that lack access to books in order to read, explore, and expand their horizons.
Grades: Kindergarten - 6th Grade ONLY **Ages 5-12**
Date and Times: Saturday, July 8th, 2017 from 8 AM to 3PM **Registration begins at 8 AM**
Fees: This camp is FREE to all registrants
Camp REQUIREMENTS:
All registered campers must be currently enrolled in grades kindergarten - 6th grade.

All registered campers must read one (1) age-appropriate book and answer the questions below COMPLETELY.

All registered campers will bring one (1) new or used book to donate at check-in the morning of the camp.

Registration form must be filled out completely (including reading questions) to be considered officially registered.

Incomplete registrations will NOT be accepted.

Registration deadline for a guaranteed spot is Friday, June 30th, 2017 at 11pm local time. Registration will remain open until spots are filled.
READING QUESTIONS:
The reading questions must be completed on the form to complete the registration.
HOLD HARMLESS STATEMENT:
In case of accident or illness, I authorize the calling of medical services. I will not hold the Wade Smith Foundation, Levy Park, or the volunteers responsible. In case of accident, I can be reached at the numbers stated. In the event of an emergency, I give the Wade Smith Foundation permission to provide first aid and/or transport my youth to the nearest medical facility. I also give permission for the necessary emergency treatment by a physician/hospital/clinic. By my signature and of my own free will, I do hereby agree to identify and hold harmless the Wade Smith Foundation, Levy Park, and volunteers from any and all claims and demands, cost or expense arising out of any injuries sustained by myself or any party in which I am responsible. I give my permission for the use of photos taken by the Wade Smith Foundation its partners or affiliates.
Wade Smith Foundation Hold Harmless
I hereby give my consent for the above named individual to participate in the above named youth activity. I authorize responsible personnel to obtain proper medical treatments should it become necessary. Excluding intentional, deliberately-inflicted and illegally caused injuries, I further agree, in consideration of the above named youth program, to release the above named foundation and all of their employees, directors, administrators, and volunteers from all legal liability for accidental injuries suffered by my child as a result of participation in athletic activities, or travel to and from any officially sanctioned event. Providing, however, that recourse is reserved to seek damages, medical and hospital expenses, and court costs for any such accidental injuries to my child incurred during an officially sanctioned event from any liability insurance carrier within the limits of its liability policy. If I cannot be reached and the Wade Smith Foundation authorities have followed the procedures described, I agree to assume all expenses for transporting and medically treating this student. I also hereby consent to any treatment, surgery, diagnostic procedures which may be carried out based on the medical judgment of attending physician. I understand that the Wade Smith Foundation and its staff are committed to providing fun, safe, educational experiences and that events are conducted in smoke-, alcohol-, and drug-free environments. In light of this, and to help ensure the safety of all concerned, I understand that if my child is in possession of drugs, alcohol, or tobacco products, engages in illegal, immoral, or offensive behaviors, or refuses to follow the directions given by event staff or volunteers while participating in this activity, I will be contacted immediately to pick up my child. I understand that promotional pictures (individual and group) may be taken during officially sanctioned events. I give permission for my son's/daughter's picture to be used for promotional materials (newsletter, web page, calendars, power point, etc.) in highlighting the event. I affirm that the information above is true and correct and may be shared with school personnel on a need to know basis.