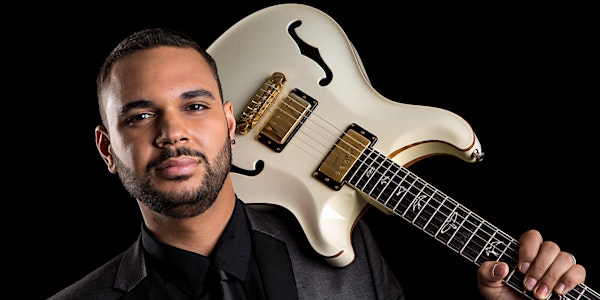 The VrroomVIP JAZZ Experience (Grand Finale) featuring Adam Hawley
The VrroomVIP JAZZ Experience (Grand Finale) featuring Adam Hawley
When and where
Location
Durham Arts Council 120 Morris Street Durham, NC 27701
About this event
Part of the 2022 VrroomVIP JAZZ Experience - Grand Finale....
Adam Hawley is a guitarist to the stars, appearing with a who's who list of artists in a wide variety of genres. Credits include Dave Koz, Jennifer Lopez, Brian Culbertson, Natalie Cole, Brian McKnight, and American Idol to name just a few. He holds a Doctorate of Musical Arts from the University of Southern California and currently teaches at Musician's Institute, Chaffey College, and Saddleback College
Nine #1 hits. 50+ dates per year. Adam Hawley has burst on to the scene as a celebrated and innovative artist, composer and band leader. Originally signed to Maurice White's (founder of Earth, Wind, & Fire) label Kalimba Music, Adam's first two albums "Double Vision" and "Just the Beginning" spawned an incredible Six #1 Hits, an unprecedented feat for a new artist. He followed that up with "Escape" which included the 2020 Billboard Song Of The Year "To The Top ... read more
Are you ALL IN? Consider purchasing a VrroomVIP "ALL - IN" ticket which allows you to see ALL VrroomVIP JAZZ Experience Grand Finale concerts for one ticket price.
Want more? Click here for additional tickets to upcoming events leading up to our grand finale, the VrroomVIP JAZZ Experience Oct 6th - 8th, 2022.
                                                    #vrroomvipjazzfest
Consider purchasing a VrroomVIP ELITE ticket.
VrroomVIP Upclose & Personal is a proud supporter of our community and this year we are giving support to the Durham Center for Senior Life (DCSL). For every VrroomVIP ELITE ticket purchased, VrroomVIP Upclose & Personal will donate 10% of the ticket sale to the DCSL. We will present the DCSL with a check of all donations collected, on stage, the final night of our Grand Finale (Sat Oct 8th). Simply select the VrroomVIP ELITE ticket option on the Tickets button above. An absolutely great way to enjoy Live Jazz and support our community at the same time.
To learn more about the Durham Center for Senior Life visit -> https://dcslnc.org/